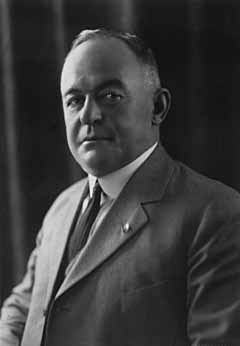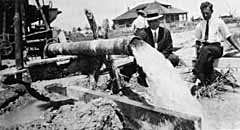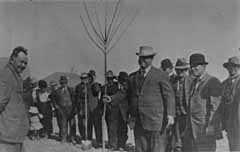 Pete Buol spent only two decades in Las Vegas, but by the time he skipped town, he had convinced everyone else that Las Vegas had the brightest future in the West. "He was a one-man chamber of commerce," a newspaper observed at the time of his death.
Of course, he also predicted bright futures for towns called Johnnie, which is today merely a wide place in the road, and Platina, which isn't even a place. But in the case of Las Vegas, he was right, and a lot of those who believed him got rich.
Buol served as the city's first mayor and represented Clark County in Nevada's Assembly and Senate, but his main contributions were in hastening development that otherwise would have had to wait on the notoriously slow land-and-water subsidiary of the San Pedro, Los Angeles & Salt Lake Railroad.
He outlined his philosophy of irrepressible optimism in publications during his campaign for mayor in 1911, including such gems as: "… ability doesn't count, knowledge is useless, experience has no worth without the driving force of optimism."
In another essay he added, "An optimist is a man who believes he can accomplish. True, he may fall time and again, yet if he goes only half way down the road of progress, he leaves only half as much still to be done by the man who follows …
"All that means most to you was believed by one optimist and achieved by one which followed. The optimist can never see failure because that golden grain of common sense is always with him choking out the ideas of failure."
Buol had the courage of his homilies.
The son of a Swiss immigrant, Buol was born in Chicago on Oct. 1, 1873. Sixty years later he told a Las Vegas journalist that he made his first dollar as a newsboy, selling papers for a nickel apiece, keeping half the take.
His father, Frank Buol, had been a master chef in Switzerland and trained all five of his sons in the work. Peter finished the eighth grade before going to work full time for his father, peeling potatoes for 50 cents a day.
He was only 19 when he realized an American dream: He won $100,000 on a lottery ticket, an absolute fortune for the times. He spent the money on a yacht and the lifestyle that went with it, and in a remarkably short time was back peeling potatoes.
Working under his father, Buol served at some of the gourmet dinners given by the famed bon vivant "Diamond Jim" Brady. He served in cutaway coat and pants, with white apron and gloves. Gloves and apron were to be as spotless when the serving was concluded as they had been when it began. Later he was a chef with the dining cars operated by Fred S. Harvey on the Santa Fe Railroad — diners noted for excellent food served with class.
He had a food concession at a Chicago fair, in the early 1900s, serving 5,000 people a day at 25 cents a meal. In 1901 he moved west to Hollywood, where his father had retired to a small ranch. "You should have seen it then. It was just a tiny village with a few shacks and lots of land. I guess I should have stayed there but Nevada got me and I decided to come out and start growing with the state," he said in 1933.
Buol told another interviewer that he decided to invest in Las Vegas because his bankroll was too small to have much impact in booming Goldfield, where property values were sky-high. Looking for a place to get in on the ground floor, he came to Las Vegas by stagecoach, before the planned railroad was built. "I really shouldn't use the name Las Vegas yet, for when I got here there was no town, only the two old ranches, the Stewart and Kiel, and a couple of tents.
"Walter Bracken was living down at the ranch, and John F. Miller and Jim Ladd had tent hotels. Old Doc (Halle) Hewetson had a tent in which he did all his work as railroad physician …
"I immediately went into the mining, insurance, and real estate games."
By the time the railroad held its auction of lots in the official townsite — May 15, 1905 — lots in Buol's adjacent subdivisions had already been on sale for two months. "I was fast in those days," he observed in 1933.
One of the subdivisions, Buol's Addition, was advertised as lying "west of the shops, roundhouse, and ice plant," and as "an ideal place for those who are looking for homes who do not wish to go through town to and from work." The second, Buck's Subdivision, was called "The highest and most sightly residence portion, lying from 300 to 500 feet back of the Railroad Company's Townsite, which will be the city proper when placed on the market." He called Buck's "just far enough away to be out of the noise and smoke of the shops and engines."
Buol soon realized that the key to making money in Las Vegas real estate was having water to develop the properties. Although the railroad had tied up water rights to Big Springs, the artesian pools that fed Las Vegas Creek and the meadows along its banks, Buol noticed that smaller artesian springs bubbled forth at other places in the valley. He reasoned that all these springs implied a serious amount of water trapped beneath the surface, which could be tapped by drilling. By November 1905 he was manager of the Vegas Artesian Water Syndicate, organized specifically to drill for water.
The syndicate and others began drilling wells here and there throughout the valley. By 1908 a local newspaper headline was crowing, "Another Big Artesian Well … J.F. Evey Gets 100-inch Spouter on His Ranch South of Vegas." The article said, "Las Vegas will be the center of an artesian belt at least 20 miles square. Our future prospects are not so bad. Eh?"
These early wells were aimed at agriculture, however. It remained for Buol to use water service as an inducement to housing development. In 1910 he brought in a large artesian well near Sixth and Fremont streets, the site of his "Buck's Addition."
Until this time, the railroad-owned land company had resisted extending water lines beyond the property it still owned in the original townsite, to assure that its own land would be developed first. Now residents had a different option. The area, generally bounded on the north by today's Las Vegas Expressway and on the south by Fremont Street, and extending from today's Las Vegas Boulevard to Ninth Street, promptly became the fashionable residential neighborhood.
That same year, a fire broke out in the Overland Hotel, and with no firefighting equipment except a couple of hose carts, the volunteer firefighters never had a chance to stop it. The hotel's destruction focused attention on the many things Las Vegas needed but couldn't afford, and precipitated incorporation as a city.
"Somebody got an idea the town needed a mayor, so Bill Hawkins and I decided to run against each other. Nobody else wanted to run," Buol told the interviewer in 1933. "Some little accident happened and I beat him by about 10 votes. After that I was senator and assemblyman and most everything from city dog-catcher to …" The interviewer didn't report the other extreme Buol mentioned in contrast to dog-catcher.
His salary as mayor was $15 a month. He took office in June 1911, and in July got down to business discussing an ordinance for city business licenses. He served in the office until May 1913, when he was succeeded by Bill Hawkins, the man he defeated in the first election. Buol also was elected to the Nevada Assembly in 1912, and after one term was elected to the state Senate.
Buol served on committees on military and Indian affairs, state prisons and insane asylums and public morals, but his legislative career is best remembered for a three-county manhunt for the missing Sen. Buol.
Buol decided to conduct an inspection of mines in Lincoln and Nye counties on his way to Carson City for a legislative meeting. He didn't show up, and all feared the worst. Men set afoot unprepared in the mountains of eastern Nevada at midwinter were usually brought home as frozen corpses. And nobody knew exactly where Pete was supposed to be.
The Clark County sheriff headed north with six automobiles full of deputies and volunteers, but had to abandon three cars in the mud of a dry lake. From Ely in White Pine County, the sheriff headed south with seven deputies, two autos, and a buckboard. From Pioche, in Lincoln County, the sheriff drove northwest in a car, with seven men going before, on horseback, to break trail.
Forty miles northwest of Pioche, they found Buol, marooned by auto trouble. Far from despairing, Buol had casually turned his attention to prospecting some likely-looking rock outcroppings.
In 1913, Buol and his wife, the former Lorena Patterson, built their own home at North Seventh Street and Ogden Avenue in the area Buol's well had opened for development. The couple already had built a cabin they claimed was "the first house in Las Vegas proper." By 1913 they were veteran Las Vegans and designed a house specifically for the local climate. With walls eight inches thick, adobe inside and brick without, porches on all four sides, and a peaked roof, it was said to be the coolest in summer and warmest in winter of any in town. Its eight rooms were heated with wood fireplaces.
When Lorena Buol entertained other women here, Buol dusted off his chef training, preparing gourmet dishes with folded paper garnishes. In their big yard, the Buols gave parties for their adopted daughter, Dorothy, entertaining as many as 40 children simultaneously with puppet shows and elegant sweets.
Peter Buol continued to dream of a prosperous agricultural region surrounding Las Vegas, shipping produce out via the handy main-line railroad.
Somehow or another Buol met Sir John Murray of Scotland, who had traveled widely in the United States. Buol corresponded, then journeyed across the Atlantic to make a pitch.
When he reached the meeting place in Piccadilly Circus, his lordship showed up wearing a ridiculously large cowboy hat and a red bandana.
Sir John agreed to put $100,000 into the development. Buol made his way home and was hailed as the city's economic savior.
But after Great Britain was drawn into World War I in 1914, its citizens were forbidden to export assets. By the war's end in 1918, nothing remained of this agricultural dream beyond a name, which is still attached to that neighborhood: The Scotch 80s.
In a 1973 interview, Buol's daughter, Dorothy, remembered he once owned a square mile on the Las Vegas Strip as well. But she didn't regret his sale of either property. "He made money on them then, and if he had not sold there would be no development such as Las Vegas now has. There would still be just desert land. It served his purpose at the time, and it is serving another purpose now."
Buol was as interested in mining as in real estate and agriculture, and sometimes these interests overlapped. He ran ads in the Las Vegas newspapers offering lots in "The Bustling Booming Town of Johnnie" adding in finer print that it was merely close to the "Famous Johnnie Mine" (using large type once more.) It continued "The Town of Johnnie has an abundant supply of pure artesian water and is the only available place for a town in that entire section of country." The Johnnie Mine did ship bullion in 1908 and for years thereafter, but 90 years later, Pahrump may soon absorb the few buildings left of Johnnie.
In 1914 he incorporated the Platinum-Gold Mining Co. and reportedly put a $50,000 payment down on the Boss Mine near the community now known as Sandy Valley. The reported purpose was to mine platinum, but within a week Buol and his partners had announced plans to sell lots in a new townsite there, to be called Platina.
But some of his efforts were more enduring. He bought and developed a lime deposit which became the foundation of the small community now known as Sloan. With partners he located a borax claim they sold to Francis E. "Borax" Smith for a price reported as $250,000. He mined for the ores of mercury near Tonopah and in eastern California.
His wife and daughter, like many Las Vegans who could afford to flee the punishing summers of Southern Nevada, spent part of every year on the California Coast. In 1925 the Buols built their third home there and then moved there permanently.
About 1929 Buol was injured in a mine cave-in at Pioche and friends said he never completely recovered. He had a stroke in 1937 and died in 1939 in Los Angeles.
He died comparatively poor, but left the impression of a man who lived a life of personal booms and busts, and merely happened to depart it on the bust stroke.
In the 1933 interview, he explained how he managed to keep up spirits:
"I have one soul-inspiring hobby. One that has given me consolation and comfort since March. It is BEER."
---
Part I: The Early Years