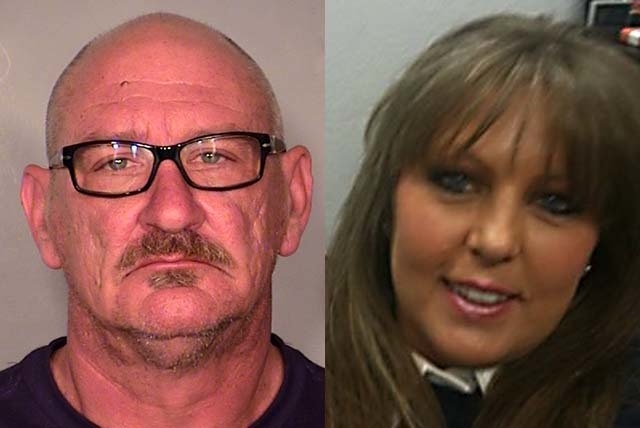 Sheila Linke knew kicking her roommates out wouldn't be easy. She had no idea it would turn deadly.
"I'm evicting my roommates and I might have to use vacation tomorrow because it is ugly," Linke wrote to her boss the night she disappeared, according to a police report released Wednesday. "Hopefully I won't need to. I will let you know how things progress."
Metro detectives said Linke's roommate, Edward Kopp, confessed Tuesday to killing and burying Linke in the Arizona desert. He was booked into the Clark County Detention Center on a murder charge.
Homicide Lt. Ray Steiber said Kopp strangled and beat Linke, 53, on Jan. 26 after she tried to evict him and his girlfriend, Kathy Atteberry, from Linke's home at 5624 Island Breeze Court, near Ann Road. Linke had met Atteberry through her job at the Clark County Water Reclamation District.
The next day, Linke's boss drove by her home and saw a man and woman loading items into a truck, Kopp's arrest report said.
Later that night, a friend went into Linke's home using a spare key. Linke's car was in the garage, but she was nowhere to be found.
Police interviewed Kopp and Atteberry on Jan. 28. Both denied involvement in Linke's disappearance, although investigators found blood on Kopp's tailgate. Tests later proved the blood was human, the report said.
Kopp, accompanied by a lawyer, contacted Metro on Tuesday to give his confession. He said Linke had screamed for them to leave her home and waved a knife at him on Jan. 26, the report said.
He told police he kicked Linke in the chest and she fell to the ground, dropping the knife. When Linke talked about calling the cops, Kopp said he choked her until he thought she was dead, the report said. But when Linke "moved for the knife" again, however, Kopp told detectives he punched her in the face several times, wrapped nylon around her neck and put a trash bag over her head.
Kopp told police didn't want her to get up again, the report said.
Kopp said he forced Atteberry to help him move Linke into the back of his truck, where they hid camping gear around her body. The couple then drove to Johnny Fontane's Beach House on Sahara Avenue for a couple of drinks, Linke's body still in the truck, before driving to a desert area in Mohave County, the report said.
Linke's body was recovered by police on Wednesday morning. Kopp told detectives where he buried her, Steiber said.
Atteberry, 46, confirmed Kopp's account of the killing and cover-up to detectives but said her boyfriend never mentioned Linke had a knife, the report said. She never saw a knife, either, she said.
Atteberry was not been charged for her role in the cover-up, and it's unclear if authorities will pursue charges.
Dee Linke, Sheila Linke's ex-husband, spoke to the Review-Journal shortly before Kopp was arrested.
The couple had been together for about 20 years before separating several years ago. They divorced last year.
"She was a very decent, good girl. Very good to me anyway. That's all that mattered," Dee Linke said.
They lived in California before moving to Las Vegas about 18 years ago, he said. They didn't have children.
Dee Linke said he spoke to her a few days before she went missing. He didn't know she had roommates.
"We talked, but that was her personal life. We kept our personal lives out of it," he said. "You never know if you'll get back together again."
Dee Linke said he learned about his ex-wife was living two people, a man and a woman, after she went missing. Her friends told him one of them was a felon.
Kopp pleaded guilty to a drug trafficking charge in 1994, according to Clark County court records.
Kopp will make his first court appearance Thursday morning.
Contact reporter Mike Blasky at mblasky@reviewjournal.com. Follow @blasky on Twitter.