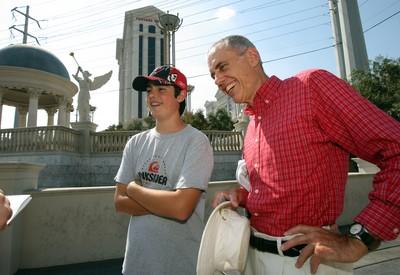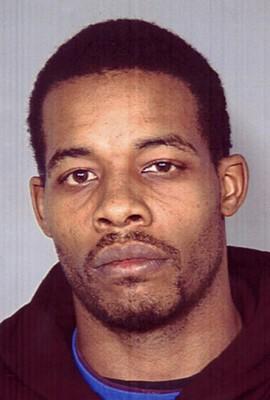 Las Vegas police were searching late Saturday for a 34-year-old man who they say fired shots that wounded two men inside Caesars Palace.
The shooting happened just after 4 a.m. Saturday, minutes after a group of four men got into a fight with another group that included two men and two women near the elevators that lead to the Strip resort's parking garage, police said.
The altercation started when a man in one group made a comment about a woman in the other group, said officer Ramon Denby, a Metropolitan Police Department spokesman.
The comment resulted in a fistfight, and a man police identified as Richard Earl Shepherd was hit with a punch.
Shepherd then got on an elevator with a woman and went to the parking lot.
The woman is seen on surveillance video trying to calm Shepherd down, but to no avail, Denby said. Shepherd then returned to the casino with a gun, he said.
When the elevator doors opened onto the casino floor, Shepherd fired four to six shots, Denby said.
It is unclear if the people Shepherd shot were the men who were involved in the initial fisticuffs, said Capt. Al Salinas of the Las Vegas police gang crimes bureau.
Police said the two men who were shot were treated and released from University Medical Center; one was shot in the knee and the other was shot twice in the arm.
According to the video of the incident, the initial fight began at 4:01 a.m., Denby said. By 4:04 a.m. Shepherd had returned with the gun and started shooting. He had fled by 4:07 a.m., which is the same time that 911 operators were called about the shooting.
Shepherd has a criminal record, police said, but Salinas would not go into details. Police released six mug shots of Shepherd and said he is considered armed and dangerous.
"We implore him to surrender," Salinas said Saturday afternoon.
Investigators have left messages with people who know Shepherd encouraging him to turn himself in, Salinas said.
Charges could include multiple counts of attempted murder with a deadly weapon, battery with a deadly weapon, and discharging a firearm in a closed structure, Salinas said.
The gang unit is investigating because a witness heard someone yell a gang's name, but it is unclear if Shepherd or others involved in the fight are gang members, police said.
Police recovered two guns from the scene of the shooting.
On Saturday afternoon, tourists on Las Vegas Boulevard were oblivious to the shooting.
When told about it, Phil Cattar, 64, of Sarasota, Fla., said the shooting would not keep him away from Caesars Palace.
"This was probably an isolated incident. It could happen anywhere. Basically, Vegas is safe. You should go to Miami," said Cattar, who was visiting Las Vegas with his 14-year-old grandson, Sterling Hubbard.
Cattar, a Vietnam War veteran, said he felt very safe when he was visiting Caesars Palace. He said he had thought he noticed a larger security presence on the gaming floor.
"You know those big money boys won't let anything bad happen here," Cattar said.
Casino officials said there wasn't any more security because of the incident.
News of the shooting didn't phase Mandy Gross, a 21-year-old university student.
"We're from Chicago. We're used to it," Gross said.
She said she hadn't noticed anything odd at Caesars.
Ken Langdon, spokesman for Caesars Palace, said gaming on the casino floor was not interrupted by the shooting.
"This was in an isolated area and handled quickly and efficiently," Langdon said. Caesars Palace security was working with police regarding the shooting, he said.
Langdon said he was not aware of any complaints or concerns from hotel guests regarding the incident.
Caesars Palace was acquired by Harrah's Entertainment Inc. for $9 billion two years ago and is considered the flagship property for the gaming company.
Caesars Palace recently announced a $1 billion expansion, which includes a new hotel tower.
Saturday's shooting was the second case of gunfire in a Strip resort in less than a month.
Four people were wounded at New York-New York in the wee hours of July 6 when a gunman fired onto the gaming floor from a balcony.
Four tourists tackled Steven Francis Zegrean, 51, before he could reload and continue shooting, police and witnesses said. Zegrean is awaiting trial on numerous charges.
SUSPECT SOUGHT
Anyone with information about Richard Earl Shepherd is asked to call Crime Stoppers at 385-5555.