Political Eye: Texas governor stumps for Romney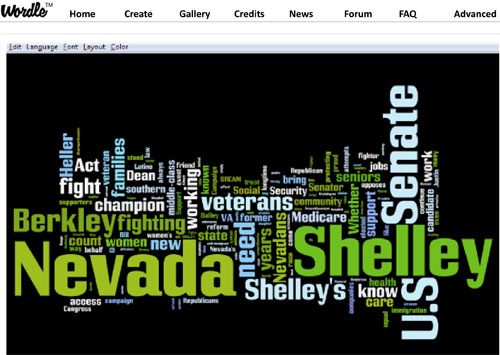 Welcome to the campaign, cow counties.
Republican Texas Gov. Rick Perry on Friday traveled to Elko in northeastern Nevada to open a "victory office" for GOP presidential candidate Mitt Romney, his former White House opponent.
Perry also attended the Silver State Stampede rodeo to mingle with folks – known as voters in election years.
The Perry event was part of a Romney campaign bus tour across Nevada. Besides Elko, the Romney campaign bus also made stops in Carson City, Minden, Battle Mountain, Winnemucca, Lovelock, Fernley, Reno, Hawthorne and Tonopah. The bus will be in Las Vegas today and Pahrump on Tuesday.
Elko County Commissioner Demar Dahl was on hand for the festivities on Friday.
"Elko County will go real strong for Romney," Dahl said in an interview. "People out here, they especially like Romney. There's a lot of enthusiasm out here, and we're all pushing hard for Romney."
Elko County, like much of the rest of rural Nevada, is Republican territory, wide and deep.
A local reporter covering the Perry visit put it more bluntly in a tweet Friday night.
"'If Jesus Christ came back as a Democrat, he wouldn't win in Elko County,' according to our newsroom," tweeted Wheeler Cowperthwaite, a reporter for the Elko Daily Free Press.
Indeed, President Barack Obama won Nevada handily in 2008, but got crushed in Elko County by Republican John McCain, 69 percent to nearly 29 percent.
So Romney pretty much has Elko County at hello in 2012. Still, Romney and other Republicans have to run up the score in Nevada's rural counties outside the Clark County and Washoe County urban population centers.
The Silver State leans blue these days with Democrats counting about 45,000 more registered voters than Republicans statewide, thanks to Clark County, where 70 percent of Nevadans live. That 45,000 is a few thousand less than the entire population of Elko County, which is one of the largest counties in the United States by land.
In 2004, Republican President George W. Bush won 78 percent of the vote in Elko County with 20 percent voting for Democrat John Kerry. Bush won the state and re-election thanks, in part, to Nevada's cow counties.
– Laura Myers
CAMPAIGN AGAINST BERKLEY
Americans for Prosperity, a GOP-aligned group, will be taking to the rurals this week as well to campaign against U.S. Rep. Shelley Berkley, D-Nev. She's running for the Senate against U.S. Sen. Dean Heller, R-Nev.
The group will launch its "Shelley Berkley: A Rubber Stamp for Failure" bus tour on Thursday in Las Vegas at her congressional office.
But then the bus will visit six more cities in rural and Northern Nevada over 10 days.
The plan is to paint Berkley as a "rubber stamp" for the policies of Obama, Senate Majority Leader Harry Reid, D-Nev., and House Minority Leader Nancy Pelosi, D-Calif.
Berkley, a seven-term congresswoman, has long been a loyal Democrat representing an urban district. So she has backed many of Obama's policies, including the health care law that remains unpopular.
In a close race and under an ethics cloud, Berkley will need all the help she can get from Obama's presidential coattails to oust Heller. So it's likely she'll continue to promote Obama's policies on the campaign trail.
The Americans for Prosperity bus plans stops in Minden, Reno, Winnemucca, Elko and Ely.
The group plans to be on hand to protest Obama when he speaks on July 23 to the Veterans of Foreign Wars annual convention. Romney is scheduled to address the VFW the next day.
– Laura Myers
CAMPAIGN FOR HER, TOO
Berkley had a tough week after the House Ethics Committee voted unanimously last Monday to open an investigation into whether she had a conflict of interest in helping save the University Medical Center kidney center.
Her physician husband is a nephrologist with a business interest at the center. The panel also is looking at whether Berkley pushed bills to help kidney doctors like her husband in violation of any House ethics rules.
Berkley and her Democratic backers, including her promoter Reid, have strongly defended her work on behalf of the kidney center. She has repeatedly said she had only Nevada patients' interests in mind and not her own.
On Friday, Berkley was back in Southern Nevada and basking in the warm embrace of Democrats, who held a union hall rally to support her in Henderson. Several hundred people cheered Berkley as she stood behind a podium that said, "Fighter for Nevada," a theme she'll repeat again and again through the Nov. 6 election.
"I think you could tell from the enthusiastic support here today that the campaign and this election are not going to be decided by that issue," Berkley said, according to KLAS-TV, Channel 8, which covered the event.
Berkley's campaign also released statements of support from well-known Democrats as the party regulars launched a united defense, knowing she'll face a tough fight to beat Heller in this battleground state.
The list of Democratic supporters included former U.S. Rep. Dina Titus, D-Nev., who's now running for Berkley's old congressional district; former Nevada Attorney General Frankie Sue Del Papa; state Sen. Ruben Kihuen; Assemblyman Elliot Anderson; Assemblywoman Lucy Flores; and former U.S. Sen. Richard Bryan.
"Shelley has been a tenacious fighter on behalf of Nevadans, whether it be fighting for jobs, protecting Medicare and Social Security, or working to bring the new VA Hospital to Southern Nevada," Bryan said in a statement released by the campaign. "We need Shelley to continue fighting for Nevada in the U.S. Senate."
– Laura Myers
NO DROPPING OUT NOW
In a whopping case of wishful thinking, the National Republican Senatorial Committee wrote a letter Tuesday to Secretary of State Ross Miller telling him what he already knows: Berkley cannot drop out of her race against Heller even if that is what she wanted to do.
Sean Cairncross, chief counsel for the NRSC, pointed out to Miller, the state's chief election officer, that the deadline had passed for Berkley to drop out of the race. And even if she dies, her name must remain on the ballot, he added. He said under Nevada law, no change to the general election ballot could be made after June 29.
In response, Scott Gilles, the deputy secretary of state for election, a couple of hours later agreed in a letter to Cairncross that Berkley cannot withdraw from the Senate ballot. But Gilles noted that no change could be made to the ballot after June 22, not June 29.
In his letter, Cairncross noted Berkley faces an ethics investigation over allegations she made efforts to help the kidney transplant program at the University Medical Center that resulted in a "direct financial benefit to her" and that her doctor husband had directed kidney industry donations to her campaign. Cairncross noted in "similar" situations candidates "sometimes decide" to drop out of their races.
But by Wednesday Berkley once again was attacking Heller, on the air and on the ground.
– Ed Vogel
Contact reporter Laura Myers at lmyers@reviewjournal .com or 702 387-2919. Follower her on Twitter @lmyerslvrj. Contact reporter Ed Vogel at evogel@reviewjournal.com or 775-687-3901.
POLITICAL EYE BLOG