Blue Wave hands Democrats reins of Nevada Legislature
November 9, 2016 - 1:32 pm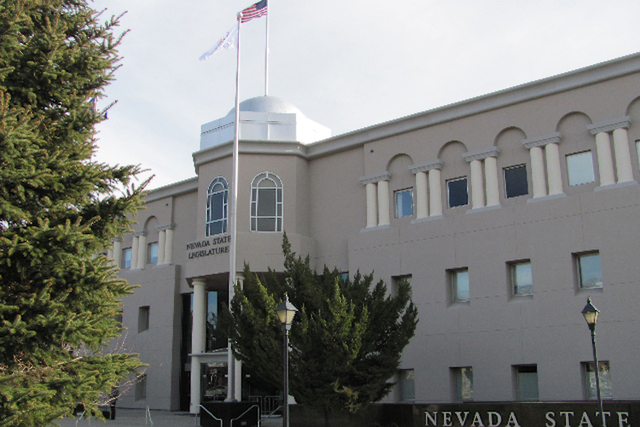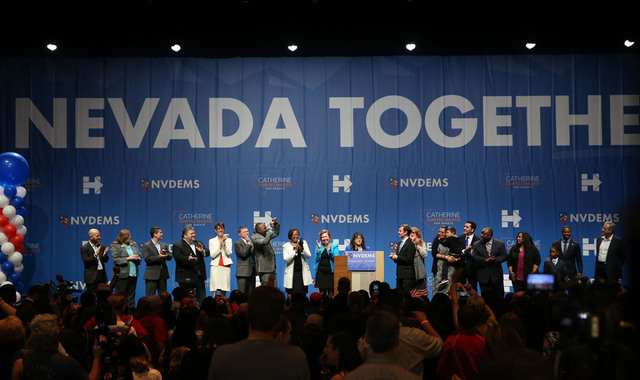 CARSON CITY — Tuesday's Blue Wave in Nevada's state legislative races is likely to give Republicans a case of the blues as their brief fling with majority control becomes only a memory.
GOP Gov. Brian Sandoval will now have to work with Democrats to push through his budget and legislative priorities in the 2017 legislative session. Sandoval has worked well with Democrats in past sessions, but much of the GOP agenda in the 2015 legislative session is likely DOA, including education savings accounts for parents to pay for tuition at private and religiously affiliated schools.
It was a complete reversal of 2014's Red Wave when Republicans took control of both houses of the Legislature for the first time since 1985.
The Senate will remain at a razor-thin 11-10 margin, but in favor of Democrats this time rather than Republicans as it was in 2015.
Three former Assembly Democrats ousted in 2014 reclaimed their districts, including Jason Frierson in District 8 in Las Vegas and Lesley Cohen in District 29 in Henderson.
Cohen's race was one that was too close to call Tuesday night. She ended up defeating GOP incumbent Stephen Silberkraus by 212 votes.
Another close race was Democratic newcomer Brittney Miller, who won the open District 5 seat against GOP candidate Artemus Ham by only 355 votes.
In contrast, seven Republican Assembly incumbents lost their races, overcome by a large statewide Democratic voter turnout and districts that had Democratic active voter advantages. Democratic Assembly candidates also picked up three open seats that had been held by Republicans, for a total of 10 seats.
Democrats in the Assembly now have a 27-15 advantage.
"Last night's victories in the Assembly were the culmination of over a year of hard work and dedication by our entire Democratic team," said caucus leader Irene Bustamante Adams. "We are incredibly excited and humbled by the results. With the election behind us, we are unified as a new majority and ready to roll up our sleeves to shape a Nevada that brings opportunity and prosperity to more Nevadans."
Assemblywoman Maggie Carlton, D-Las Vegas, said there were some concerns that Democratic voters would not turn out to the level they did for early voting and on Tuesday.
"When the Culinary and labor engage, things happen," she said. "When working people engage, things happen."
"I felt really good about us getting the majority back," Carlton said. "We worked really hard."
Democrats will now work with Republicans in the Assembly to deal with the many challenges facing Nevada, from approving a state budge to improving education to dealing with a mental health crisis, she said.
Assembly Republicans who lost their seats are John Moore, who switched to the Libertarian Party, in District 8, David Gardner in District 9, Shelly Shelton in District 10, Derek Armstrong in District 21, Silberkraus, Jill Dickman in District 31, and Brent Jones in District 35.
Assembly Majority Leader Paul Anderson, R-Las Vegas, said it was a tough night for Republicans across the state. He congratulated the Democrats and said: "It's time to roll up our sleeves and get to the work Nevadans need done."
In the Senate, the critical race was District 6 in Las Vegas, which pitted Democratic newcomer Nicole Cannizzaro against GOP Assemblywoman Victoria Seaman, who opted to run for the Senate seat.
Cannizzaro eked out a win with 51 percent of the vote to 49 percent for Seaman.
Democratic incumbent Joyce Woodhouse in Senate District 5 also hung on for a win with 48 percent of the vote to 47 percent for Republican challenger Carrie Buck.
With Sen. Ruben Kihuen's victory in the 4th Congressional District race, there will also be a vacancy in the Senate. Kihuen is in the middle of his term. The Clark County Commission will pick a replacement who must be of the same party, so the balance of power will not change.
Contact Sean Whaley at swhaley@reviewjournal.com or 775-461-3820. Follow @seanw801 on Twitter.