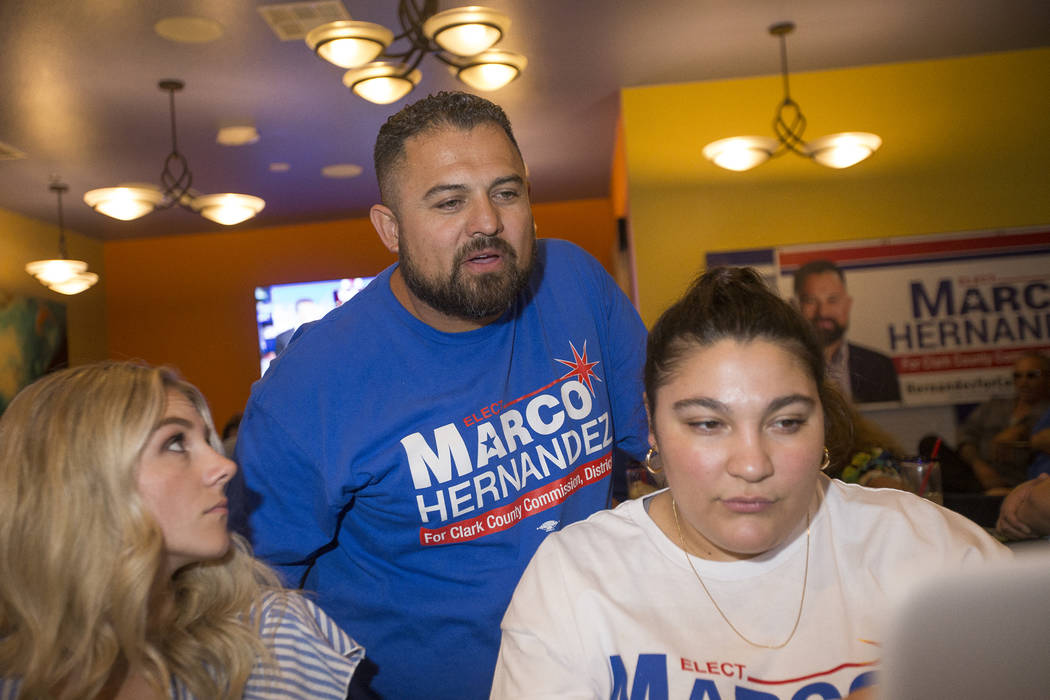 Clark County will recount votes next week in the Democratic primary for the County Commission's District E seat.
The recount comes at the request and expense of candidate Marco Hernandez, county spokesman Dan Kulin said.
Hernandez, a Laborers Local 872 union official and political newcomer, lost the June 12 primary to state Sen. Tick Segerblom by 181 votes. Nearly 12,000 votes were cast in the race.
The recount will be an additional post-election task for county staff, who must redoing the Republican primary election for county administrator after as many as 43 voters may have cast ballots twice.
Hernandez is being represented by the Hutchison & Steffen law firm, documents show.
The firm has represented EHB Cos. in lawsuits against the city of Las Vegas, and in the recent Republican-backed recalls targeting Democratic state senators. Its partners include Republican Lt. Gov. Mark Hutchison and Republican attorney general candidate Wes Duncan.
Kulin said the recount will begin Tuesday and is expected to take no more than two days to complete. It will cost Hernandez $420.
Hernandez could not be reached for comment.
Segerblom said he is open to the recount and will support its findings, but he did not think the outcome will change.
"I think it's pretty clear the Republicans don't want me elected," he said. "Primarily it's Sheldon Adelson."
Adelson, a Republican megadonor, is chairman and CEO of Las Vegas Sands. Sands companies donated a combined $30,000 to Hernandez and another $30,000 to the Nevada Progressives United PAC, which is tied to Laborers Local 872.
Andy Abboud, senior vice president of government affairs for Sands, said that Sands is supporting Hernandez in part because Segerblom has criticized the company.
County commissioners voted to certify primary election results Wednesday.
The county last conducted a recount for the 2016 presidential election. A partial recount was made in 92 precincts at the request of nonpartisan candidate Roque "Rocky" De La Fuente.
The Review-Journal is owned by the family of Las Vegas Sands Corp. Chairman and CEO Sheldon Adelson.
Contact Michael Scott Davidson at sdavidson@reviewjournal.com or 702-477-3861. Follow @davidsonlvrj on Twitter.
Recount Request for Clark County Commissioner District E, Democrat Primary by Las Vegas Review-Journal on Scribd