Legal proceeding preventing Clark County from taking action against constable
March 24, 2017 - 11:10 am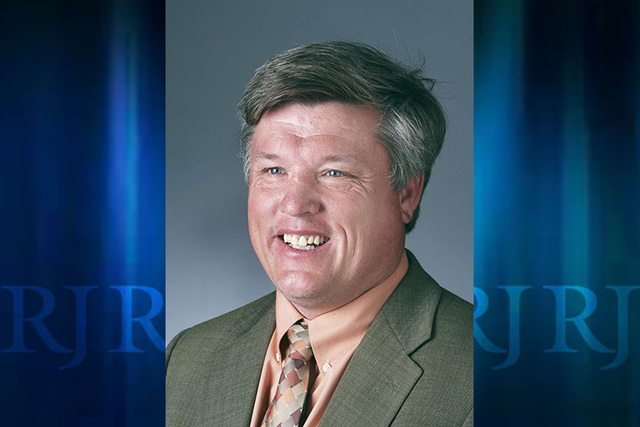 Clark County commissioners will take no action to unseat North Las Vegas Constable Robert Eliason until an ongoing legal proceeding is completed, Commission Chairman Steve Sisolak said this week.
Commissioners and staff briefly broke their months-long silence about the constable's future during their regular Tuesday meeting after public commenters reprimanded them about the issue for the second time this month.
Eliason, 54, has spent half his four-year term in office without the peace officer certification state law required for for the job. The law also requires the commission to appoint a replacement until the next election.
"You've been deliberately negligent on performing your duty as County Commissioners," Charles Seals told commissioners Tuesday.
Commissioner Lawrence Weekly asked the county's legal counsel, Mary-Anne Miller, to explain why commissioners are not using their authority to unseat Eliason, who makes more than $100,000-a-year, or giving interviews on the matter.
"On the advice of the counsel this board has been silent because there is a legal administrative proceeding winding its way through a course of action, and because of federal privacy rules we are not allowed to comment on that," Miller said.
"But it is in involving the qualifications for office and ability of an individual to perform those qualifications. Any more of that we can't just speak publicly, and I'm sorry for that."
In a follow-up interview, county spokesman Erik Pappa did not provide many more details about the legal administrative proceeding, other than describing it as "an internal proceeding mandated by federal law."
Miller told commissioners she did not know when information about the proceeding would become public.
ACTIVE LEGISLATION
Eliason previously asked for an extension for the certification deadline, citing an abdominal injury that kept him from completing the situps test required for certification. That extended deadline passed in July 2016.
Under Nevada law, Eliason should have then forfeited his office.
State Sen. Mo Denis, D-Las Vegas, sponsored a bill that would remove the law requiring constables of urban areas to become certified peace officers.
Denis said he got the idea after speaking with Eliason. Senate Bill 250 will be heard Monday in a Committee on Government Affairs meeting.
On Tuesday, Weekly distanced the County Commission from the bill.
"We didn't request a bill as far as what's happening with the constable's office," he said.
Eliason could not be reached for comment.
Contact Michael Scott Davidson at sdavidson@reviewjournal.com or 702-477-3861. Follow @davidsonlvrj on Twitter.