New contractor hired for Las Vegas Strip safety project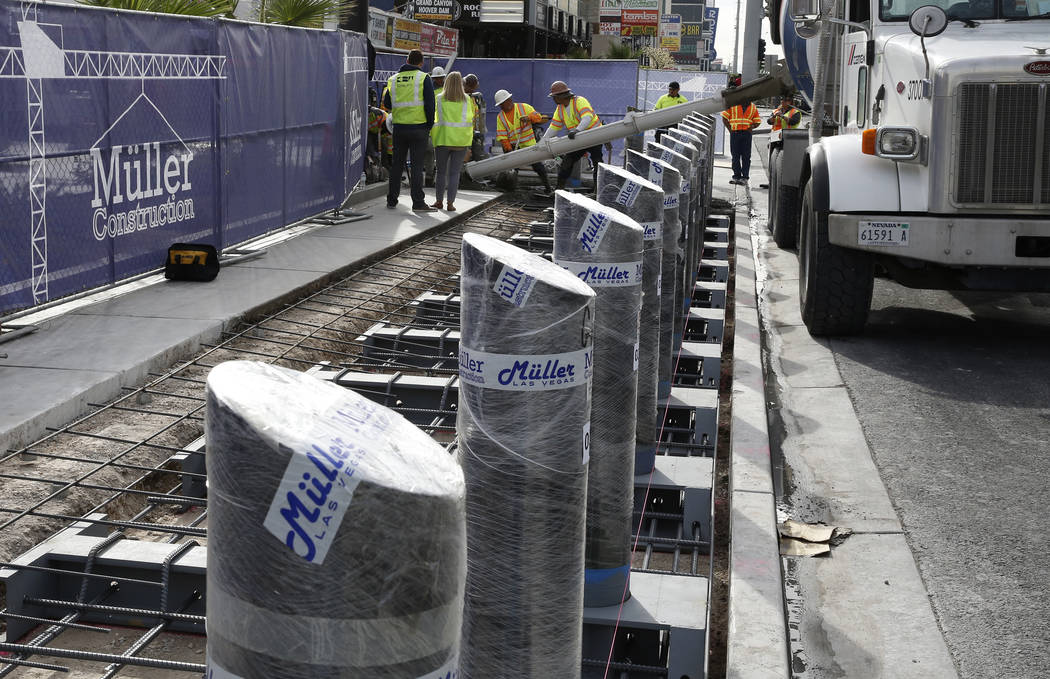 A new contractor received a multimillion-dollar Las Vegas Strip safety project after a labor dispute involving the last company handling the project.
Clark County commissioners voted Tuesday to pay Unicon LLC about $3.9 million to install some 600 steel posts along Strip sidewalks. The posts, known as bollards, are barriers to keep vehicles from traveling onto the sidewalks.
Unicon will install bollards both on the east side of Las Vegas Boulevard between Spring Mountain Road and Tropicana Avenue, and on the road's west side from Sahara Avenue about 1,500 feet south.
Construction is expected to start within 60 days and take about 45 days to complete, said county spokesman Dan Kulin.
Unicon was the project's second-lowest bidder but won because of a Nevada law that gives qualifying contractors a 5 percent preference over other bidders on a public works project. The company's bid came in at about $175,000 more than that of Muller Construction, which installed the first 800 bollards beginning in October.
In January, commissioners were set to pay Muller Construction $2.5 million to install an additional 500 bollards on the Strip between Spring Mountain and Tropicana. But the contractor came under scrutiny when the Nevada Foundation for Fair Contracting complained it underpaid workers on the project.
The county audited Muller Construction and found that some employees were both underpaid and overpaid because of a misclassification of the work they performed on the project.
Muller Construction made whole the underpaid employees, but the county still put the next phase of the project back out to bid. Muller Construction has sued the Nevada Foundation for Fair Contracting, alleging defamation.
Contact Michael Scott Davidson at sdavidson@reviewjournal.com or 702-477-3861. Follow @davidsonlvrj on Twitter.