Cortez Masto sworn in as first Latina to serve in US Senate
January 3, 2017 - 3:22 pm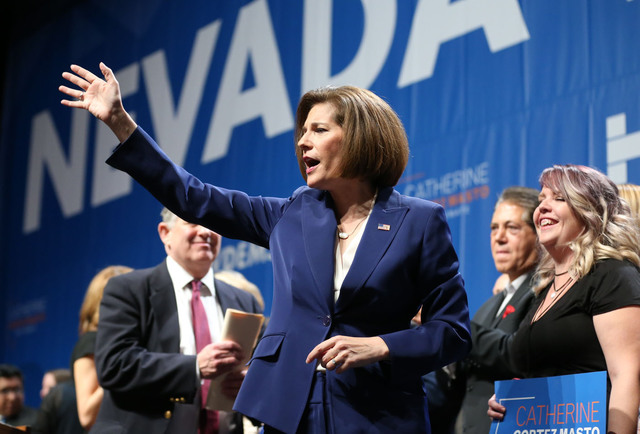 WASHINGTON — Nevada's own Catherine Cortez Masto became the first Latina to serve in the Senate on Tuesday as lawmakers convened for the 115th Congress.
Republicans continued to control both the House and Senate and vowed to use their majorities to repeal President Barack Obama's signature health care program when President-elect Donald Trump takes office on Jan. 20.
The Senate opened on a historic note as Cortez Masto, a former Nevada attorney general, was escorted by outgoing Democratic Leader Harry Reid and Sen. Dean Heller, who becomes the state's senior lawmaker in the august chamber.
She told reporters after the taking the oath of office that she was well aware of her status as the first Latina to serve in the Senate.
"It's important to have a voice at the table and to use it," Cortez Masto said.
Cortez Masto succeeds Reid, who stepped down following three decades of service to the state of Nevada in the House and Senate.
Incoming Senate Minority Leader Chuck Schumer of New York thanked Reid, whom Schumer called "my friend for life."
Schumer also vowed to rebuild the party.
After an election loss that saw Trump defeat former Secretary of State Hillary Clinton, Schumer said Democrats must provide a "bigger, bolder, sharper economic program" sought by working Americans who voted Republican.
Republicans have vowed to make repeal of the Affordable Care Act, commonly referred to as Obamacare, one of their first legislative priorities.
Senate Majority Leader Mitch McConnell, R-Ky., said last year the GOP will come up with a better proposal than the current program that has provided access to health care to about 20 million people.
Trump has said he favors some portions of the law, including provisions that prohibit insurance companies from denying coverage to those with pre-existing health conditions.
Cortez Masto said she favors looking at portions of the law that are "weak," such as delaying implementation of the so-called "Cadillac tax."
Heller was instrumental in the last Congress in passing a law that delayed implementation of that tax, which he said would result in a 40-percent excise tax on employee health benefits that would have affected 1.3 million workers in Nevada with employer-sponsored health plans.
In addition to favoring rollbacks on Obamacare, Heller filed a resolution in the Senate on Tuesday that would move the U.S. embassy in Israel from Tel Aviv to Jerusalem, something previous Republican and Democratic presidential administrations have refused to do out of deference to proposed peace plans with the Palestinians.
Heller was joined on the legislation by Sen. Ted Cruz, R-Texas, and Sen. Marco Rubio, R-Fla. Cruz has urged colleagues to back the proposal as a critical rebuke of the Obama administration's recent condemnation of Jewish settlements in the West Bank.
Heller said "my support for Israel is unwavering."
"I have prioritized the strengthening of the important relationship shared between Israel and the United States," he said.
Meanwhile, Speaker Paul Ryan, R-Wis., gaveled the House into sessions where Republicans immediately backed off an effort to gut an independent ethics office following criticism from Trump and Democrats.
The independent ethics office was created after the scandal involving lobbyist Jack Abramoff.
Trump used social media to voice his displeasure early Tuesday and the House reversed course.
On his Twitter account, Trump questioned why House Republicans were making the ethics office "their number one act and priority. Focus on tax reform, healthcare and so many other things of far greater importance!"
House Republicans voted to step back from their previous vote on a rules package that was taken behind closed doors Monday. The proposal would have placed the independent ethics watchdog office under the House Ethics Committee, which is overseen by lawmakers.
That measure was criticized by House Democratic Leader Nancy Pelosi, D-Calif., and ethics watchdog groups.
The flurry of activity overshadowed the swearing-in of lawmakers in the House, including newly elected congressional members from Nevada.
Rep. Jacky Rosen, D-Nev., and Rep. Ruben Kihuen, D-Nev., were both given the oath of office.
Rosen said she was "humbled" by the experience.
"I feel a tremendous responsibility to the people who elected me," she said.
Kihuen became the first Latino to represent the state of Nevada in the House.
A former Reid aide and rising Democratic politician, Kihuen defeated first-term Rep. Cresent Hardy, a Republican, to win the congressional seat.
Born in Mexico, Kihuen said "it's my job to continue to fight to make life better for working families and people like my parents, so that everyone has a fair shot at the American dream."
Rosen and Kihuen join Reps. Dina Titus, a Democrat, and Mark Amodei, a Republican, in the Nevada congressional delegation.
Contact Gary Martin at gmartin@reviewjournal.com. Follow @garymartindc on Twitter.
RELATED
Cortez Masto sworn in as first Latina to serve in US Senate
House GOP drops changes to congressional ethics board