During rally, Trump hints at pardoning former sheriff Joe Arpaio
August 22, 2017 - 6:33 pm
Updated August 22, 2017 - 9:39 pm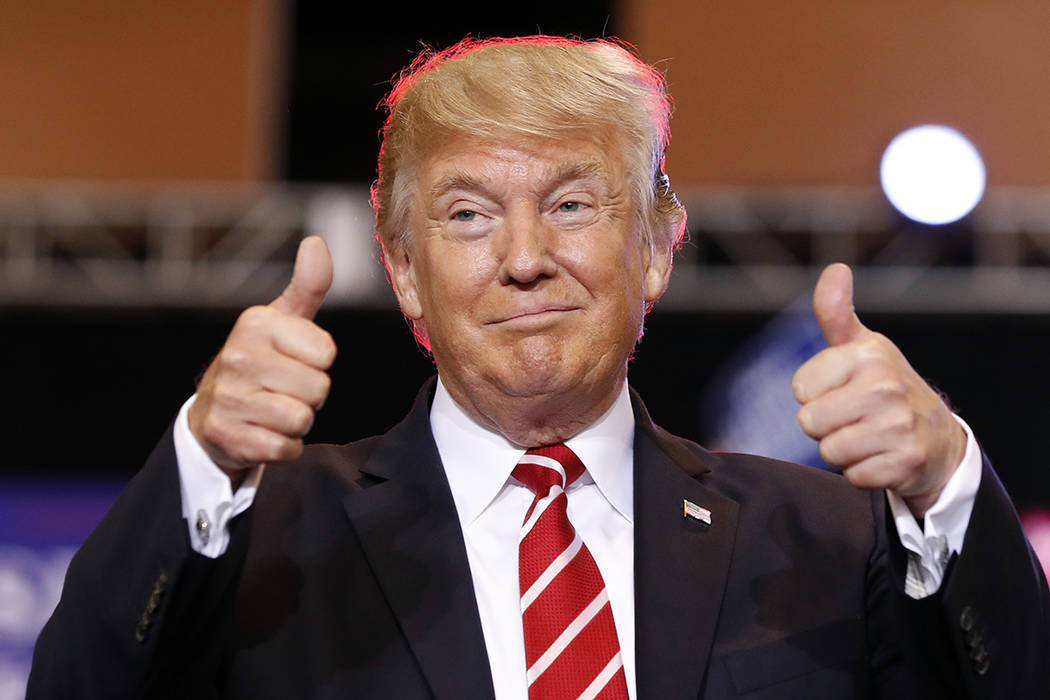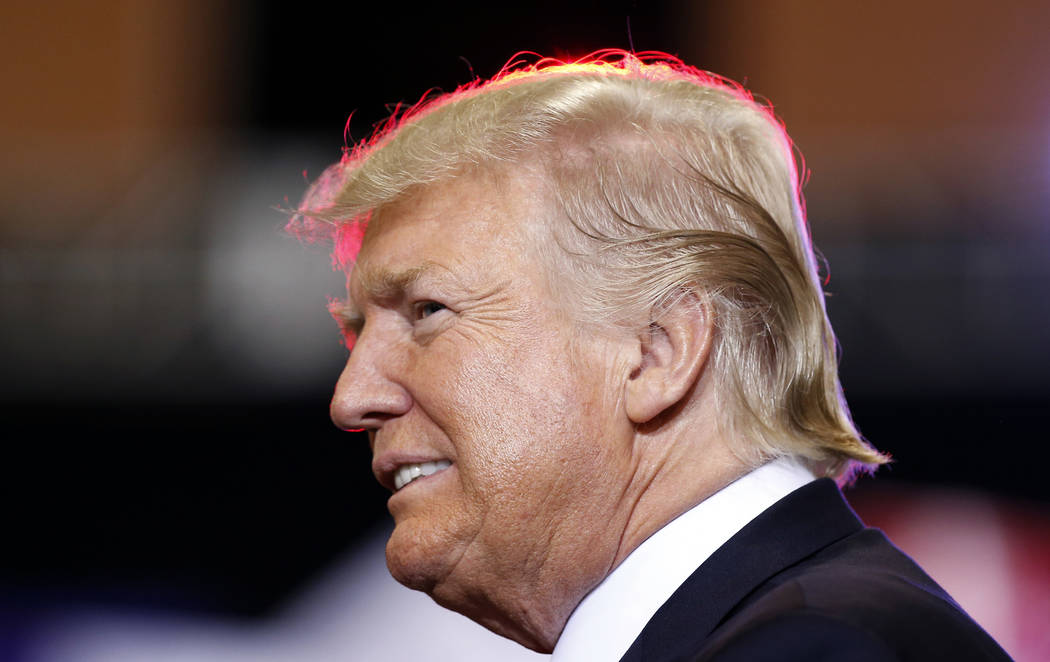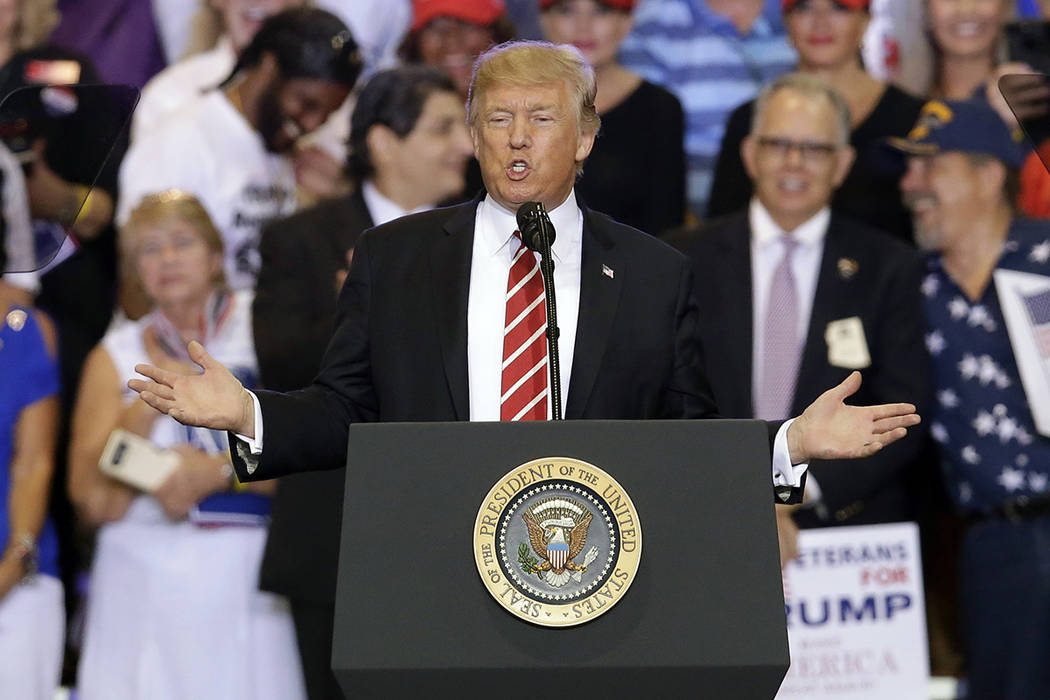 PHOENIX — President Donald Trump, during a campaign rally in Phoenix on Tuesday, hinted that he may pardon Joe Arpaio, the controversial former Maricopa County, Arizona, sheriff.
"I'll make a prediction. I think he's gonna be just fine," Trump told the enthusiastic crowd of supporters, who roared with approval.
Arpaio, who lost his re-election bid in 2016, was convicted last month of criminal contempt for failing to follow a court order instructing him to stop racially profiling Latinos during law enforcement patrols and turning them over to federal immigration agents.
But Trump refrained from making a formal announcement during Tuesday's rally because he "didn't want to cause any controversy."
The quasiannouncement came during a frenzied, 77-minute speech that started out about unity, quickly turned to media bashing and then hit on some of his 2016 campaign highlights, including building the border wall between the United States and Mexico and tax reform.
Trump attacked the media for more than 20 minutes, focusing heavily on the coverage of his comments following the deadly attack at a white supremacist rally in Charlottesville, Virginia, in which 32-year-old Heather Heyer was killed and 19 others were injured after a man drove a car through a crowd of counterprotesters.
"These are really bad people, and they're dishonest people," Trump said while pointing to the gaggle of media in the middle of the crowd. "And I don't think they like our country."
Trump printed out the three sets of comments he made in the days following those attacks, and read them to the crowd.
But in reading those comments, Trump left out any mentions of him saying there were good people on "both sides" of the rally, which were the parts of his comments that sparked the most controversy.
Outside the rally
Outside the rally, hundreds of protesters greeted Trump for what was just his second visit west of the Mississippi River since taking office in January.
The protests in Phoenix mirrored many of those seen on the 2016 campaign trail for then candidate-Trump, but with rhetoric stoked from angst following the violence in Charlottesville.
Intense protests and counter protests here in Phoenix before the Trump rally. pic.twitter.com/Olg5bSz3On

— Colton Lochhead (@ColtonLochhead) August 22, 2017
One protester, who gave only her first name, Judy, because she didn't want to attract "trolls," said Trump has done little as president to help stem the racial and sexual orientation prejudices.
Judy and several others shouted at those heading into the venue hours before the rally was set to begin, calling them racist and xenophobic.
"Someone's got to stand up," Judy said.
Waiting outside to get into the venue, Tempe resident Fran, who also declined to give her last name, said she was there to hear what Trump had to say in person because she does not trust the media to report it fairly.
And a reeeeeaaaallly long line outside the Phoenix convention center waiting in the heat to get in to see Trump tonight pic.twitter.com/yvzoX4M38W

— Colton Lochhead (@ColtonLochhead) August 22, 2017
"I want to hear what, from him, what we're going to get and how we're going to get it," she said.
And inside the venue, 60-year-old denture technician Steve Mengel sat by the back wall waiting for the president to take the stage. Mengel said had no expectations for the speech.
"There's too many illegals," Mengel said.
Mengel also said understood Trump's comments on Charlottesville, and called the media "crazy" for how it covered the president's comments.
After the speech, anti-Trump protesters continued to march and shout. Phoenix police could be seen using pepper spray to disperse the crowds. Phoenix police spokesman Jonathan Howard told The Associated Press people in the crowd had thrown rocks and bottles at officers.
Contact Colton Lochhead at clochhead@reviewjournal.com or 702-383-4638. Follow @ColtonLochhead on Twitter.
American Legion reaffirms position ahead of Trump speech
The American Legion has reaffirmed its position against hate groups as President Donald Trump prepares to address its national convention Wednesday in Reno.
National Commander Charles E. Schmidt says the Legion on Monday approved the resolution that was first passed 94 years ago. The move came less than two weeks after deadly violence at white supremacist rallies in Charlottesville, Virginia.
The resolution condemns as un-American any individual, group or organizations, which creates, or fosters racial, religious or class strife. It says such hate groups are a menace to liberty and fundamental law.
Trump has faced heavy criticism for not immediately denouncing the white power groups that rallied in Charlottesville and for suggesting "both sides" were to blame for the ensuing violence in which three people died.