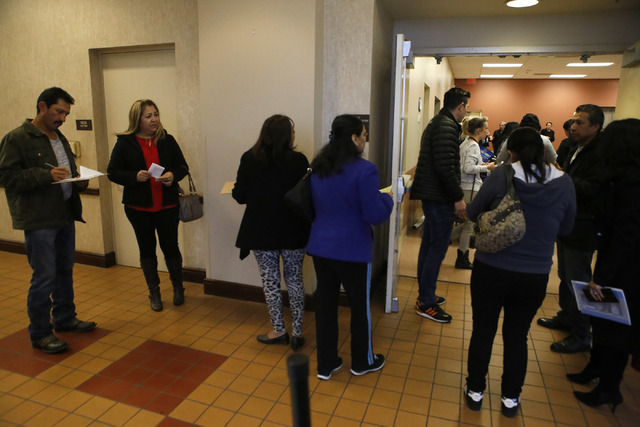 The tension and uncertainty of the people gathered at the East Las Vegas Community Center for an immigration forum Saturday morning was palpable.
About 90 mostly Spanish-speaking attendees filed into the center's gym starting about 9 a.m. and sat on the edges of their chairs, waiting for answers from a panel of politicians and community leaders.
Panelists, including a Mexican Consulate representative, a North Las Vegas city councilman, a Metropolitan Police Department officer, an ACLU of Nevada attorney and a private immigration attorney, fielded questions on the rights of people who are in the country illegally. The event was prompted by President Donald Trump's recent push for national immigration reform.
The Know Your Rights forum, hosted by the Nevada Hispanic Legislative Caucus, sought to inform immigrants of their rights when confronted by law enforcement and explain how immigration enforcement relates to local law enforcement.
Metro officer Jacinto Rivera reassured the audience that Las Vegas, North Las Vegas and Henderson police are not enforcing federal immigration laws.
"The fear that's going on, it's not really warranted," Rivera said at the forum, which was conducted almost entirely in Spanish. "The purpose of this department, our focus, is violent crime. We will not become immigration enforcement officers."
Rivera also dispelled rumors that Metro shares offenders' information with immigration officials.
If a person in the country illegally is pulled over and cited, he said, that person's signature isn't used as permission to share information. It is an acknowledgment that the person cited will appear on the appointed court date.
Ignoring citations and failing to appear can result in an arrest warrant, which will be classified and enforced differently under immigration laws, Rivera said.
The bottom line, he said, is that people who came here illegally should obtain driver authorization cards, which ensure that people using state roads are competent drivers, and comply with citation instructions. City traffic courts have no connection to federal agencies, so residents shouldn't fear being detained or arrested at court appearances.
"Additionally we don't want any segment of our community to be so fearful that they stop participating in crime prevention," Rivera said. "We want people that are witnesses to a crime, especially victims to a crime, to continue to report those crimes to the police."
ACLU of Nevada Legal Director Amy Rose said any immigrants detained or arrested by ICE should explicitly invoke their right to remain silent. She advised against signing anything without first talking to an attorney and recommended that immigrants have a plan in place so relatives know what to do in the event of an arrest.
U.S. Sen. Catherine Cortez Masto, D-Nev., told attendees that she and other senators will fight for their rights.
"I know, and many of our leaders know, that our diversity in this country is our strength," she said. "And I'm an example of that diversity that comes from immigrant communities coming to the United States to achieve that American Dream."
Immigrant communities contribute immeasurably to the country and its economy, and most people now living in fear are good, hardworking people, Cortez Masto said.
"The only thing you are guilty of is trying to do right by your family and give them every opportunity," she said.
Contact Kimber Laux at klaux@reviewjournal.com. Follow @lauxkimber on Twitter.