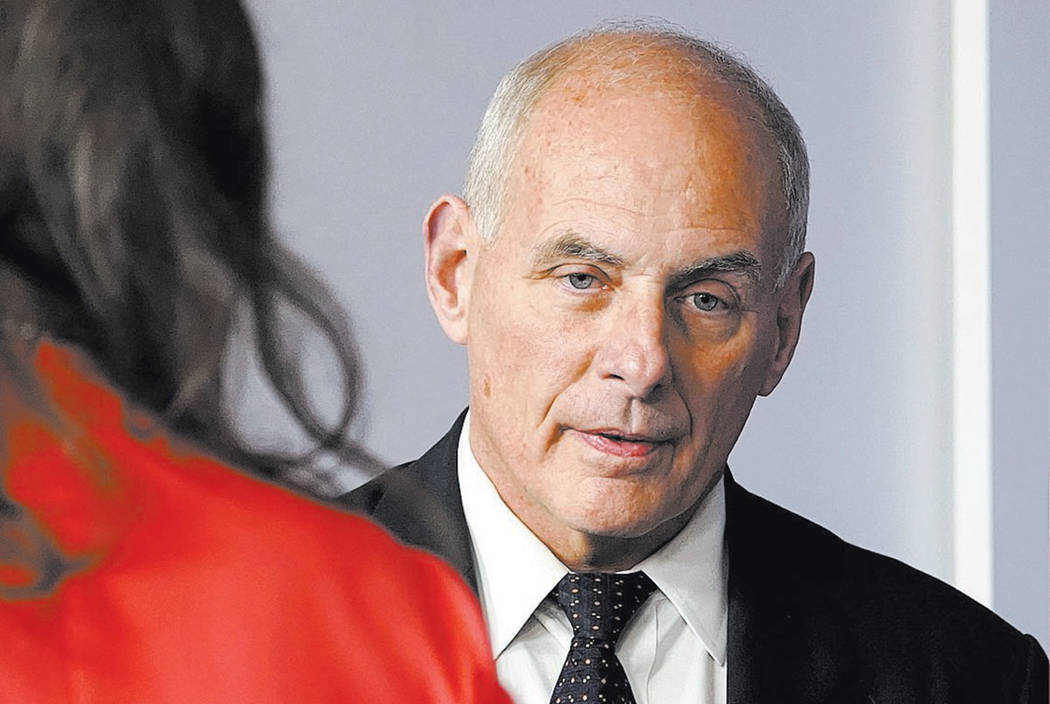 WASHINGTON — Since retired Gen. John Kelly became White House chief of staff, news outlets have portrayed him as the disciplinarian sent to impose order over an unruly President Donald Trump. Kelly rejects that scenario — and it turns out that, when it comes to taming, he has other fish to fry.
To wit, at Thursday's press briefing, Kelly tongue-lashed the usually feisty White House press corps so relentlessly that in 18 minutes he reduced the usually swaggering scribes and talking heads into shamed silence.
After Kelly slammed reporters for taking a "sacred" moment — the notification of family when a military member is killed in action — and turning it into a cable-news chew toy, after he pointed out the thankless toil of the 1 percent of Americans who serve in the military and after he directed members of the media to raise their hands if they knew any Gold Star families, Kelly offered one final salvo.
"We don't look down upon those of you who haven't served," Kelly closed. "In fact, in a way we're a little bit sorry because you'll never have experienced the wonderful joy you get in your heart when you do the kinds of things our service men and women do — not for any other reason than love of this country."
Kelly's trip to the podium was a rescue mission of sorts designed to extricate Trump from another media mud pit of his own making.
It started Monday when Trump strolled into the Rose Garden with Senate Majority Leader Mitch McConnell, a key player in the GOP effort to pass a tax-cut bill. This summer Trump told the press he was "very disappointed" in McConnell. But Monday, Trump promoted McConnell to longtime friend with whom he is "closer than ever before."
When a reporter asked Trump why he had not commented on four U.S. soldiers recently killed in an ambush in Niger, the president's need to frame himself as better than his predecessors prompted a tortured response. Trump said he had written letters to the families that would be mailed over the weekend, and that he would like to call the families, though "President Obama and other presidents, most of them didn't make calls."
Politifact rated Trump's statement "misleading." Obama went to Dover Air Force Base to receive the bodies of 18 U.S. soldiers killed in Afghanistan and comfort their families in person.
Having backed himself in a corner, Trump phoned the widow of Sgt. La David Johnson, one of the four killed in Niger. Later, family friend Rep. Frederica Wilson, D-Fla., who listened in on the call, told the media that Trump cavalierly told the widow that Johnson "knew what he signed up for," but "it still hurts." Johnson's aunt added that Trump was disrespectful.
Trump denied that he said the words Wilson had repeated. At Thursday's briefing, Kelly essentially confirmed Wilson's quote — although Kelly took strong issue with the suggestion that Trump said anything that did not bestow deserved praise on the slain soldier. Kelly framed the controversy as a new low — with Wilson going after Trump when the president was trying to do the decent thing.
For the Trump voter base, the episode was a clear win. Kelly set the rules that determined which reporters had the right to ask him questions — only Gold Star parents or siblings. When no journalist could claim that painful honor, Kelly offered to take questions from reporters who at least knew a Gold Star family. Thus Kelly exposed the White House press corps as a pack of feckless East Coast elites.
Yes, they squirmed because no one could claim a child, brother or sister killed in action.
It doesn't matter that Trump could not raise his hand to that question, either. Or that Trump was the beneficiary of five Vietnam-era draft deferments. Or that the controversy erupted because the insecure Trump felt he had to one-up his predecessors in every corner, including making phone calls to grieving families.
So John Kelly bailed him out.
Contact Debra J. Saunders at dsaunders@reviewjournal.com or 202-662-7391. Follow @DebraJSaunders on Twitter.
In his words
President Donald Trump's response to questions Monday about calling families of soldiers killed in action:
"I will, at some point during the period of time, call the parents and the families — because I have done that, traditionally. I felt very, very badly about that. I always feel badly. It's the toughest — the toughest calls I have to make are the calls where this happens, soldiers are killed. It's a very difficult thing. Now, it gets to a point where, you know, you make four or five of them in one day — it's a very, very tough day. For me, that's by far the toughest.
"So, the traditional way — if you look at President Obama and other presidents, most of them didn't make calls, a lot of them didn't make calls. I like to call when it's appropriate, when I think I'm able to do it. They have made the ultimate sacrifice."