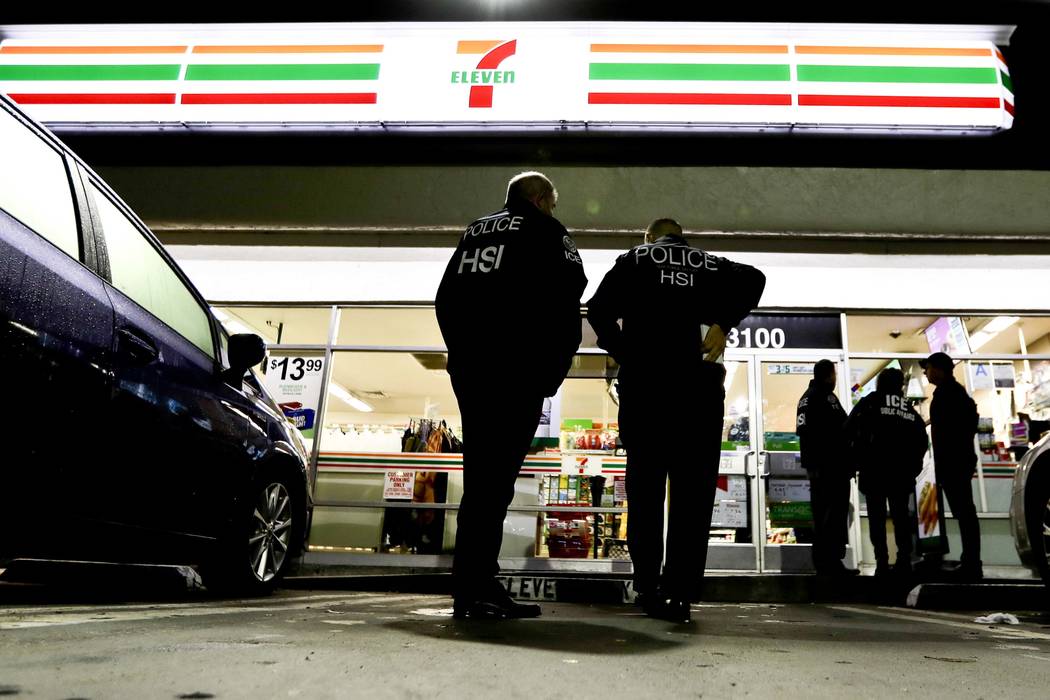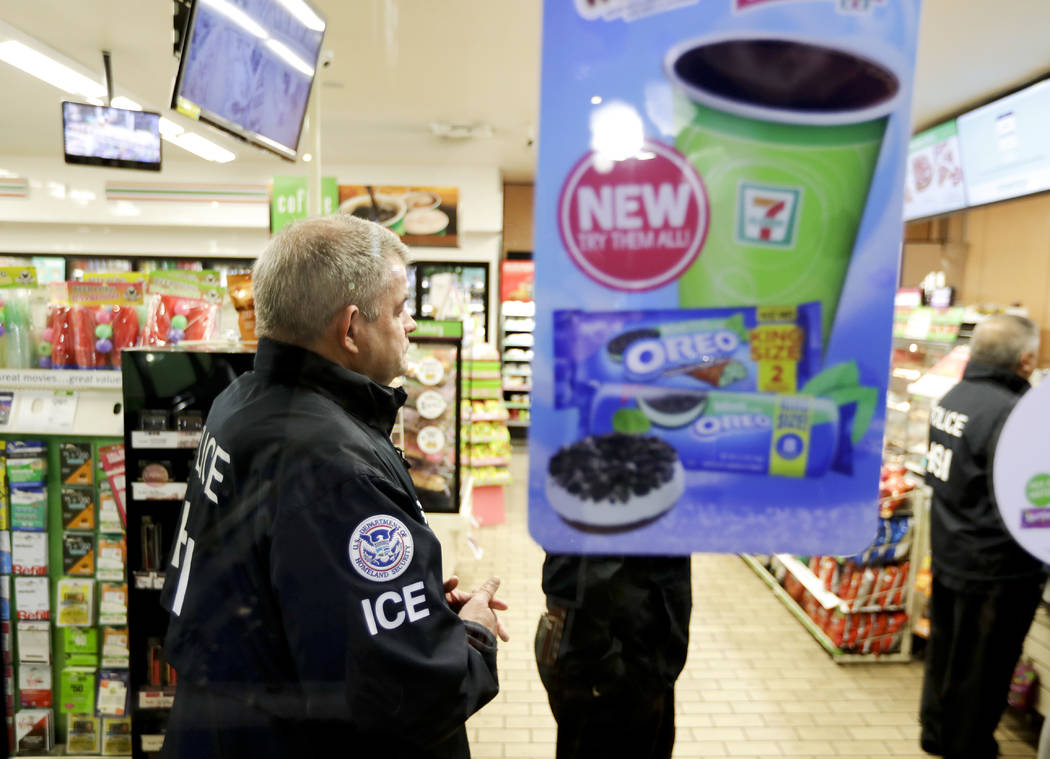 U.S. Immigration and Customs Enforcement officers arrested 21 suspected undocumented employees Wednesday at 7-Eleven franchise locations across the country, including in Nevada.
The arrests, which are administrative and require those arrested to appear in immigration court, were part of an ICE sweep in which the agency served 98 7-Eleven convenience stores with audit notices, a tool the agency uses to monitor whether stores are hiring undocumented workers. It was not known how many locations in Nevada were served.
"Today's actions send a strong message to U.S. businesses that hire and employ an illegal workforce: ICE will enforce the law, and if you are found to be breaking the law, you will be held accountable," ICE Deputy Director Thomas D. Homan said in an emailed statement Wednesday.
Derek Benner, a top ICE official, told the Associated Press that Wednesday's operation was "the first of many" and "a harbinger of what's to come" for employers.
Seven-Eleven, Inc., of Irving, Texas, which manages the franchise operation in the U.S., said in an email statement its franchise owners are solely responsible for hiring and that the company requires all franchise business owners to follow the law.
"Seven-Eleven takes compliance with immigration laws seriously and has terminated the franchise agreements of franchisees convicted of violating these laws," the email said. The company did not say whether it would terminate the contracts of those locations where the 21 undocumented employees were arrested.
It's not the first time 7-Eleven franchises have gotten into trouble for hiring undocumented individuals. In 2013, ICE Homeland Security Investigations arrested nine franchise owners and managers in Virginia and Long Island, New York on charges of conspiring to commit wire fraud, stealing identities and concealing and harboring undocumented employees.
Eight of the nine pleaded guilty and were ordered to pay more than $2.6 million in restitution and forfeit 14 7-Eleven franchises and New York real estate valued at more than $1.3 million. A 2013 ICE news release called the case the "largest criminal alien forfeiture in (Department of Homeland Security) history."
Once a business is served a notice of inspection, it has three days to hand over copies of Employment Eligibility Verification, or I-9, forms. If an investigation uncovers a violation, the business is subject to fines and, in cases where the law was knowingly violated, criminal prosecution, according to ICE.
Anyone found to be undocumented during an investigation can be arrested and entered into deportation proceedings, ICE spokeswoman Lori Haley wrote in an email Wednesday.
Under President Donald Trump's administration, ICE arrests increased by nearly 38 percent from late January and end of April 2017 compared to the same time period in 2016, according to the agency.
Immigration experts in Las Vegas have said the arrests, commonly referred to as "raids," happened infrequently locally.
Contact Jessie Bekker at jbekker@reviewjournal.com or 702-380-4563. Follow @jessiebekks on Twitter.
Checking legal status
Employers who want to confirm their employees' legal statuses can use U.S. Citizenship and Immigration Services' online service, E-Verify. The system, which is available at no cost, checks records like Social Security numbers and passports with U.S. Department of Homeland Security data.
While those who support a tougher crackdown on illegal employment think employers should be required to use the tool, critics argue E-Verify can give inaccurate results.