Kim's atrocities far outweigh Trump's speech transgressions — ANALYSIS
September 25, 2017 - 12:07 am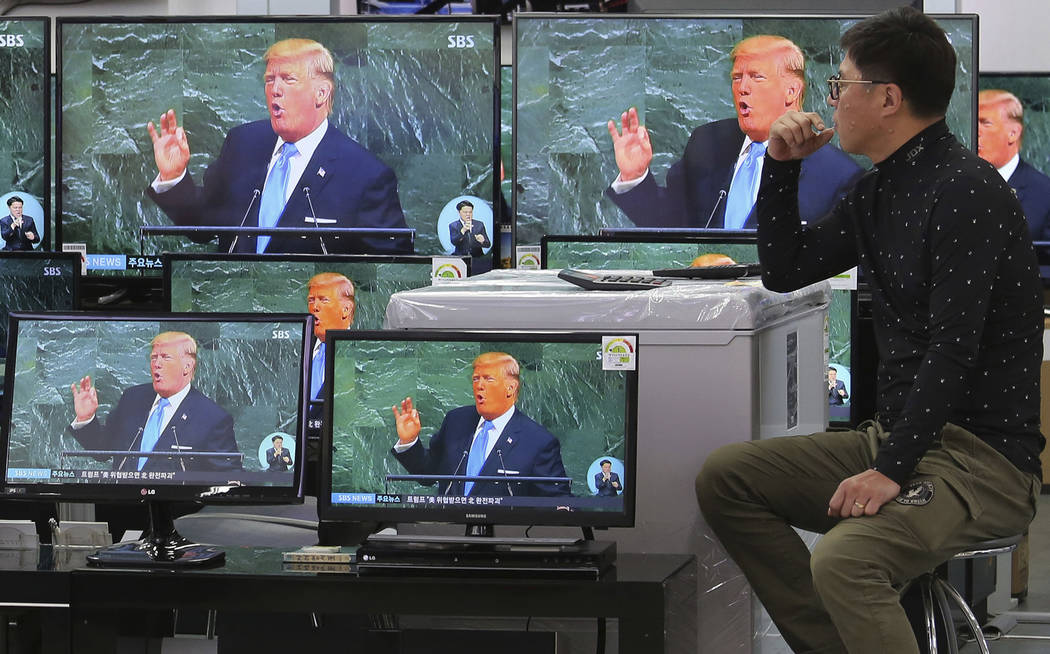 WASHINGTON — President Donald Trump amped up the energy at the United Nations last week. In his maiden speech before the General Assembly on Tuesday, Trump called North Korean strongman Kim Jong Un "Rocket Man," and he threatened "to totally destroy" the hermit kingdom.
He also told reporters he had decided whether to certify the international nuclear pact with Iran, but he would not reveal that decision, not even to British Prime Minister Theresa May.
Kim showed himself game for a verbal food fight. "A frightened dog barks louder," he wrote in a first-person statement. It ended, The New York Times reported, "I will surely and definitely tame the mentally deranged U.S. dotard with fire." Dotard? According to Merriam-Webster, the noun applies to a person in his or her dotage. It's the sort of word an old person would use.
Former Obama Undersecretary of State Ellen Tauscher branded the Rocket Man nickname "below the dignity" of an American president. She saw little to gain by poking the North Korean strongman in the eye. German Chancellor Angela Merkel told German media "I am against such threats."
Their reactions feed a perception that the world's leaders and diplomats are as appalled at Trump's trash talk as any MSNBC host. But that's not how other key heads of state reacted.
Not long ago, South Korean President Moon Jae-In was pushing for negotiations with Pyongyang. But as Kim's regime has continued to launch missiles, Moon's tune has changed.
Trump's speech applauded
On Thursday, Moon told Trump that he's "becoming more and more familiar" with him. Moon then described North Korea's behavior as deplorable and lauded Trump's remarks.
"Mr. President, in the U.N. General Assembly, you made a very strong speech," Moon said. "And I believe that the strength of your speech will also help to change North Korea."
That's right, the leader of the nation most vulnerable to Kim's aggression said he liked Trump's speech.
Japanese Prime Minister Shinzo Abe also appeared at an event with Trump and Moon, and he gushed about, well, the man once known in the tabloids as The Donald.
"Thanks to Donald's leadership, we now have this summit meeting, Japan, the U.S. and Korea," Abe said. "So our unity and solidarity, the strength thereof that could be presented to North Korea, this meeting is indeed quite significant. I'd like to thank Donald's leadership."
Former Ambassador to Greece Charles P. Reis, now with the RAND Corp., noted that the United States is a powerful country with allies that exhibit a "natural instinct" to try to work with Washington. Asked about the international community's reaction to America's unorthodox president, Reis gave three examples.
Reis said he traveled to China in December. "The Chinese were calm," he said. They figured they could work with Trump. "They take a long view."
"Europeans are focused" on technical issues, such as who speaks for Washington, Reis said. They aren't particularly alarmed about Trump.
Many leaders in the Middle East disliked President Barack Obama. "They welcome Trump, and they like Trump's rhetoric," Reis said.
Schoolyard rhetoric
What did the diplomats at the General Assembly think of Trump?
"I don't think it matters a whole lot what the people in the room think," said Clifford May of the Foundation for Defense of Democracies.
May rated Trump's U.N. speech as one of his best. Trump's name-calling may not be some people's cup of tea, but he believes "it's important and useful (that Trump) recognizes we have a crisis with North Korea, a threat that cannot be allowed to mature."
Serious people understand that Trump's schoolyard rhetoric is a style crime, whereas Kim's real crimes have starved his own people and threatened free people beyond his borders. His regime has threatened to test a hydrogen bomb — which it might have done already.
In the battle of words and in response to Trump's General Assembly speech, South Korea's Yonhap news agency reported that North Korean Foreign Minister Ri Yong-ho said, "I feel sorry for his aides."
"If you're pitied by North Korea," said Reis, "you're really in bad shape." But then, there rarely is an end to a war of insults.
"I do know some of the penalties that have been imposed on members of his staff," May said.
In a reference to Kim's possible contract murder of his half-brother, May noted, "We still haven't seen Trump use banned chemical weapons to kill his relatives in international airports."
Trump isn't a diplomat. He is new to foreign policy and he has a lot to learn. It is not clear that his initiatives will be enacted or if they will work.
Then again, the U.N. is staffed by people who have spent their careers in foreign policy, and they haven't exactly done a stellar job getting the U.N. house in order. But they do know which leader is the true menace.
Contact Debra J. Saunders at 202-662-7391 or 202-662-7391. Follow @DebraJSaunders on Twitter.