Las Vegas police, prosecutors used presentations to sell judges on ​​​​​reliability of drug tests
October 28, 2016 - 7:04 am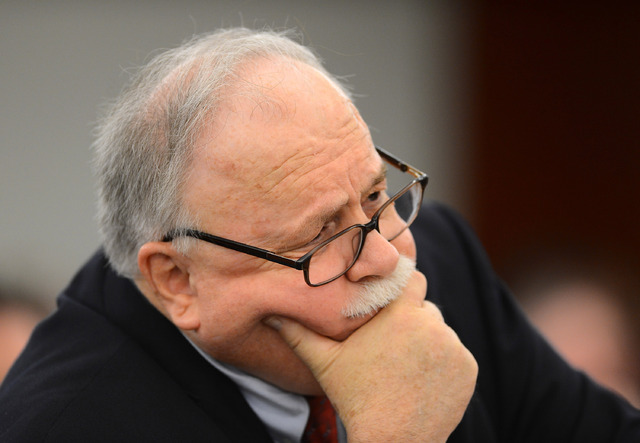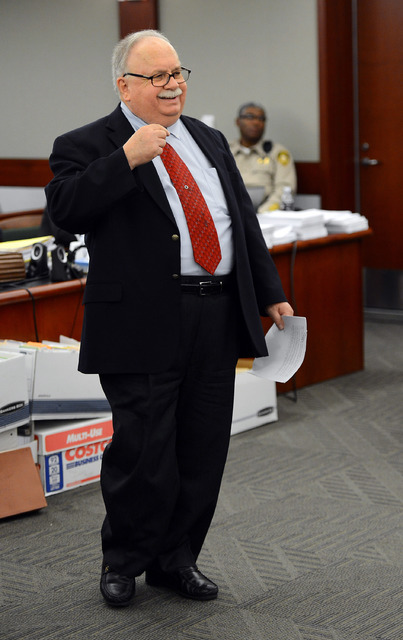 Tom Pitaro, a prominent Las Vegas defense attorney, took a seat in the back of Chief Judge Joe Bonaventure's courtroom. Pitaro didn't make a practice of attending the regular meetings of the city's Justice Court, but that day in July 2015, a friend had asked him to sit in. He said he couldn't believe what he heard.
Police and prosecutors were briefing the judges on their latest plan for using chemical field tests, the $2 kits that for years had been instrumental in gaining cocaine and methamphetamine convictions.
The more he listened to the conversation, Pitaro said, the more inappropriate he thought it was. "That's when I got up and started ranting and raving," he said.
Pitaro didn't know much about field tests and thus whether they would be any good at what the police and prosecutors were promoting that day: expanding the use of the kits to win heroin convictions. His objection was more fundamental. The judges were allowing prosecutors what amounted to an unchallenged, prejudicial communication about evidence to be used in criminal proceedings.
Pitaro said the appropriateness of such scientific evidence is normally presented in a formal hearing as part of a criminal case.
Those hearings allow both the prosecution and the defense to call experts; statements are made under oath; judges make individual decisions on what is admissible.
Pitaro demanded that the judges end the presentation. They didn't. Bonaventure, according to an official record of the meeting, reassured Pitaro that nothing underhanded was going on. The presentation, Bonaventure said, was only "informational."
What Pitaro stumbled upon that day was an arrangement that has existed for decades. Police and prosecutors had made a similar presentation in 1989, at the very outset of the use of field tests in Las Vegas. And it also provoked a little opposition.
Kelly Slade, then a Justice Court judge, chose not to attend the event put on by the Metropolitan Police Department and a field test manufacturer because it seemed inappropriate and unfair.
"Any decision I make will be based on the evidence and information presented to me in court, where both sides have an opportunity to cross examine each other's witnesses," Slade told the Las Vegas Review-Journal at the time.
Records and interviews show that such presentations have happened regularly over the years, almost always when the police and prosecutors wanted to widen the use of the tests. The presenters attested to their accuracy and vouched for their usefulness.
ProPublica contacted two experts in legal ethics, Dmitry Bam at the University of Maine and Brooks Holland at Gonzaga University, for their opinion of the practice. Both said they could see the value in judges seeking to be as informed as possible about the latest advances in forensic science. But both said the presentations had the potential for trouble.
"From an appearances perspective, this meeting is problematic," said Bam. "Putting myself in the place of a litigant who is trying to challenge this procedure, I would have a concern that judges attending the meeting are predisposed to rule against them."
Holland's take: "It doesn't mean it's unethical necessarily, but I certainly understand the concern on the other side."
Kevin Burke, a Minnesota district court judge and a former president of the American Judges Association, said he had been in similar meetings during his 30 years on the bench and said he believes that they happen on occasion around the country. Burke said he understands the concern that prosecutors could be lobbying judges, and as a result, he said, it's preferable for both the defense bar and prosecutors to be in the room.
Lance Hendron, president of Nevada's private defense lawyer association, was in the courtroom during the 2015 presentation before the Las Vegas Justice Court judges. But he said he had been given only 24 hours notice and was unprepared to challenge the substance of the proceedings.
Bonaventure, the chief judge, said in an interview that he'd be happy to grant the defense bar a full hearing, but "they've never requested to do so."
"There were no rulings being made," Bonaventure said of the meeting. "It was simply a presentation. It was really a courtesy of what to expect at future hearings. It's not testimony; it's not under oath. It's simply a presentation. There was no precedent or law created."
Christopher Lalli, a Clark County assistant district attorney, said there was nothing unethical about the presentations. Kim Murga, the head of the Las Vegas police crime lab, agreed. She said the presentations had been so persuasive over the years that the Justice Court judges actually had voted to approve the latest use of the tests at the meetings.
Judge Bita Yeager, a Justice Court judge since early 2015, said any such vote would be improper and would have no legal power over what evidence can be presented in court.
Yeager, who was at the presentation on the heroin tests, had spent years in the public defender's office and had never heard of such presentations. She didn't take issue with the presentation she attended, though, and said judges did not vote at the meeting on heroin tests. If such votes happened in the past, they would have been inappropriate, she said.
Decisions about the propriety of evidence can't be made informally, she said, adding that "the place to do that would be in court, not at some meeting."
ProPublica writer Topher Sanders contributed to this report.
RELATED
SPECIAL INVESTIGATION: Las Vegas police lab promoted field drug tests despite known errors
About ProPublica
ProPublica is an independent, non-profit newsroom that produces investigative journalism in the public interest. Its work focuses on stories with "moral force," shining a light on the failures of those with power to vindicate the trust placed in them. Since its founding in 2008, ProPublica has won three Pulitzer Prizes, two Emmys and an array of other awards honoring its work with data and digital design. It often partners with local and national print, television and radio news outlets.
This story was produced with the help of staff members at the Las Vegas Review-Journal.
Got a news tip?