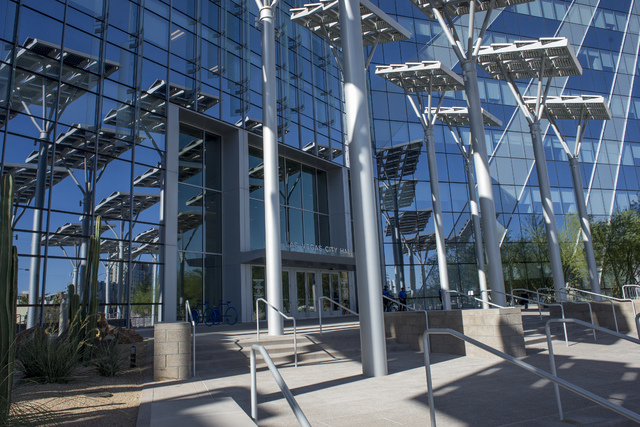 The city of Las Vegas' roughly $1.4 billion budget adds and restores a combined 61 positions to the city workforce, with one-third of those posts dedicated to public safety.
The City Council approved Wednesday a spending plan described by city officials as everything from balanced to fabulous.
The budget reflects a continued restoration of city services that were "cut when we didn't want to" during the recession, and have been gradually built back up, City Manager Betsy Fretwell said.
This is the last city budget crafted under Fretwell's leadership.
"This is a very robust budget, one that's responsible and responsive," Fretwell said.
The restored positions are in a range of city departments and include four animal control officers, 14 city marshal positions and six fire staff rovers.
The general fund budget totals $549 million, a more than $25 million bump up in expenditures from the current Las Vegas budget. Revenue is on the rise, with the consolidated tax revenue alone rising by over $12 million, to more than $295 million.
Salaries and benefits are rising by 4 percent, and make up more than half of the city's general fund expenditures. Non-labor employee costs total nearly $89 million, while wages and benefits for union-represented workers top $300 million.
Las Vegas' contribution to the Metropolitan Police Department, which accounts for more than a quarter of general fund costs, is rising to $143 million.
The city will maintain a $106.9 million fund balance.
The city's capital improvement plan includes more than 80 projects, including a $15 million for a new homeless initiative, $20 million for future downtown parking garages, the replacement of Fire Station 3 and $950,000 for the city's Innovation District.
The new budget takes effect July 1.
Contact Jamie Munks at jmunks@reviewjournal.com or 702-383-0340. Follow @JamieMunksRJ on Twitter.