Lawmakers introduce familiar budget bill
Updated June 4, 2023 - 12:37 am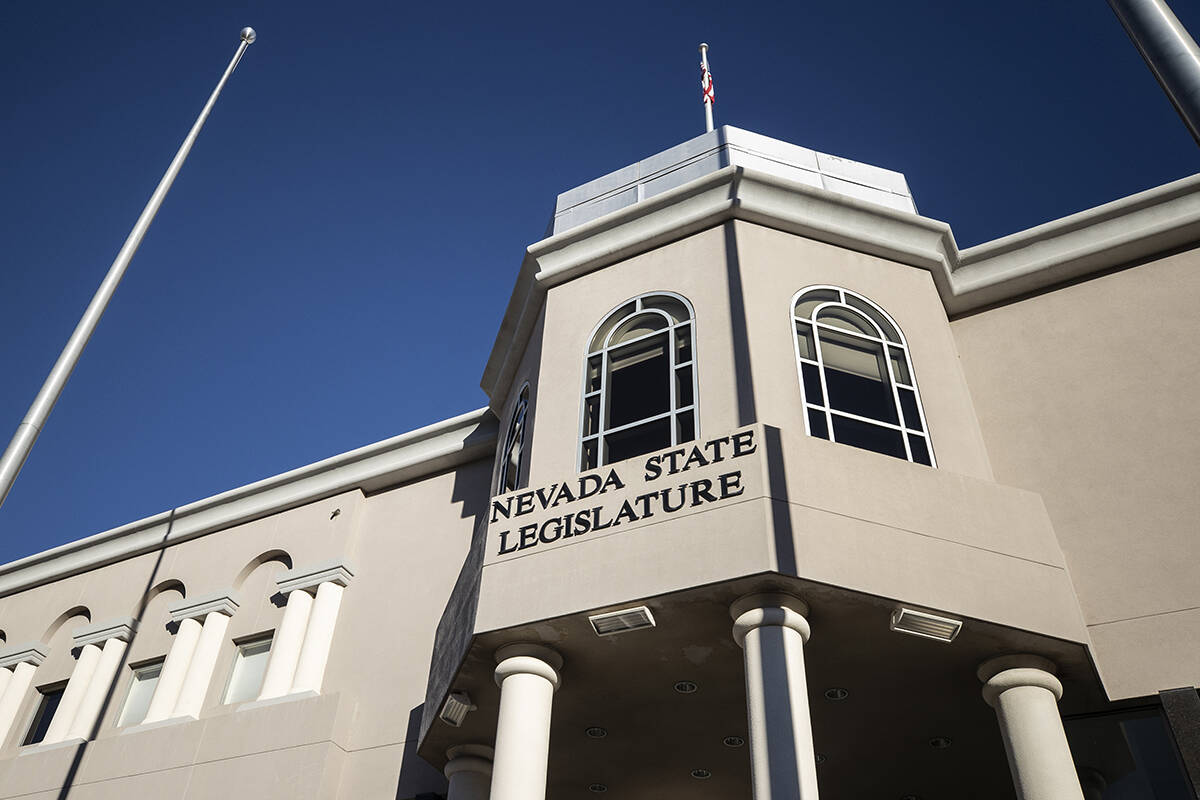 CARSON CITY — The Nevada Senate introduced a new version of the appropriations bill that Gov. Joe Lombardo vetoed Thursday night.
Senate Bill 511, which passed unanimously through the Senate Committee on Finance late Saturday night, includes the exact same language as the bill that the governor vetoed.
Sens. Heidi Seevers Gansert, R-Reno, and Pete Goicoechea, R-Eureka, voted yes but said they reserved their right to vote no on the floor.
The appropriations bill needs to be approved by July 1, or else the state faces a government shutdown.
Bill signings
Gov. Joe Lombardo signed a few significant bills Saturday, with just two days left in the 2023 session and with big portions of the state budget still unresolved.
Lombardo gave his approval to Assembly Bill 342, codifying the verification of age for cannabis sales. The Cannabis Compliance Board by regulation requires establishments to verify the age of the consumer before selling marijuana, and this bill codifies that requirement into law.
Lombardo also put his signature on Assembly Bill 356, sponsored by Assemblywoman Jill Dickman, R-Sparks, that makes it a crime to install a tracking device on a person's car without their knowledge. The bill comes after Reno Mayor Hillary Schieve found a tracking device on her vehicle during a visit to a mechanic.
The governor also signed Senate Bill 293. Lombardo was joined by the bill's sponsor, Sen. Fabian Doñate, during a small ceremony Thursday afternoon.
The measure requires companies that install solar panels to tell customers the amount due before installation, a timeline for installation and the monthly payment, among other things, before they buy or lease solar panels. If they don't, the customer may cancel the agreement. Customers can also cancel the agreement within three business days.
The bill also requires individuals who perform work on the panels or other solar-powered systems to hold a license issued by the state contractor's board or be an employee of a person who holds a license.
Doñate said the bill came about, in part, because of multiple complaints received by the attorney general's office about deceptive or misleading contracts pushed by solar installation companies.
"It's the most comprehensive consumer protection bill against the infractions that we've seen in the solar industry with people being taken advantage of," the Las Vegas Democrat said. "The bill speaks volumes of our governor's effort to protect Nevadans. I'm very, extremely grateful for this bill signing because it shows that Democrats and Republicans can work together despite the hard conversations that exist."
The Assembly Committee on Ways and Means was also expected at press time to hear Sen. Melanie Scheible's bill Saturday night that would require jails to establish a polling place exclusively for people who are held in detention centers so they can still exercise their right to vote. Senate Bill 162 was passed unanimously by the Senate on Thursday.
Assemblywoman Brittney Miller has a similar bill, Assembly Bill 286, that would require jail administrators to have a policy that allows eligible voters to cast a ballot in an election. The Assembly passed the bill in April, and the Senate's Legislative Operations and Elections Committee passed it in May. It's now in the Senate Finance Committee.
Homelessness services
Lawmakers also heard Assembly Bill 528, an emergency measure introduced by Assembly Speaker Steve Yeager. The Assembly Ways and Means Committee heard a presentation and testimony on the bill Saturday. The measure would create an account to provide matching funds up to $100 million for a project supporting homelessness services.
"We have a lot of challenges in this state when it comes to homelessness and social services," Yeager said. "As we as a body decide how to best invest the state's money, we feel this is a worthy project that could make a real difference."
Several groups threw support behind the bill, including housing advocates, the Nevada Resorts Association and other companies in the gaming industry, including Wynn Resorts and Boyd Gaming, among others.
"This is a unique model and it would enable the development of a transformative campus designed to address homelessness in one location to provide a full scope of essential services for those needing assistance," said Nevada Resorts Association President Virginia Valentine. "It also provides an opportunity for historic investment by the state, local government and private industry to do something different."
More vetoes
Lombardo also vetoed two more bills, bringing his veto total to 26 as of Saturday night.
He rejected Assembly Bill 11, which would have prevented hospitals from directly hiring doctors, except as authorized by law. Lombardo said the measure would make it harder to recruit doctors to the state.
He also vetoed Assembly Bill 97, a bill that would have allowed the state to curb the use of refrigerants that are bad for the environment. Lombardo argued the bill went too far.
"Currently, many large-scale buildings provide cool air throughout the facility using evaporative cooling mechanisms," Lombardo wrote. "This bill would not only allow a government entity to prohibit the use of such systems in the future, as is already done in Clark County, but would potentially require the removal of such a system already in place."
Contact Jessica Hill at jehill@reviewjournal.com. Follow @jess_hillyeah on Twitter. Contact Taylor R. Avery at TAvery@reviewjournal.com. Follow @travery98 on Twitter.