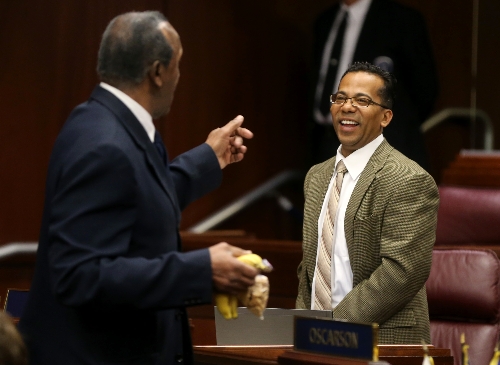 CARSON CITY – Assembly Democratic leaders took the unprecedented step Thursday of forming a select committee that could recommend the ouster of their colleague Steven Brooks for being unfit for office.
Brooks then announced he was taking three weeks off from the Legislature for medical reasons.
Majority Leader William Horne, D-Las Vegas, said the Assembly is moving into uncharted territory with the seven-member, bipartisan panel to review Brooks' conduct over the past several weeks.
"One of our first orders of business is to address whether Mr. Brooks is fit to serve in office," he said.
The Nevada Legislature has not considered the expulsion of a member at least since the 19th century, but other states have done so. It would take a two-thirds vote of the 42 members to remove Brooks, D-North Las Vegas, from office.
Moments after the committee of four Democrats and three Republicans was named by Speaker Marilyn Kirkpatrick, the embattled Brooks announced his intention to take time off.
"I just wanted to thank everybody for your faith in me and your love," he said in remarks on the Assembly floor. "You guys have loved me so much, you've convinced me to leave for a few weeks to get a medical procedure done that I need done, and so I'll be gone for three weeks.
"But I promise you I'll be back because we have a special commission to do, and I have due process," Brooks said.
He also thanked Kirkpatrick for her handling of his situation.
His brief comments were greeted with a smattering of applause from some of his colleagues. But one of the newly appointed members of the select committee said Brooks may not be its only focus.
Republican Lynn Stewart, R-Henderson, said another controversy – this one involving residency questions about freshman Andrew Martin, D-Las Vegas – might be reviewed by the select committee.
"I think it will come up," he said.
Martin won by more than 1,300 votes over Republican Kelly Hurst in District 9, though a district judge ruled a day before the election that he could not run because he lived outside the district. Hurst did not file a legal challenge to Martin's seating, and he was sworn in Monday.
LOOKING INTO BROOKS' BEHAVIOR
Stewart said the panel will help clear the air regarding whether Brooks can serve.
"He is an elected official, and he needs to either serve or get on with his life," he said. "I just think we need to address it and make a decision."
Assembly leaders, the press corps and legislative staff have been focused on Brooks even before the 120-day session began Monday.
It has been clear that Brooks is not communicating with his leadership. While Horne was explaining the operation of the select committee on Thursday, mentioning that Brooks was expected to attend committee meetings, the lawmaker was announcing his three-week departure.
Brooks' departure is not a formal leave of absence as had been discussed by the sophomore lawmaker and Assembly leadership earlier this week. He rejected that proposal.
Despite Brooks' pronouncement, it's unclear whether he will take a leave from the Legislature.
Rick Combs, director of the Legislative Counsel Bureau, said he was surprised by Brooks' announcement.
"There hasn't been anything signed at this point," he said.
Horne said the select committee will consider recent actions by Brooks in connection with allegations that he threatened Kirkpatrick last month but not the criminal case itself. Brooks was arrested in Las Vegas on Jan. 19 after Kirkpatrick reported her concerns about him to police.
The Nevada attorney general's office is investigating the allegations.
PANEL MEMBERS NAMED
Horne will serve as chairman of the panel. The other members are Pat Hickey, R-Reno, Wes Duncan, R-Las Vegas, Stewart, Richard Carrillo, D-Las Vegas, Jason Frierson, D-Las Vegas, and Dina Neal, D-North Las Vegas.
Horne said he wants the committee to get its work done quickly once it starts meeting, possibly the week after next. The review should not take more than one week, he said.
The panel will use independent counsel with legislative legal counsel for support, he said.
Horne said he does not know of Brooks' plans regarding legal representation at the select committee hearings.
He said the committee will move quickly to make its recommendation to the Assembly. It could range from no action to expulsion.
"I don't want this to drone on for weeks and weeks," Horne said. "We're looking forward to getting the work done that we were meant to do up here, for these now 117 days left. And this unfortunately has taken away from some of that."
The assessment of Brooks' fitness for office could include a variety of factors, including his participation in the legislative process, Horne said.
Because the process is precedent-setting, the select committee hearings will be open and fair, he said. Brooks will be notified and will be able to attend.
The goal is not to expel Brooks but to listen to witnesses and then decide how to proceed, Horne said.
BROOKS OUSTED FROM CAUCUS
The select panel was formed one day after the 27-member Assembly Democratic Caucus ousted him as a member. Being ostracized from the caucus means Brooks will not be able to participate in Democratic Party discussions about the party agenda and strategy. Some bills can be partisan in nature, and the caucus sometimes will seek unified support for or against a measure.
"The caucus allows us to have private conversations on the work that we want to do as a caucus," Horne said. "We are able to speak freely there. We need to have a comfortable environment. We believe expelling Mr. Brooks was beneficial for both us and Mr. Brooks at this time."
Brooks feigned surprise earlier Thursday when asked about his possible ouster from the Assembly, where he was elected to a second term in November.
"What expulsion? I don't know anything about that," he told a reporter in response to a question. "I'm lucid now, and I feel good."
Brooks had created a stir in the Legislature since Monday, when efforts were made by Democratic leaders to get him to take a leave of absence.
He rejected the proposal on Tuesday, voting instead to attend committee hearings and floor sessions. But Brooks skipped out on a Health and Human Services Committee meeting Tuesday after making brief remarks. He was more than 40 minutes late Thursday to a Ways and Means Committee meeting. He also came and went from the meeting to have other discussions in his office.
During Thursday's budget meeting, Brooks asked Gaming Control Board Chairman A.G. Burnett a question about his budget request to hire consultants to plan for a new computer platform.
"I spent all night reading your budget," he said.
After the testimony, Brooks asked Burnett and other agency officials to chat with him in his office about the computer plans. The meeting lasted about 10 minutes.
"Assemblyman Brooks seemed really concerned about the technology side," Burnett said. "He asked a lot of questions. Just like any assemblyman, he wanted more information."
Contact Capital Bureau reporter Sean Whaley at swhaley@reviewjournal.com or 775-687-3900. Contact reporter Laura Myers at lmyers@reviewjournal.com or 702-387-2919. Follow her on Twitter @lmyerslvrj.
ASSEMBLYMAN BROOKS' STATEMENT
The following are the remarks made by Assemblyman Steven Brooks on the Assembly floor Thursday morning:
"Thank you, Madam Speaker. I appreciate you. I just wanted to say a few words to my colleagues today before I leave. I just wanted to thank everybody for your faith in me and your love. You guys have loved me so much, you've convinced me to leave for a few weeks to get a medical procedure done that I need done, and so I'll be gone for three weeks. But I promise you I'll be back because we have a special commission to do, and I have a due process. And I want to thank you, Madam Speaker, for your integrity and the way in which you have handled this gracefully. God bless you all."