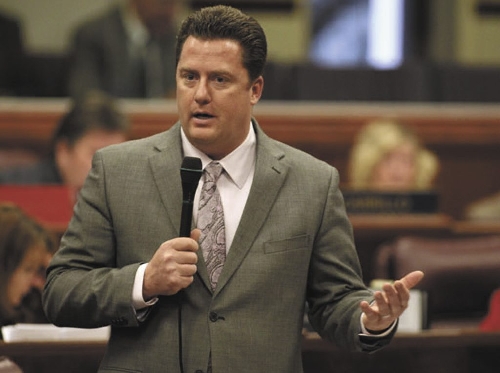 CARSON CITY — Thanks, but no thanks.
That was the Sandoval administration's response Monday to an Assembly resolution calling for Gov. Brian Sandoval to conduct a two-week "open, fair and public process," including public interviews, in selecting a replacement for resigning U.S. Sen. John Ensign, R-Nev.
Assembly Concurrent Resolution 8, which passed on a voice vote, also urges Sandoval to consider the costs of a special election if he appoints Rep. Dean Heller, R-Nev., to succeed Ensign. The governor would have to call a special election in the 2nd Congressional District if he appoints Heller, as has been widely speculated. Supporters say that would cost "hundreds of thousands of dollars of taxpayer money."
Sandoval will appoint by Friday the "most qualified U.S. Senate candidate," regardless of whether it precipitates the need for a special election, said Dale Erquiaga, policy director for Sandoval, during a news conference.
"We appreciate the legislative input," Erquiaga said. "But in reviewing the law, it is clear this is a decision of the governor."
The law is clear on the governor appointing replacements for U.S. senators, but there never has been a special election to fill a vacant seat in the House of Representatives in Nevada. The law also is clear there will be no primary before a special election for a congressional seat.
What is unclear is how the candidates who will run in the election will be selected. If it is an open general election, then many candidates could run with the one receiving the most votes winning. A Democrat never has won the 2nd Congressional District seat, but if a Democrat faced a slate of several Republicans, then he or she might prevail. The winner would hold the seat only until the end of Heller's term in January 2012.
Sandoval has discussed the appointment process with former Govs. Bob Miller, Robert List and Paul Laxalt and made as yet unreturned calls to former Gov. Richard Bryan, according to Erquiaga. He has not yet interviewed Heller or other candidates to replace Ensign, who resigns effective May 3.
A former deputy secretary of state, Erquiaga said he assumes the state would pay the costs of the special election if the governor appoints Heller. The secretary of state's office has refused to discuss costs, or how the candidates for the special election would be chosen.
DEBATE ON RESOLUTION
In Monday's floor debate on the resolution — which has no force of law — Assembly Speaker John Oceguera, D-Las Vegas, said he was not questioning Sandoval's authority to name Ensign's replacement.
But he said the governor should allow a public process — like what occurred in the Washoe County Commission when it picked Greg Brower to succeed retiring state Sen. Bill Raggio. The commission held public interviews of candidates.
He also said the cost of naming Heller to the post should be weighed since the special election could cost hundreds of thousands of dollars at a time when education and other budgets are being cut.
Assemblyman Lynn Stewart, R-Henderson, opposed the resolution, saying the governor has had the sole authority to appoint U.S. Senate replacements since Nevada statehood in 1864.
In the Senate, the ACR8 was approved on a 11-10 party-line vote with all Democrats voting yes and all Republicans voting no.
But Sen. Mark Manendo, D-Las Vegas, basically acknowledged it was a worthless vote.
"It is just another partisan vote on something that has nothing to do with the business of this body," said Manendo after the vote.
NAMES MENTIONED
Several Republicans voted for the resolution when it was discussed briefly and approved unanimously during an impromptu Assembly Legislative Operations and Election Committee hearing in the back of the Assembly chambers earlier Monday.
Chairman Tick Segerblom, D-Las Vegas, said he hopes Sandoval will appoint former Clark County Commissioner Bruce Woodbury, as a caretaker to fill Ensign's remaining 20 months. Woodbury's daughter, Melissa, is a member of the Assembly.
Former state Sen. Bill Raggio, R-Reno, also would be a good choice, added Segerblom, a former state Democrat chairman.
Brower said Monday he will be a candidate to replace Heller in the 2nd Congressional District seat if Sandoval appoints the congressman to the Senate. Brower added he also intends to run for seat in the November 2012 election.
"It is my intention to seek the seat now (if Heller goes to the Senate) and in 2012," said Brower following a state Senate floor session.
Jill Derby, former state Democratic chairwoman who twice lost congressional races to Heller, said she is still considering filing for the race. First, she wants to see whether Secretary of State Ross Miller decides that party central committees should pick the candidates or that anyone can file for the office.
"I am looking to see how this unfolds," Derby said.
Assembly Ways and Means Chairwoman Debbie Smith, D-Sparks, who had been mentioned as someone who might be interested in Heller's congressional seat if he gets the Senate nod, said Monday that she has too much work to do in the Legislature and will not be a candidate.
"Education in Nevada, for which I have been a passionate advocate my entire adult life, is being threatened, and I feel it is my responsibility to remain 100 percent focused on this budget and the fight for education funding," Smith said in a prepared statement. "I can think of no better place to fight that fight than with my colleagues in the Assembly and Senate and from my position in Assembly leadership."
Reporter Benjamin Spillman contributed to this report. Contact Capital Bureau Chief Ed Vogel at evogel@reviewjournal.com or 775-687-3901.
Ensign staff can remain on Senate payroll
WASHINGTON — Sen. John Ensign's final day in office on May 3 does not necessarily mean the final day of work for his staffers as well.
A resolution the U.S. Senate passed in 1984 allows staff members of senators who die or resign mid-term to remain on the Senate payroll for a period not to exceed 60 days, and that could be extended by the Committee on Rules and Administration.
Staffers would "complete the closing of the office," according to the resolution. That would include cataloging, boxing and shipping the senator's papers to an archive of his choosing, closing out casework if possible and referring still-open cases to another designated office.
Ensign, who delivered his resignation last Friday to Vice President Joe Biden, has not disclosed what he wants done with his official papers. Gov Brian Sandoval will name a replacement this week, according to senior adviser Dale Erquiaga.
Ensign employed 53 people in his Washington and Nevada staffs, according to records through Sept. 30, 2010, compiled by Legistorm, a congressional tracking service. His fiscal year 2010 payroll was $2.6 million.
STEVE TETREAULT / STEPHENS WASHINGTON BUREAU