At CPAC, Nevada AG Adam Laxalt blasts 'hubris of government' in land seizure cases
February 24, 2017 - 8:18 am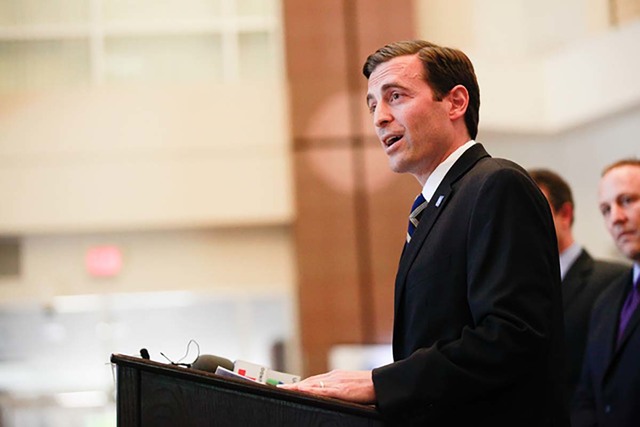 OXON HILL, Md. — Nevada Attorney General Adam Laxalt told a national gathering of conservatives Friday that protecting private property rights from government is an American principle that is under siege.
Laxalt used what he called questionable "government takings" cases in Connecticut and Wisconsin to illustrate how eminent domain and state regulations can allow governments to seize homes and property from private citizens.
"That shows the hubris of government," Laxalt said.
Laxalt was one of three panelists to speak on physical, personal and intellectual property rights at the Conservative Political Action Conference held at the National Harbor conference center just outside Washington D.C., the largest annual gathering of conservatives.
Also on the panel were Ed Yevoli, an American Conservative Union board member, Adam Mossoff, an American Conservative Union Foundation senior fellow, and Stephen Mills, the Apache, Oklahoma, chief of police.
'STOP TAKING OUR STUFF'
Mills said the burden has shifted to citizens, who face steep hurdles to recover property when it is taken via asset forfeiture and seizure laws. Mossoff spoke about protecting intellectual property.
Yevoli joked that the session should have been titled, "Stop taking our stuff."
The panelists were among more than 70 speakers who attended the annual CPAC conference sponsored by the ACU.
It provides a platform for conservatives, including many politicians seen as rising stars in the Republican Party.
Laxalt is considered a likely Republican gubernatorial candidate to replace Gov. Brian Sandoval, also a Republican, who is prevented from seeking re-election because of term limits.
Laxalt has more than $1.5 million in cash on hand that could be used for the 2018 gubernatorial race.
Fellow Republican U.S. Sen. Dean Heller has announced he will seek re-election to his Senate seat next year and Lt. Gov. Mark Hutchison, also a Republican, said he would not run for governor.
There are a slate of Democrats who could run nor governor, including Clark County Commissioner Steve Sisolak and state Senate Majority Leader Aaron Ford, although none has announced plans to run.
Following his speech, Laxalt declined to say if he would run for governor.
Laxalt said he is focused on his job as attorney general during the legislative session in Carson City. He said there is no timeline for when he might decide whether to seek the top seat in state government.
OUTSPOKEN ON PROPERTY RIGHTS
As attorney general, Laxalt has been active in property rights cases.
Laxalt last year filed a friend of the court brief with the U.S. Supreme Court in a Wisconsin case titled Murr vs. Wisconsin in which a lower court upheld a regulatory action that prevented four siblings from selling half of their waterfront land holdings.
The law wrongfully veered toward allowing more takings of property, Laxalt said of his brief. "In Nevada, more than 80 percent of land is already owned by the federal government, and the new rule proposed in the Murr case would only increase its ability to take state and private land without just compensation."
Nevada was joined in its brief by Alaska, Arizona, Arkansas, Kansas, Oklahoma, South Carolina, West Virginia and Wyoming.
The Supreme Court declined to allow Nevada to argue its brief in oral arguments scheduled for March 20.
In another case, involving a homeowner in New London, Connecticut, the City Council used eminent domain to take a home for the good of the community.
The U.S. Supreme Court upheld the action, but the public backlash prompted 45 states to push ballot initiatives to prevent local governments from taking public lands.
Laxalt noted Friday that after all the litigation and the public outcry, the land taken in 2005 in New London "lies vacant today."
Contact Gary Martin at 202-662-7390 or gmartin@reviewjournal.com. Follow @garymartindc on Twitter.