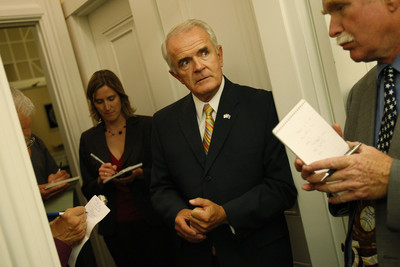 CARSON CITY — Before legislators fled late Friday following a relatively peaceful and brief special session, the stage had been set for a battle between Assembly Speaker Barbara Buckley and Gov. Jim Gibbons when they return in February.
In a speech concluding the 12-hour special session, Buckley, D-Las Vegas, talked of "stabilizing our financial structure" during the 2009 Legislature.
Never again should lawmakers have to choose between paying for new textbooks for school children, and providing a cost-of-living increase for their teachers, she said.
"It is pathetic to cut education when you are at the bottom," she said.
In approving $275 million in budget cuts during the special session, lawmakers sliced textbook spending by $48 million, while keeping a scheduled 4 percent cost-of-living adjustment for teachers and state employees.
Buckley, who is widely seen as a possible candidate for governor in 2010, did not elaborate on what she had meant by stabilizing the state's financial structure.
But if it involves raising taxes, Gibbons said Friday night, just moments after Buckley concluded speaking, it wouldn't happen with him in the governor's office. Gibbons proclaimed he won't support raising taxes — not during an economic downturn, or some future economic boom.
And unless the economy quickly rebounds, the governor said, he will propose a "zero growth" two-year budget for lawmakers to consider at the 2009 Legislature.
"I am not a pro-tax guy, as if you didn't know," Gibbons told reporters as he waited for legislators to officially inform him they had balanced the budget and were adjourning the special session.
The spending cuts approved Friday were in addition to the $914 million cut in earlier rounds of budget trimming by Gibbons and the Legislature. At $1.2 billion, the total state shortfall is equivalent to 17 percent of the two-year $6.8 billion state budget.
State tax revenue this year will, for the first time in at least 30 years, total less than the previous year, he said. And next year could be even worse.
As the fastest-growing state for most of the past two decades, tax revenue in Nevada has typically grown by 6 percent or more a year.
"I think it is pathetic our economy is not doing better than it is," Gibbons said. "That is the issue."
During the special session, legislators ignored Gibbons' suggestion that they adopt a zero growth budget now for the next fiscal year. Asked whether such a budget would lead to cuts in services, including education, Gibbons said it probably would.
State government must behave like businesses and families during tough times, and that means making do with less, he said.
That view is in sharp contrast to Buckley's outlook for 2009 as outlined in a televised speech Thursday night. Her remarks followed a televised address by Gibbons on the special session.
"I will work with any and all Nevadans to make the 2009 legislative session the most important in Nevada's history," she said. "Those who agree that our system is broken can work together with me to, once and for all, make meaningful change. We must fully examine our financial structure, which cannot sustain our state."
Buckley spoke of examining state spending, but noted Nevada ranks near the bottom nationally in spending on education, mental health, services for autistic children and funding to prevent cancer.
"The harsh reality is that we did not get to our place in the ranking, whether 45th or 50th, in one day. And we will not improve all of these rankings in one day," she said.
There were indications leading up to and during the special session that Buckley and Gibbons' disagreement extends beyond their visions of how Nevada should be governed.
Buckley and state Senate Majority Leader Bill Raggio worked for more than a week before the special session to draw up the plan to address the budget shortfall.
Buckley said in her speech that she had not spoken with Gibbons since June 12, the day the governor told legislators he would not call a special session to address the shortfall.
The following day Gibbons reversed himself and called for the special session.
The speaker accused Gibbons of calling the special session to "divert attention away from his spate of bad publicity and his text messaging issue. He wants to change the topic of conversation." It was a reference to reports Gibbons used a state cell phone to send more than 850 text messages in March and April 2007 to a Reno woman the governor described as a longtime friend.
An attorney for first lady Dawn Gibbons said the governor was involved with the woman, Kathy Karrasch, and that the relationship was the cause of the Gibbonses' pending divorce.
The governor shot back at Buckley, saying "you would have be a moron" to suggest the special session was called to divert attention from his personal problems.
As legislators departed the special session Friday night, Gibbons wouldn't admit to feeling vindicated by lawmakers' decision to cut spending. He said only that he could not have made all the necessary cuts without a special session.
The governor had a tougher time explaining why he had avoided any discussions with Buckley immediately before and during the special session.
"My staff and her staff worked together," Gibbons said. "I didn't feel I needed to go over there" to talk with her.
Contact reporter Ed Vogel at evogel @reviewjournal.com or 775-687-3901.