Decreased need will decrease budget for state-sponsored mental health services in Nevada
January 24, 2017 - 3:57 pm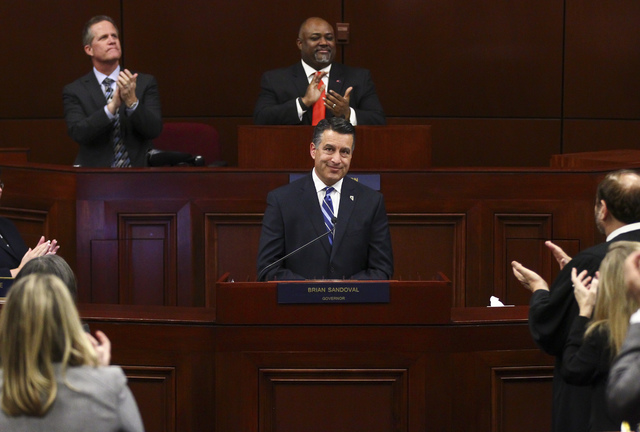 CARSON CITY — Two of Nevada's largest mental health budgets are in line for significant cuts and a loss of positions in Gov. Brian Sandoval's proposed 2017-19 budget because fewer people are seeking services, an official said Tuesday.
The reductions in state mental health spending are being offset by increases in the Medicaid caseload, said Chief of Staff Mike Willden.
Senate Majority Leader Aaron Ford, D-Las Vegas, is concerned about the reductions, which will be outlined in more detail when the session gets under way Feb. 6.
But Willden provided some details of the reductions after questions were raised at a budget hearing on Tuesday.
For Southern Nevada Adult Mental Health Services, state general fund support would decrease from $93 million in the current budget to $83 million in the new spending plan, with the loss of 38 staff, Willden said.
The reason for the decline is a 33 percent reduction in the use of the agency's outpatient clinics between June 2013 to June 2016, he said. Nearly all of the job losses are in the medications area because fewer prescriptions are being filled by state staff for clients.
For Northern Nevada Adult Mental Health Services, the general fund budget reduction is from $32 million to $26 million with the loss of 56 positions, Willden said. Rural mental health programs will see a funding increase from $14 million to $15.5 million, he said.
The lower demand for state-sponsored mental health services is the result of the major expansion of Medicaid by the state under the Affordable Care Act, Willden said. More Nevadans needing mental health services are being covered by the program, the costs of which are shared by the federal government.
State run mental health programs are far more reliant on state general funds so the shift is a benefit to the state budget, he said.
Contact Sean Whaley at swhaley@reviewjournal.com or 775-461-3820. Follow @seanw801 on Twitter.