Federal judge orders Nye County to return Hof's political sign
Updated June 11, 2018 - 6:34 pm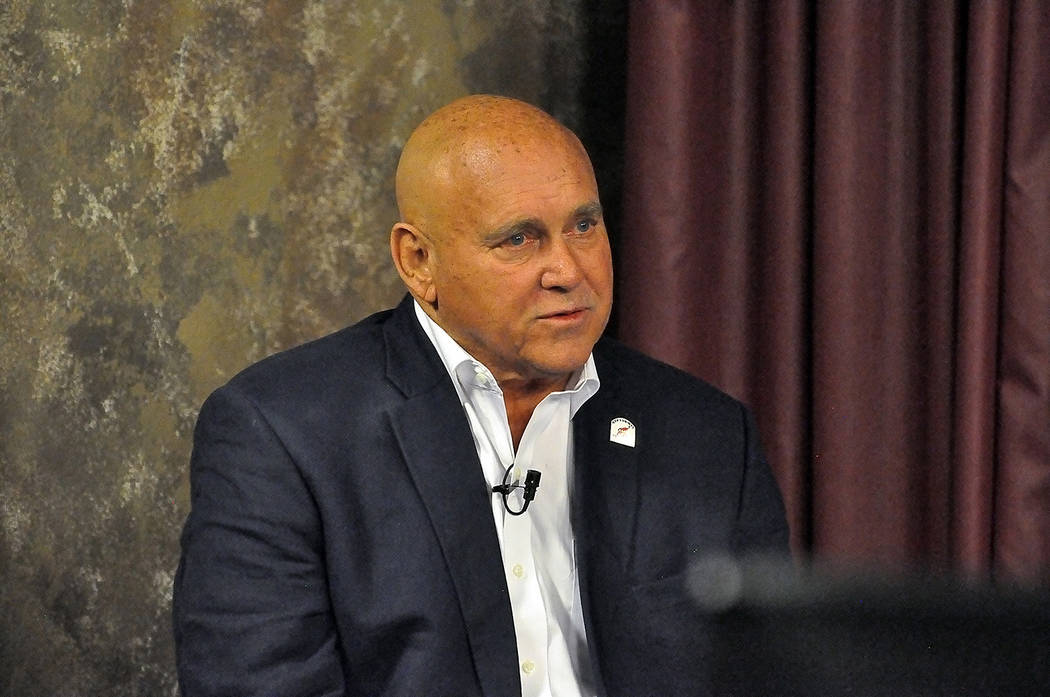 A federal judge last weekend ordered Nye County officials to return brothel owner and Nevada Assembly candidate Dennis Hof's campaign sign after it was towed from his property just days before the primary election.
During a special emergency hearing late Saturday, U.S. District Judge Richard Boulware ruled that Nye County District Attorney Angela Bello, commissioners and the sheriff violated Hof's right to due process when they removed a sign that had been placed on a trailer under a billboard for Hof's opponent, Assemblyman James Oscarson.
The sign on the trailer named a Nye County commissioner and read "DUMP DIRTY Dan Schinhofen/He SOLD OUT 8,500 Well Owners to BIG DEVELOPERS."
Hof received a letter about the sign in question from the county in late May. On Thursday, Bello called him to say the sign violated a county ordinance. Hof's lawyer, Marc Randazza, spoke with her shortly after noon the next day.
Randazza said Bello indicated that the sign would not be removed, but when Hof arrived at the property about five hours later, the sign was gone.
Judge Boulware ruled that Hof was never given an opportunity to contest whether the sign violated county codes, and wrote that the sign had the potential to influence prospective voters.
"The public has a strong interest in maintaining the property protections and due process protections that are associated with the deprivation of property by the government," Boulware's order said.
The judge ordered county officials to return the sign before 8 a.m. Sunday.
"My client got out there at 7:45 a.m., and the sign was already back," Randazza said. "This judge has a great reverence for due process and the Constitution and was not going to allow a constitutional issue to go unsolved."
Still, Boulware said that Hof suffered "irreparable harm" while the sign was gone.
His attorney agreed.
"When you have any First Amendment rights being infringed upon, even a few hours makes a difference," Randazza said, adding that he planned to seek damages and attorney fees from the county. "The case isn't over."
Nye County spokesman Arnold Knightly said in a statement that several candidates were notified in the past few weeks that their signs were out of compliance.
"The sign at issue had been cited by code compliance but was not removed in a timely manner and was subsequently towed," the statement said. "Mr. Hof filed an emergency motion to have the sign returned and the Court held a hearing. The Judge granted the motion and ordered the sign be returned because it was his opinion that due process was not adequate. The sign was returned the next morning. All other matters in the Complaint will be timely addressed."
Bello could not be reached for comment.
Contact David Ferrara at dferrara@reviewjournal.com or 702-380-1039. Follow @randompoker on Twitter.