Las Vegas lawmaker wants more affordable options for diapers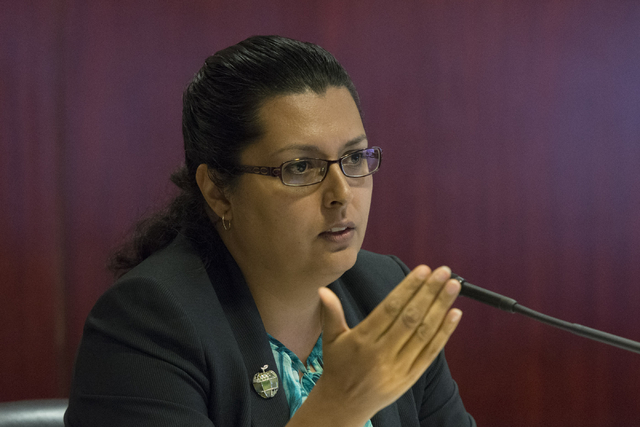 CARSON CITY — A Southern Nevada lawmaker wants to explore ways to make diapers affordable for families who often cannot afford the basic necessity newborns and young children require.
Assembly Bill 340, sponsored by Assemblywoman Olivia Diaz, D-North Las Vegas, does not seek money. Instead, it requires the director of the Department of Health and Human Services to appoint a committee to research opportunities to use federal dollars to increase the availability of diapers and diapering supplies to recipients of public assistance.
Some suggestions included whether federal money could be used to purchase supplies, making them an incentive for recipients to complete other programs, such as quitting smoking, getting prenatal care or attending pediatric follow-up appointments.
Denise Tanata with the Children's Advocacy Alliance said infants use about 240 diapers per month, costing about $78 per month if bought in bulk.
But she told members of the Assembly Health and Human Services Committee on Wednesday that many families are unable to buy in bulk because they may lack credit to purchase them online or have no transportation to shop at big discount stores.
Exasperating the problem is that diapers are labeled as a "luxury item," so they are not covered by Temporary Assistance to Needy Families, Food Stamps or other assistance programs.
Tanata cited a Yale University study that found 30 percent of mothers reporting they were unable to afford to change their baby's diapers as often as they should, and many made do by reusing soiled diapers.
Kim Amato, founder of the nonprofit Baby's Bounty, said cloth diapers are not an option for poor families because many child care centers require children have disposable diapers. Also, she said such families lack access to a washer and dryer, and laundromats do not permit washing of diapers because of health and sanitation concerns.
"A single mother working full-time at the minimum wage spends 6 percent of her annual gross income on diapers," Amato said.
No action was taken by the committee.
Contact Sandra Chereb at schereb@reviewjournal.com or 775-461-3821. Follow @SandraChereb on Twitter.