Nevada GOP wants presidential caucus over primary, sues state
Updated May 31, 2023 - 4:55 pm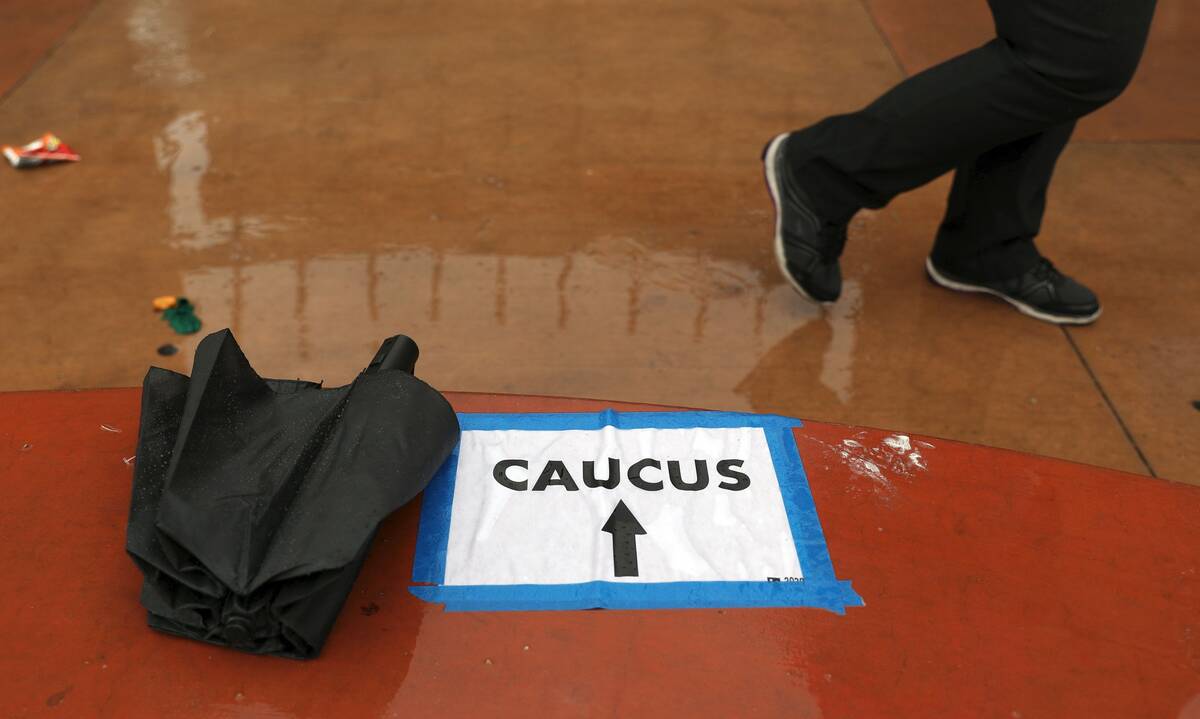 Nevada Republicans would rather caucus than participate in a presidential preference primary to select their next nominee, and they are suing the state in hopes of making it happen.
The lawsuit, filed by the Nevada Republican Party, names Nevada and Secretary of State Cisco Aguilar as defendants.
Nevada lawmakers did away with the caucus in 2021 and instituted a presidential primary process for major political parties, unless there is only one candidate in the race.
Under the law, major parties must hold a presidential preference primary on the first Tuesday in February every four years.
Michael McDonald, chairman of the Nevada Republican Party, on Wednesday said the lawsuit was filed because of alleged and unproven election irregularities and what he described as Democrats' unwillingness to discuss Gov. Joe Lombardo's election reform bills during the current session in Carson City.
A caucus would ensure that only registered Republicans will be allowed to vote for Republican candidates, the party said in a statement. Under current law, voters can register or change their registration up to the day of the election, switching from the Democratic to the Republican Party in order to vote in the GOP contest.
"Due to the inability of Nevada Democrats to execute a smooth, efficient caucus, they want to use unaccountable dark money in an attempt to force Republicans to change the way we choose our presidential nominee, and allow out-of-state interests to interfere in the Nevada GOP nominating process," the statement said.
Both parties, however, have struggled with managing the often chaotic caucus process.
Nevada Democrats countered that Republicans want to depress the vote.
"This is the GOP playbook at work — restrict voting access to limit as many voices as possible and change the rules if they don't serve their interests," wrote Mallory Payne, spokesperson for the Nevada State Democratic Party, in a statement. "Democrats moved from a caucus to a presidential preference primary to simplify the process and make voting easier and more accessible."
She added: "Republicans aren't even trying that hard to hide their intentions — they're doing whatever it takes to protect their MAGA leader and get Trump over the finish line."
McDonald said that the party hadn't endorsed a presidential candidate and that he looks forward to a fair process.
The lawsuit, filed in Carson City District Court, claims First Amendment protections and accuses the state of interjecting in the dealings of political parties.
"Once formed, the ability of political parties to govern themselves free of state intervention/interference is a critical requisite for the citizenry to enjoy the right of freedom of association," according to the lawsuit, prepared by attorney Sigal Chattah, who is also the Republican National Committeewoman for Nevada.
The secretary of state's office said Wednesday that it hadn't received the lawsuit but noted that Nevada will move forward with a "presidential preference primary for all major political parties," as required by law.
A spokesperson added: "It is our office's understanding that nothing in state law prevents any major party from conducting a caucus, or any other method of selecting their nominee that they so choose."
But NRS 298.650 says, simply, "A presidential preference primary election must be held for all major political parties on the first Tuesday in February of each presidential election year." There is no provision allowing parties to opt out and use a caucus.
Aguilar's office didn't respond to follow-up questions.
Early voting for the state's first presidential preference primary begins Jan. 27.
McDonald said the state party told the Republican National Committee and Lombardo about the lawsuit and received no "pushback." Lombardo's office did not respond to a request for comment.
Contact Ricardo Torres-Cortez at rtorres@reviewjournal.com. Follow him on Twitter @rickytwrites.
GOP SUIT by Las Vegas Review-Journal on Scribd