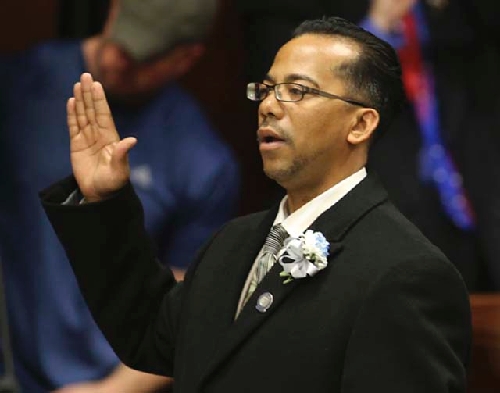 CARSON CITY – Liam, the 2-year old son of state Sen. Justin Jones, D-Las Vegas, kept calling "Daddy, Daddy" on Monday morning as he held onto his father's chair in the Senate chambers. Eventually, Dad gave him a hug and walked to the front of the Senate to be sworn into office.
Other than the seating of troubled Assemblyman Steven Brooks, D-North Las Vegas, the 77th session of the Nevada Legislature opened much like the 76th that preceded it did – a day for family and harmony. And even a day for tears.
The latter came during a speech by Senate Majority Leader Mo Denis, D-Las Vegas. He teared up in talking about his father, Cuban immigrant Armando Denis, who died last year. The son spoke of the sacrifices his dad, a waiter at the Sands, made to give his four American-born children a good life in the "land of opportunity."
Others in the audience were visibly moved by Denis' comments.
Denis wore his father's shoes for the opening day ceremony, during which he officially became the first Hispanic to be Senate majority leader in Nevada.
"We have great work ahead to build a better Nevada, and we can accomplish it by working together," Denis said.
He said his priorities are creating jobs, improving education and developing a tax system that is fair to business and does not hurt the middle class.
Senate Minority Leader Michael Roberson, R-Las Vegas, shook Denis' hand and agreed that harmony should mark this session.
"Let us be different than Washington, D.C.," Roberson said. "Let us give Nevadans a reason not to be cynical."
Things were equally gracious in the Assembly, where Marilyn Kirkpatrick, D-North Las Vegas, was elected speaker.
Kirkpatrick said she is committed to working with Republican Gov. Brian Sandoval and colleagues in both houses and both parties.
She praised Sandoval for seeking to increase opportunities for children with an expansion of all-day kindergarten but said it should be offered in all schools.
Kirkpatrick also called for reform of the state's tax system.
"By the way," she said, "let's get away from one Nevada tradition: bickering, pettiness, personality versus politics. Whether it's an Assembly, Senate, Republican or Democrat bill, let me tell you something. Nevadans just don't care. They just want solutions."
Assembly Minority Leader Pat Hickey, R-Reno, said he looks forward to working with the Democratic majority.
"The speaker is attempting to set a refreshing new tone of putting policy before politics when it comes to lawmaking," he said . "And my caucus says, if that's what the new sheriff around here wants, a lot of us are going to sign up."
Assembly Majority Leader William Horne, D-Las Vegas, offered some cautionary advice for all legislators about their jobs.
"Do not forget it is a privilege," he said. "You do not own these seats. While they are comfortable, they have been given to you, only on loan, by the people who do, and that's the citizens of Nevada."
The seating of Brooks was not the only recent controversy involving the Assembly.
Andrew Martin, D-Las Vegas, was sworn in Monday as the legislator for District 9. He won by more than 1,300 votes over Republican Kelly Hurst, though a district judge ruled a day before the election that he could not run because he lived outside the district.
Each house determines its members' qualifications, and there was no dissent when he took his seat. Democrats have a 27-15 majority in the Assembly, and Hurst did not file legal challenges to Martin's seating.
"It's settled, it's way behind," Martin said of the residency issue. Martin said that he lives in the district, and "I always have."
Back in the Senate, Pat Spearman, D-North Las Vegas, took office as the first member to acknowledge openly that she is a lesbian.
"First of all, it is part of who I am, just as I have hazel eyes," Spearman said. "I am proud to be out. It is a humbling experience to be here. It gives me an opportunity to do things for Nevada. I thank God I am here."
Contact Capital Bureau Chief Ed Vogel at evogel@reviewjournal.com or 775-687-3901. Contact Capital Bureau reporter Sean Whaley at swhaley@ reviewjournal.com or 775-687-3900
FIRST UP: LEGISLATORS' PAY
CARSON CITY — Legislators are like everyone else: They like to get paid, though their salary for the 120-day session is less than $9,000.
Less than four hours after the 2013 session opened, members of the Senate and Assembly voted unanimously Monday for the $15 million bill to cover the costs of the 2013 legislative session.
Gov. Brian Sandoval is expected to sign the bill as soon as it reaches his desk, which could be in a couple of days.
With their legislative pay, lawmakers receive a per diem living allowance of about $18,000 for the session.