Sandoval plans to call special session this week for Faraday
December 14, 2015 - 6:40 pm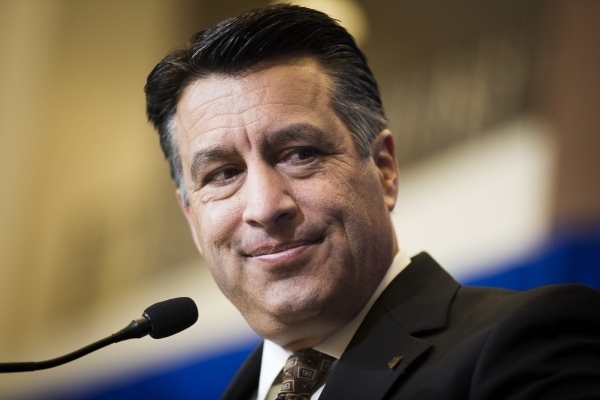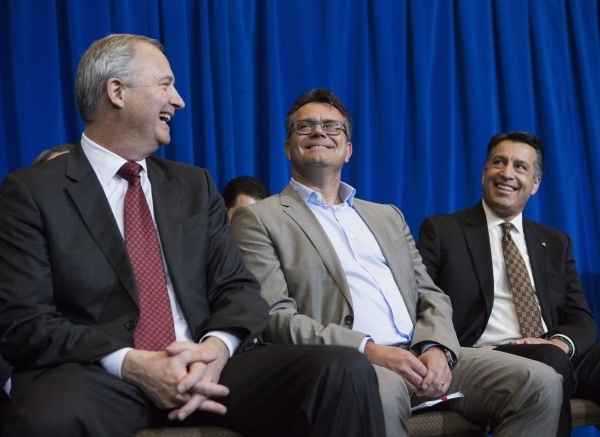 CARSON CITY — Gov. Brian Sandoval on Monday said he was still finalizing a proclamation to call a special session of the Legislature into session to review a package of tax abatements and credits to bring the electric car manufacturer Faraday Future to Southern Nevada.
The exact date of the session is also uncertain, although Sandoval said that without question it will be this week.
While details are still being fleshed out to bring 62 lawmakers to Carson City to consider the $1 billion plant and its $217 million in incentives over 15 years, Sandoval reiterated that he will not consider other issues at the special session.
Sandoval said he and his staff have been inundated with requests to consider other issues when lawmakers convene, from concerns with Education Savings Accounts to homeowners associations. But just like with the Tesla special session in September of 2014, this short session will focus on Faraday only, he said.
Rick Combs, director of the Legislative Counsel Bureau, said Monday that legal staff had already begun the bill drafting process. He wasn't sure how many bills will be presented to lawmakers when the special session begins.
Combs said lobbyists will be required to register for the session, and that he was working on getting information posted to the Legislature's website.
It will be the 29th special session of the Nevada Legislature in its 151-year history.
As in previous special sessions, lawmakers will consider the measures in the Senate and Assembly first as committees of the whole. They will hear testimony and ask questions before floor votes are taken.
The Tesla special session, which involved $1.3 billion in tax incentives to bring Tesla Motors' $5 billion battery factory to an industrial park east of Reno, lasted two days.
One reason to delay a proclamation has to do with the 2016 election season. Contributions to lawmakers are prohibited from the day after a proclamation is issued to 15 days after it concludes. State lawmakers have been holding political fundraisers for the past several weeks.
Assemblywoman Victoria Seaman, R-Las Vegas, who has announced a run for the Senate District 6 seat, sent out a request for contributions via Twitter late Monday afternoon noting that a special session was eminent.
The cost of a special session of the Legislature is about $60,000 for the first day and $25,000 for each additional day. Overtime and printing costs are not included in the estimate.
Lawmakers will be paid $146.29 per day in salary and $140 a day for per diem for food, housing and other expenses.
Review-Journal writer Sandra Chereb contributed to this report. Contact Sean Whaley at swhaley@reviewjournal.com or 775-687-3900. Find him on Twitter: @seanw801