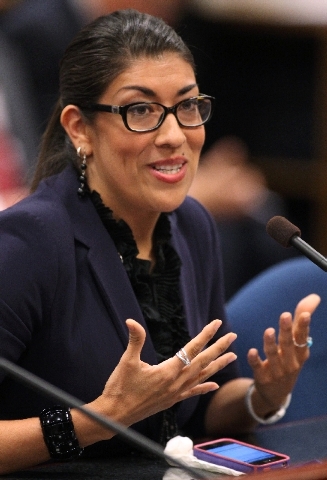 CARSON CITY – Gov. Brian Sandoval has signed into law a bill that allows victims of domestic violence to break rental leases.
Assembly Bill 284, sponsored by Assemblywoman Lucy Flores, D-Las Vegas, is designed to get victims out of situations where they could be hurt because they cannot move away from an aggressor. Flores testified about how she could not break a lease after she had been abused, and as a result suffered financial losses.
"This is a step in the right direction in dealing with the very serious issue of domestic violence in Nevada," said Flores about her bill which passed over the opposition of 11 of the 15 Assembly Republicans. She added that Nevada leads the nation in domestic violence-related homicides.
The law goes into effect July 1.
Sandoval signed Flores' bill on Saturday. He signed 31 more bills Sunday, including Flores' Assembly Bill 286 that requires first-aid centers, emergency medical technicians and in some cases ambulances at some events that draw more than 2,500 people in Clark and Washoe counties. The bill was opposed by 14 of the 15 Assembly Republicans.
Sandoval has broken with fellow Republicans several times this legislative session. On Friday he signed a bill that allows people living in the country illegally to drive legally even though nine of the Assembly Republicans opposed it. He also signed a bill to allow judges to impose additional sentences on people convicted of hate crimes, specifically of targeting victims because of their gender identity. That bill also drew opposition from Assembly Republicans.
Bills signed by Sandoval on Sunday included:
—Assembly Bill 264, which makes it a gross misdemeanor if a person is convicted a second time of feeding stray horses. Stray horses are those on state or private land.
—Assembly Bill 146, which makes it a felony crime, punishable by five-year to life imprisonment sentence, for holding someone in "involuntary servitude" or slavery. This crime can be charged in cases where a minor is forced to perform labor or is physically harmed, sexually abused or assaulted. It does not apply in cases where a parent orders a child to do chores. The bill was sponsored by Assembly Majority Leader William Horne, D-Las Vegas.
—Assembly Bill 445, which requires the state Department of Administration to set up a website to post notices of public meetings.
—Assembly Bill 363, which authorizes the Clark County Commission to have litter, garbage, abandoned vehicles and appliances removed from homes considered public nuisances. The county can order tow trucks to remove abandoned vehicles that are not obscured from public view. The bill was sponsored by Assemblyman Richard Carrillo, D-Las Vegas.
—Senate Bill 313, which requires the Department of Motor Vehicles to create regulations regarding self-driving or "autonomous vehicles." Manufacturers must post a $5 million bond and have a human in the car during testing. The bill was sponsored by Senate Minority Leader Mo Denis, D-Las Vegas.
Contact Capital Bureau Chief Ed Vogel at evogel@reviewjournal.com or 775-687-3901.