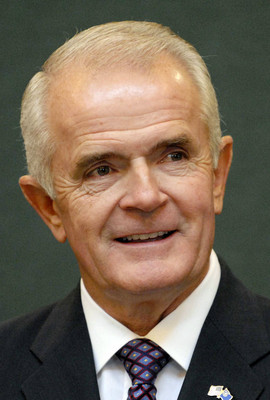 CARSON CITY — Reversing an earlier announcement, the Gibbons administration said Friday afternoon that it will submit an application next week to the U.S. Department of Education to seek nearly $400 million in federal stimulus funds.
Some but not all of those funds could be used to plug a hole in the higher education budget, said Gov. Jim Gibbons' Chief of Staff Josh Hicks.
State Budget Director Andrew Clinger said he was confident that about $265 million of the federal funds would be in the hands of state government within two weeks after the application is submitted.
At a news conference, Clinger said he spoke with federal education officials and was told Gibbons can submit the application now, even though the administration has not met a requirement that it must fund the Nevada System of Higher Education at least at 2005-06 fiscal year levels.
To reach that level, the administration would have to agree to put another $250 million in the planned $840 million two-year budget for the state's universities and community colleges.
Gibbons proposed in his two-year, $6.17 billion general fund budget to cut state support to higher education by $473 million. He said the Board of Regents could increase tuition to cover the reduction.
During the news conference, Clinger and other aides to the governor said because of the continuing recession, tax revenues over the next two years may be $450 million less than they estimated in January.
"We are in a horrible situation," added Mendy Elliott, Gibbons' deputy chief of staff.
Earlier Friday, Clinger had told a joint Assembly-Senate budget committee that he could not submit the application for stimulus funds unless the administration also submitted one to seek a waiver from the requirement to fund education at the 2005-06 level.
Waiver applications are not yet available, but federal officials said Friday the administration can apply for the stimulus funds now as long as it later files a waiver application, according to Clinger.
The state seeks $324 million in economic stabilization funds and $72 million in flexible funds that can be used for any purpose.
Once the money arrives, Hicks said Gibbons will recommend to the Legislature how he wants it spent.
Unhappy legislators had summoned Clinger to their morning budget hearing to explain why the governor had not filed an application for the federal funds.
Assembly Ways and Means Chairman Morse Arberry, D-Las Vegas, said it was important to secure the money since legislators want to approve state agency spending plans by May 8.
"The holdup is the federal government has not issued waiver guidelines and waiver applications," Clinger responded.
"Meanwhile our budget is being held hostage," said Senate Majority Leader Steven Horsford, D-Las Vegas.
"With the stimulus money we can restore some cuts, but the governor has to submit an application and fund education at a higher level than he proposed," added Assembly Speaker Barbara Buckley, D-Las Vegas.
Tempers were short during the budget hearing on higher education spending.
At one point, Senate Minority Leader Bill Raggio, R-Reno, said he might as well "shut up" because the Democrats have the votes to do whatever they want. Democrats control both the Senate and the Assembly for the first time since 1991.
Arberry quickly tried to calm down Raggio and a few minutes later adjourned the hearing.
Contact reporter Ed Vogel at evogel@reviewjournal.com or 775-687-3901.