Transgender 'hate crime' bill clears Assembly; Sandoval says he'll sign it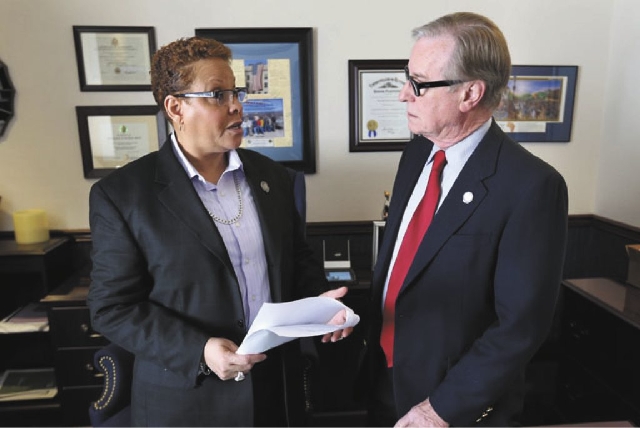 CARSON CITY — Gov. Brian Sandoval said Tuesday that he will sign a bill to allow judges to impose extra sentences on people who commit crimes because the victim is a transgender person.
Hours after the Assembly approved Senate Bill 139 by a 30-11 vote, Sandoval said he had met with the bill's sponsor, Sen. Patricia Spearman, D-North Las Vegas, and would sign the bill into law once it reaches his desk, likely in a few days. The Senate already approved the bill by a 20-1 vote in March.
Although all 11 votes cast against the bill in the Assembly were Republicans, Sandoval also broke from his party in 2011 when he signed two other bills to protect transgender people from discrimination in jobs and public accommodations.
The floor debate Tuesday was lively, but professional.
"This bill does not afford victims special rights," said Assemblyman Andrew Martin, D-Las Vegas. "It shows we will not tolerate the system indignities suffered by a historical disadvantaged group."
Under current law, judges already can order additional prison time against people who commit crimes because of the victim's race, color, religion, national origin, sexual orientation and physical or mental disability. The bill would add "gender identity or expression" to that list.
Assemblyman Ira Hansen, R-Sparks, argued that the 14th Amendment to the U.S. Constitution already gives all people equal protection of the law. He said the bill would make transgender people a special, protected class, while others are "second-class citizens."
"Either we are equal in the eyes of the law or we are not," Hansen said.
But Assemblyman James Ohrenschall, D-Las Vegas, said the bill might make people think twice about committing a crime against a transgender person.
Assemblyman James Healey, D-Las Vegas, asked Assembly members to think of the people who were raped, killed, sodomized, bashed and let to die "simply because who they were."
The bill was introduced by Spearman, who told how she once had to hide in a ditch to avoid an attack from people when she was in the military. Spearman is one of five gay legislators.
Spearman resoundingly beat Sen. John Lee, D-North Las Vegas, last year. Lee was the Democrat who defeated a bill to make transgender identity a hate crime in 2011. That bill lost in the Senate on a 10-11 vote. Lee was elected North Las Vegas mayor recently.
Assembly Republicans John Hambrick, Paul Anderson and Michele Fiore, all of Las Vegas, and Melissa Woodbury of Henderson voted for the bill Tuesday as did all 26 Democrats who were present.
Contact Capital Bureau Chief Ed Vogel at evogel@reviewjournal.com or 775-687-3901.