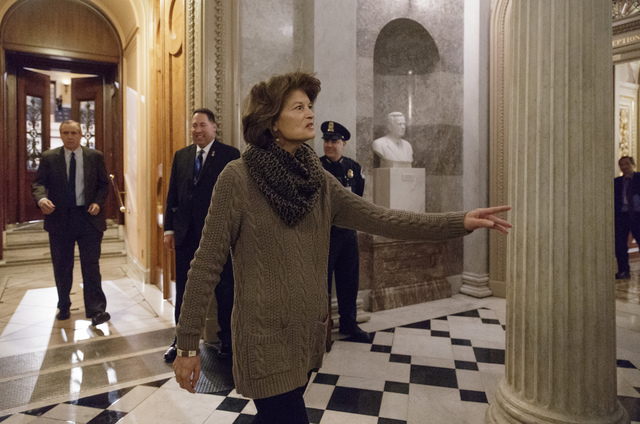 WASHINGTON — Vice President Mike Pence could be forced to cast a historic, tie-breaking vote Tuesday in the U.S. Senate on the presidential nomination of Betsy DeVos to be education secretary.
President Donald Trump nominated the Michigan billionaire to serve over public schools at the Department of Education, but her lack of familiarity with federal programs has led two GOP senators to oppose her.
U.S. Sens. Lisa Murkowski of Alaska and Susan Collins of Maine, both Republicans, went to the floor of the Senate last week to announce that they would not vote in favor of her confirmation.
With Republicans holding a slim 52-48 majority in the Senate, the defection of Murkowski and Collins would force a 50-50 tie and require Pence to cast the deciding vote.
Senators continued debate Monday, with a vote expected Tuesday.
Pence told Fox News Sunday he is confident that DeVos will be confirmed. But he said he will be present and plans to cast the vote to do it, if need be.
Pence told the broadcast that's never happened "in the history of this country."
Other than Murkowski and Collins, senators have split along strict party lines.
U.S. Sen. Dean Heller, R-Nev., said he would vote to confirm DeVos.
Heller, in a statement, said DeVos understands the need to bring back education control to state and local boards. "I look forward to working with her to empower our parents, teachers, and local education officials."
Her support of charter schools and school vouchers, however, has brought opposition from teachers unions and groups that advocate for public schools.
U.S. Sen. Catherine Cortez Masto, D-Nev., said she would oppose DeVos because she has no experience in public education.
"Her only experience for this job is her decades of fighting to divert money away from public education to support charter schools and vouchers for private, religious schools,'' Cortez Masto said in a statement.
Despite Trump administration confidence that DeVos will be confirmed, a conservative group is running advertising nationally in support of her nomination.
Curt Anderson with America Next said the group purchased more than $500,000 to broadcast two spots on cable TV. One spot, called "Equal Opportunity," touts DeVos as a supporter of school choice.
A second spot, called "Angry Liberals," touts the same message but with footage of Inauguration Day rioting and the Women's March on Washington.
"Of course Betsy DeVos will be confirmed," Anderson said. "But the left has dominated the discussion, and it it time that somebody pushed back and stood up for what is right here — and that is allowing families to have more options and choices."
The America Next non-profit is a 501(c)(4) associated with former Louisiana Gov. Bobby Jindal, who sought the Republican presidential nomination in 2016, according to the Center for Responsive Politics, a non-partisan watchdog group.
Meanwhile, the American Federation of Teachers has started a letter-writing campaign with more than 89,000 messages sent to senators urging them to vote against DeVos.
"We need to make sure the Senate hears loud and clear that Americans want an education secretary who supports and will strengthen public education," the union said, "…not one who's determined to destroy it."
Contact Gary Martin at gmartin@reviewjournal.com or 202-662-7390. Follow @garymartindc on Twitter.
RELATED
Betsy DeVos already has become lightning rod as Trump's pick for top education post
Cortez Masto will oppose Trump's pick for Education secretary
DeVos clears major Senate hurdle toward becoming education secretary