Obamacare repeal bill dies in Senate; McCain votes 'no'
Updated July 27, 2017 - 11:37 pm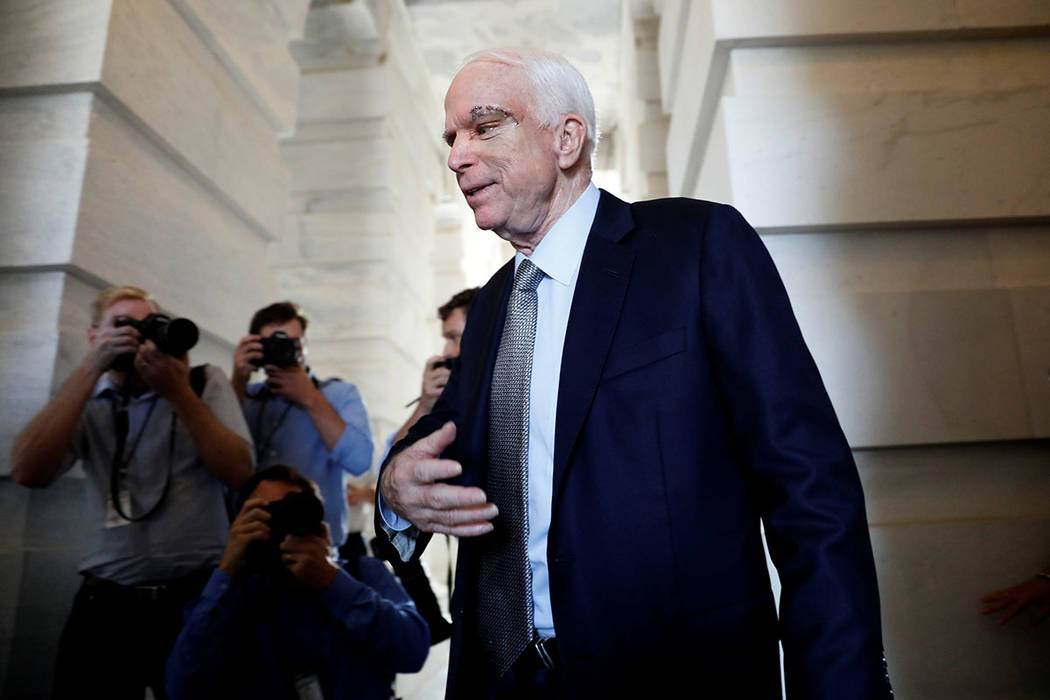 WASHINGTON — Just hours after text of the legislation was revealed, the Senate early Friday killed a barebones repeal of the Affordable Care Act that would eliminate personal and employer mandates under Obamacare.
Vice President Mike Pence was brought to the Capitol to cast a tie-breaking vote, if needed.
But the bill was defeated when senators John McCain of Arizona, Susan Collins of Maine and Lisa Murkowski of Alaska voted against the legislation.
Early Friday, President Donald Trump tweeted, "3 Republicans and 48 Democrats let the American people down. As I said from the beginning, let ObamaCare implode, then deal. Watch!"
3 Republicans and 48 Democrats let the American people down. As I said from the beginning, let ObamaCare implode, then deal. Watch!

— Donald J. Trump (@realDonaldTrump) July 28, 2017
Said Senate Majority Leader Mitch McConnell, R-Ky.: "This is a disappointing moment. A disappointment indeed."
The Senate "skinny" bill repeal was modified after a broader repeal and a Senate health care replacement plan failed to get the votes for passage.
U.S. Sen. Catherine Cortez Masto (D-Nev.) released the following statement after the latest Republican effort to repeal the Affordable Care Act failed to advance in the Senate:
"In the dead of night, Senate Republicans tried and failed to rip away the health care of hundreds of thousands of Nevadans and millions of Americans. Their failed attempt is the result of overwhelming public opposition – your calls, letters, protests and tweets put Republicans on notice.
"The Affordable Care Act has provided lifesaving, affordable health care coverage to millions. While tonight is a victory, we must all remain vigilant, continue to shine a light on Republican efforts to repeal this bill, and together speak out and fully defeat this effort."
Senate Majority Leader Charles Schumer, D-N.Y., said the process eroded Senate traditions and that two hours after the bill was introduced left little time for lawmakers to fully understand what is in the legislation.
"Let's start over," Schumer said. "It's not too late to turn back."
Three Republicans joined with all Democrats to reject the amendment, which would have also delayed a tax on medical devices and denied funding to Planned Parenthood for a year.
The final vote was 49-51.
The amendment was a last resort for Senate Republicans to pass something — anything — to trigger negotiations with the House.
Buoyed by a signal from House Speaker Paul Ryan, McConnell had introduced a pared-down health care bill late Thursday that he hoped would keep alive Republican ambitions to repeal "Obamacare."
"It's time to turn the page," said Senate Minority Leader Charles Schumer of New York. "We are not celebrating. We are relieved."
McConnell, R-Ky., had called his measure the Health Care Freedom Act. It was not intended to become law, but to open a path for a House-Senate conference committee to try to work out comprehensive legislation Congress could pass and send to Trump.
The measure would have repealed the unpopular Affordable Care Act requiring most people to have health insurance or risk a fine from the IRS. A similar requirement on larger employers would be suspended for eight years.
Additionally it would have denied funding to Planned Parenthood for a year, and suspended for three years a tax on medical device manufacturers. States could seek waivers from consumer protections in the Obama-era law, and individuals could increase the amount they contribute to tax-sheltered health savings accounts for medical expenses.
Ryan, R-Wis., seemingly opened a path for McConnell earlier Thursday evening by signaling a willingness to negotiate a more comprehensive bill with the Senate. Some Republican senators had been concerned that the House would simply pass the "skinny bill" and send it to Trump. That would have sent a shock wave through health insurance markets, spiking premiums.
Ryan sent senators a statement saying that if "moving forward" requires talks with the Senate, the House would be "willing" to do so. But shortly afterward, his words received varied responses from three GOP senators who'd insisted on a clear commitment from Ryan. It was not immediately clear whether the maneuver would succeed.
"Not sufficient," said McCain, who returned to the Capitol Tuesday to provide a pivotal vote that allowed the Senate to begin debating the health care bill, a paramount priority for Trump and the GOP. The 80-year-old McCain had been home in Arizona trying to decide on treatment options for brain cancer.
Sen. Lindsey Graham, R-S.C., initially said "not yet" when asked if he was ready to vote for the scaled-back Senate bill. But later, he told reporters that Ryan had assured him and others in a phone conversation that the House would hold talks with the Senate.
"I feel comfortable personally. I know Paul; he's a man of his word," said Graham.
"Let's see how everything turns out here, guys," Sen. Ron Johnson, R-Wis., told reporters.
The convoluted developments played out as a divided Senate debated legislation to repeal and replace the Obama-era law. With Democrats unanimously opposed, the slender 52-48 GOP majority was divided among itself over what it could agree to.
After a comprehensive bill failed on the Senate floor, and a straight-up repeal failed too, McConnell and his top lieutenants turned toward a lowest-common-denominator solution known as "skinny repeal."
It would have been the ticket to negotiations with the House, which passed its own legislation in May.
But that strategy caused consternation among GOP senators after rumors began to surface that the House might just pass the "skinny bill," call it a day and move on to other issues like tax reform after frittering away the first six months of Trump's presidency on unsuccessful efforts over health care.
Ryan responded not long after with a discursive and far from definitive statement that blamed the Senate for being unable to pass anything, but said, "if moving forward requires a conference committee, that is something the House is willing to do."
"The reality, however, is that repealing and replacing Obamacare still ultimately requires the Senate to produce 51 votes for an actual plan," he said.
But leaders encountered problems. The Senate parliamentarian advised that the waiver language violated chamber rules, meaning Democrats could block it.
The insurance company lobby group, America's Health Insurance Plans, wrote to Senate leaders Thursday saying that ending Obama's requirement that people buy insurance without strengthening insurance markets would produce "higher premiums, fewer choices for consumers and fewer people covered next year."
And a bipartisan group of governors including John Kasich of Ohio and Brian Sandoval of Nevada also announced against it.
On their own, the changes in the skinny bill could roil insurance markets. Yet the scenario at hand, with senators trying to pass something while hoping it does not clear the House or become law, was highly unusual.
"We're in the twilight zone of legislating," said Democratic Sen. Claire McCaskill of Missouri.
Contact Gary Martin at 202-662-7390 or gmartin@reviewjournal.com. Follow @garymartindc on Twitter.
The Associated Press contributed to this report.