Report raps Ryan Zinke for $12K charter flight from Las Vegas
Updated April 16, 2018 - 6:13 pm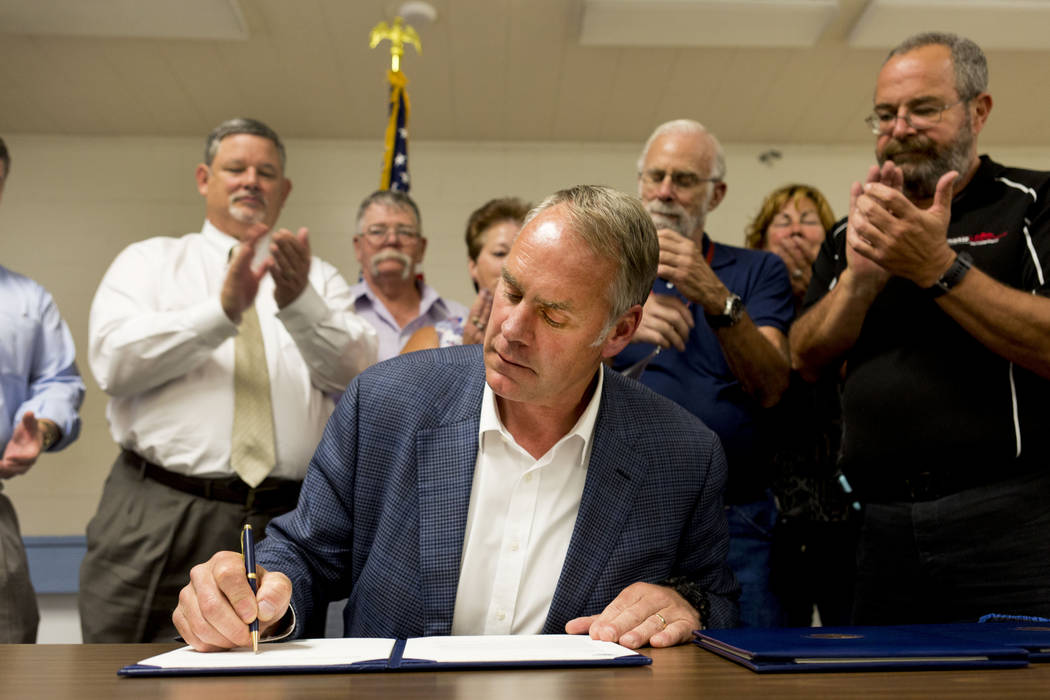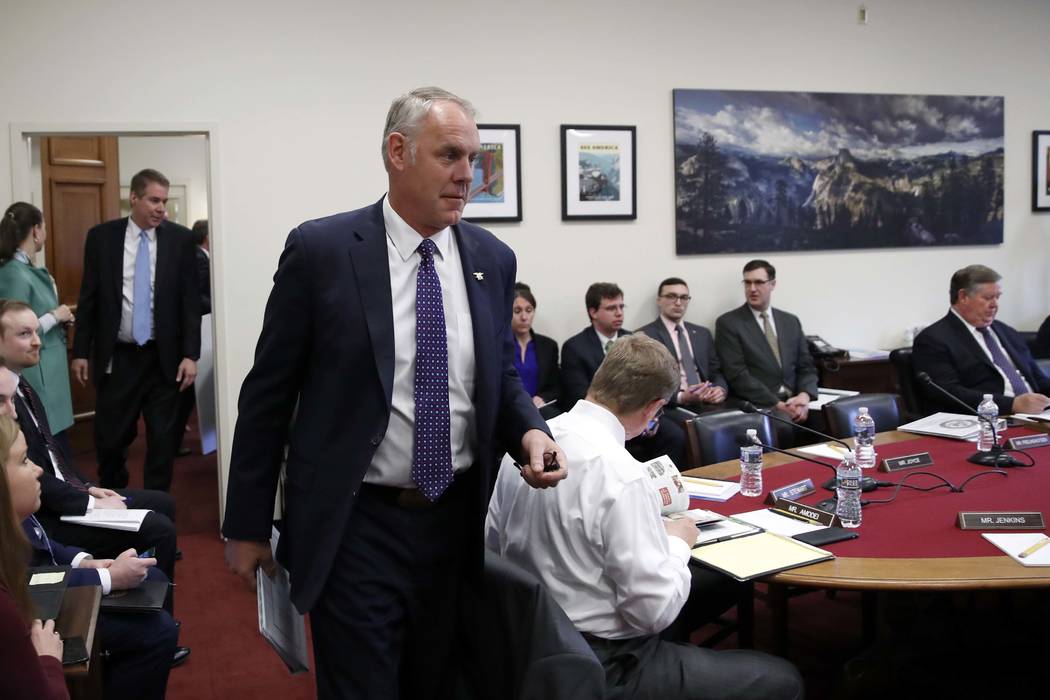 WASHINGTON — An inspector general for the Interior Department released a report Monday that found Secretary Ryan Zinke's chartered flight travel followed guidelines — except for one flight from Las Vegas to Montana that cost taxpayers $12,375.
Zinke was in Las Vegas on June 26, 2017, to give a leadership speech to the Golden Knights' development camp. He then flew on the chartered flight to Montana to attend a Western Governors' Association meeting.
The inspector general also looked at chartered flights Zinke took to the U.S. Virgin Islands and to Alaska.
"We found that the chartered flight Zinke took from Las Vegas to Montana could have been avoided, but the other two chartered flights we reviewed appeared to have been reasonable as related to official DOI business," the report noted.
Zinke was in Nevada for Interior business. He drove from McCarran International Airport to Pahrump to make a grant announcement, then drove back to Las Vegas to give the speech to the Golden Knights hockey camp at the request of a team official and the owner.
During the speech, Zinke never mentioned the Interior Department or his role as secretary.
Zinke also never told Interior officials that the owner of the Golden Knights, Bill Foley, was a campaign contributor to the secretary when he was elected to represent Montana in the House of Representatives.
"If ethics officials had known Zinke's speech would have no nexus to the DOI, they likely would not have approved this as an official event, thus eliminating the need for a chartered flight," the inspector general found. "Moreover, had ethics officials been made aware that the Golden Knights' owner had been a donor to Zinke's congressional campaign, it might have prompted further review and discussion."
It was that omission that irked Sen. Maria Cantwell, D-Wash, the ranking Democrat on the Senate Committee for Energy and Natural Resources, which oversees the Interior Department.
Cantwell said Zinke should heed the inspector general's findings "that his speech to a political donor's hockey team had 'no tie' to official business and avoid similarly questionable use of taxpayers dollars in the future."
The senator also said Interior ethics officials should not sign off on "potentially improper or unlawful travel arrangements until they are certain they have all the relevant information."
Interior officials had approved Zinke's use of a chartered jet because there were no available commercial flights after his speech.
Nonetheless, the inspector general found that the private flight could have been avoided, because the Golden Knights camp occurred over a series of days and team officials said they could have been flexible with the schedule.
Zinke told the inspector general that the speech to the hockey team was not the priority of the trip. And he told investigators his leadership speech was about his experience as a Navy SEAL.
The inspector general found that Zinke's use of chartered planes in 2017 "generally followed relevant law, policy, rules and regulations."
Interior Department spokesman Heather Swift said the report confirms "what was known all along," that the use of chartered aircraft followed relevant law, policy and regulations. "In every instance reviewed, the secretary's staff consulted with and sought prior approval from the career ethics officials and travel lawyers, and that we follow their expert advice," Swift said by email.
The inspector general also reviewed costs associated with Zinke's trips on Air Force One and Air Force Two and other military aircraft, which totalled $185,203 in 2017.
The White House billed Interior $52,000 for two flights that Zinke was invited to take with President Donald Trump and Vice President Mike Pence. Although the secretary did not take the flights, Interior was billed and paid the obligation.
Contact Gary Martin at gmartin@reviewjournal.com or 202-662-7390. Follow @garymartindc on Twitter. Bloomberg News contributed to this report.