Sessions ending policy that allowed legalized pot to flourish
January 4, 2018 - 6:51 am
Updated January 4, 2018 - 5:44 pm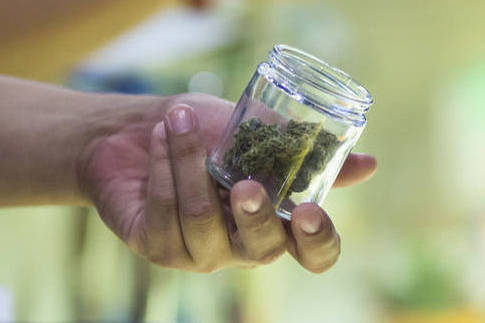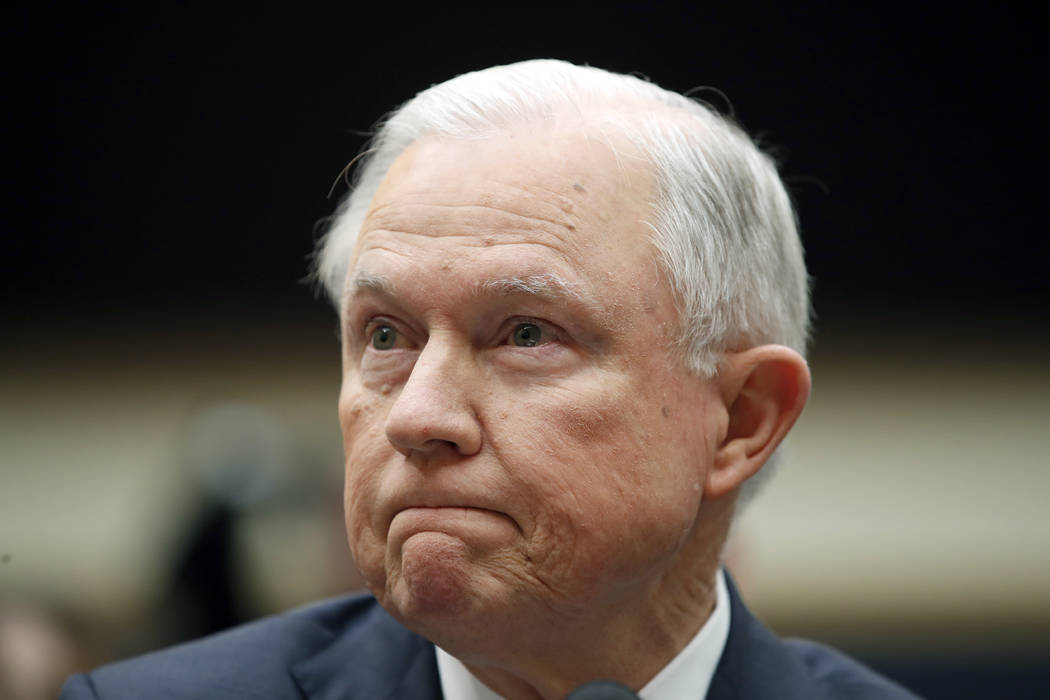 WASHINGTON — Attorney General Jeff Sessions has ended policies that directed federal prosecutors to use discretion before prosecuting marijuana offenses in states that legalized its use.
The Department of Justice portrayed the announcement, made by press release and a memo to U.S. attorneys, as "a return to the rule of law." The change is a reversal of policies initiated under President Barack Obama and the so-called Cole Memo.
Sessions' memorandum, which came three days after California legalized recreational marijuana sales, presented a departure from President Donald Trump's positions during the 2016 campaign.
Asked at a press briefing if Trump sees marijuana as a state or federal issue, Press Secretary Sarah Sanders responded, "Whether it's marijuana or whether it's immigration, the president strongly believes that we should enforce federal law."
But speaking in Sparks in October 2015, Trump said he favored of medical marijuana laws and respecting the rights of states to set their own pot policies.
"The marijuana thing is such a big thing. I think medical should happen — right? Don't we agree? I think so," said Trump, the first president in more than two decades who says he never tried the drug. "And then I really believe we should leave it up to the states."
Asked to expand on how her Thursday statement fit with Trump's campaign talk, Sanders replied in an email, "His opinion hasn't changed and neither has the law. The president isn't in the business of picking and choosing what laws we should enforce."
"The president doesn't think we should have chain migration in this country," Sanders added, "but it's the law so it continues. Unlike the previous president, just because he doesn't like a policy, the president knows how government works."
Nevada began recreational marijuana sales began in July and have brought in more than $19 million in tax revenue to the state.
Eight states and the District of Columbia have legalized the drug for recreational use, and 29 states have legalized medical pot, but states do not have the authority to remove marijuana from Schedule I list — which includes heroin and LSD as "drugs with no currently accepted medical use and a high potential for abuse" — under the federal Controlled Substances Act. Thus, state laws cannot prevent federal marijuana prosecutions.
Congress reacts
In 2014, Congress passed an amendment co-sponsored by Rep. Dana Rohrabacher, R-Calif., that prohibits the federal government from using federal funds to prosecute medical marijuana businesses in states that have legalized it. Congress has passed versions of the amendment routinely since then.
Rohrabacher on Thursday scolded Sessions for "a profound misreading of the Constitution, which allows states, not the heavy-handed federal government, to determine such issues. How ironic that the attorney general has long championed states' rights when it suits other parts of his agenda!"
An amendment Rohrabacher now co-authors with Rep. Earl Blumenauer, D-Ore., is in effect through Jan. 19 when the current spending resolution ends. Rohrabacher's office expects Congress to include the amendment in future spending bills, but there is no certainty.
During a conference call, Rohrabacher said he hoped Sessions' decision will mobilize opponents of the federal war on drugs to pass a permanent ban on federal marijuana prosecutions contrary to state laws. Rohrabacher also argued that medical marijuana use could alleviate America's opioid epidemic.
Sen. Cory Gardner, R-Colorado, tweeted that the Justice Department "has trampled on the will of the voters" in Colorado and other states. He said the action contradicts what Sessions told him before the attorney general was confirmed and that he was prepared "to take all steps necessary" to fight the step, including holding up the confirmation of Justice Department nominees.
GOP consultant Rob Stutzman criticized the decision as going against states' rights, "a fundamental tenet of how Republicans have cast visions of government for decades."
Nevada senators weigh in
"Knowing Attorney General Sessions' deference to states' rights, I strongly encourage the DOJ to meet with Governor Sandoval and Attorney General Laxalt to discuss the implications of changes to federal marijuana enforcement policy," Sen. Dean Heller, R-Nev., said in a statement.
Sen. Catherine Cortez Masto, D-Nev., also argued for states' rights.
"Attorney General Sessions says he is a headstrong advocate for states' rights. However, his decision giving free rein to federal prosecutors to target the cannabis industry in states where voters and legislatures have chosen to legalize and regulate the use of marijuana exposes his hypocrisy," Cortez Masto said in a statement. "In states like Nevada, voters have spoken loud and clear that marijuana must be regulated and taxed, and that the state should be able to enforce its marijuana laws without federal interference."
Uncertainty
The move will likely add to confusion about whether it's OK to grow, buy or use marijuana in states where the drug is legal. It comes just after shops opened in where sales are projected to bring in $1 billion annually in tax revenue within several years. Polls show a solid majority of Americans believe the drug should be legal.
Sessions had long been expected to ramp up enforcement. Marijuana advocates argue that legalizing the drug eliminates the need for a black market and will likely reduce violence, since criminals would no longer control the marijuana trade.
The Obama administration in 2013 announced it would not stand in the way of states that legalize marijuana, so long as officials acted to keep it from migrating to places where it remained outlawed and keep it out of the hands of criminal gangs and children. The memo written by then-Deputy Attorney General James M. Cole, had cleared up some of the uncertainty about how the federal government would respond as states began legalizing marijuana.
Sessions' policy will let U.S. attorneys across the country decide what kinds of federal resources to devote to marijuana enforcement, people familiar with the decision said. Dayle Elieson, who this week was appointed as Nevada's U.S. Attorney, takes over the role on Friday. Her position on marijuana is unclear.
Sessions and some law enforcement officials in states such as Colorado blame legalization for a number of problems, including drug traffickers who have taken advantage of lax marijuana laws to illegally grow and ship the drug across state lines, where it can sell for much more. The decision was a win for marijuana opponents who had been urging Sessions to take action.
"There is no more safe haven with regard to the federal government and marijuana, but it's also the beginning of the story and not the end," said Kevin Sabet, president and CEO of Smart Approaches to Marijuana, who was among several anti-marijuana advocates who met with Sessions last month. "This is a victory. It's going to dry up a lot of the institutional investment that has gone toward marijuana in the last five years."
A task force Sessions convened to study pot policy made no recommendations for upending the legal industry but instead encouraged Justice Department officials to keep reviewing the Obama administration's more approach to marijuana enforcement, something Sessions promised to do since he took office.
The change also reflects yet another way in which Sessions, who served as a federal prosecutor at the height of the drug war in Mobile, Alabama, has reversed Obama-era criminal justice policies that aimed to ease overcrowding in federal prisons and contributed to a rethinking of how drug criminals were prosecuted and sentenced. While his Democratic predecessor Eric Holder told federal prosecutors to avoid seeking long mandatory minimum sentences when charging certain lower-level drug offenders, for example, Sessions issued an order demanding the opposite, telling them to pursue the most serious charges possible against most suspects.
Contact Debra J. Saunders at dsaunders@reviewjournal.com or at 202-662-7391. Follow @DebraJSaunders on Twitter.
The Associated Press contributed to this report.
Ag Marijuana Enforcement 1.4.18 0 by Las Vegas Review-Journal on Scribd