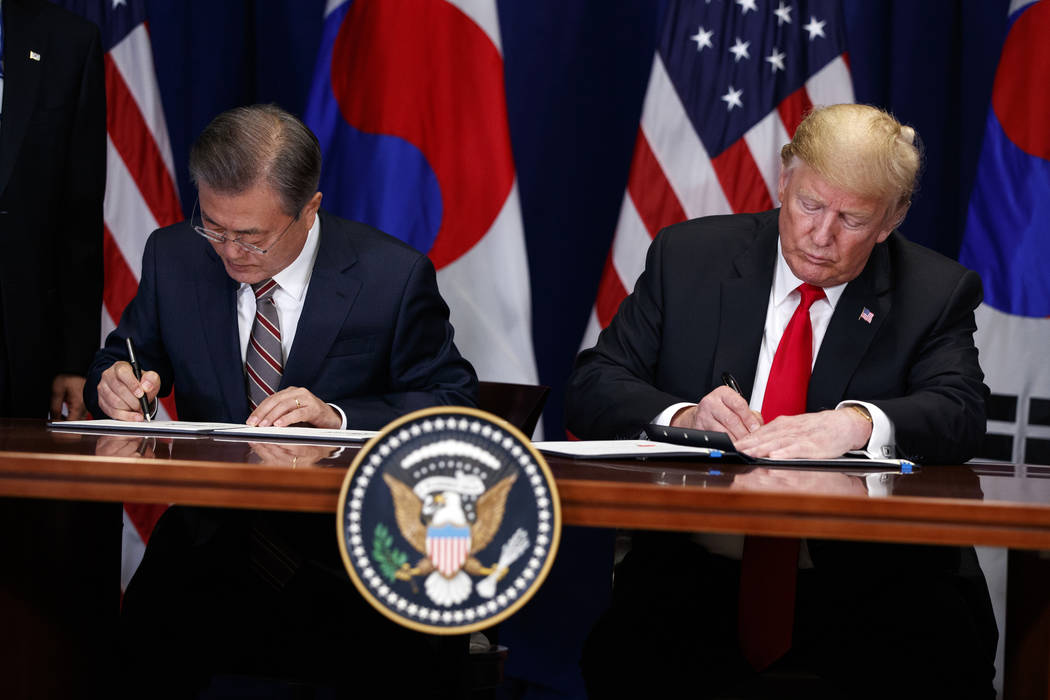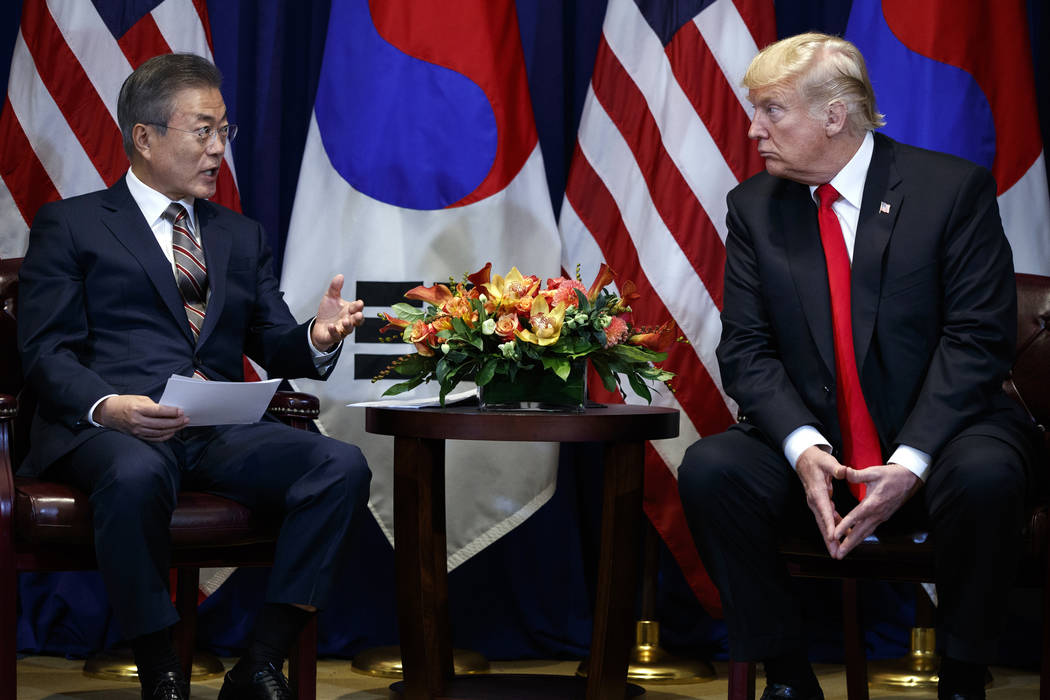 NEW YORK — President Donald Trump returned to the United Nations on Monday to play the role of successful diplomat — a point he punctuated by announcing a freshly negotiated trade deal with South Korean President Moon Jae-in.
The pact, Trump said, should open up a key market for U.S. automobiles.
"I've never seen my name in Korean," Trump said as the two presidents signed the pact. "It looks nice."
Trump and his foreign policy team had spent the day trying to dodge the drama revolving around the possible fates of Deputy Attorney General Rod Rosenstein and Supreme Court nominee Brett Kavanaugh by touting the president's year of foreign-policy accomplishments.
Talking to reporters, Trump dangled the possibility of a second summit with North Korean leader Kim Jong Un "quite soon."
Trump said Secretary of State Mike Pompeo has been tasked with bringing about the second summit, despite an assessment by U.S. officials that the North has not followed through on its commitments to take steps toward denuclearization.
One year ago Trump turned heads when he delivered his first address to the U.N. General Assembly and referred to Kim as "Rocket Man." He also warned that if Pyongyang continued on its aggressive path, the United States would have "no choice but to totally destroy North Korea."
Critics charged that Trump was driving the two nations to the brink of nuclear war.
Instead, Trump became the first U.S. president to meet with a leader of the hermit kingdom. In June, Trump and Kim met in Singapore and signed a deal ostensibly to denuclearize the Korean peninsula.
"It was a different world," Trump said Monday of his onetime moniker for the North Korean leader. "That was a dangerous time. This is one year later, a much different time."
Brett Schaefer of the right-leaning Heritage Foundation agreed. "This year it's about 180 degrees" different, he said. Rather than wage war on North Korea, Trump and Kim "hammered out a very vague agreement."
Ellen Tauscher, an undersecretary of State under President Barack Obama, dismissed the Singapore summit as a photo op, not foreign policy.
"He thinks he's the big deal maker," Tauscher said of Trump, but "he hasn't made a deal yet, all he does is cancel treaties" – a reference to Trump's decisions to pull the United States out of the Paris climate accord last year and the Iran nuclear deal in May, both deemed signature Obama accomplishments.
Trump also defied convention and a history of unkept campaign promises when he declared Jerusalem the capital of Israel and moved the U.S. embassy from Tel Aviv to the holy city.
The president started the day in a roll-up-your sleeves session to address the global scourge of illicit drugs — a signature issue of the Trump White House — before sitting down with Moon.
Trump and Moon signed a new version of the U.S.-South Korean trade agreement, marking one of Trump's first successes in his effort to renegotiate economic deals on more favorable terms for the U.S. Trump labeled it a "very big deal" and said the new agreement makes significant improvements to reduce the trade deficit between the countries and create new opportunities to export American products to South Korea.
Both Trump and Iranian President Hassan Rouhani are scheduled to address the General Assembly on Tuesday. On Wednesday, Trump will address the U.N. Security Council, where he is expected to call out North Korea, Syria and Iran.
During the last two weeks, the White House rolled out statements meant to broadcast Trump's foreign policy credentials and his commitment to putting "America First."
On Sept. 10, National Security Adviser John Bolton delivered a speech at Washington's Mayflower Hotel in which he asserted American sovereignty and rejected the International Criminal Court as an unaccountable international body designed to check U.S. and Israeli national security policies while doing nothing to check the globe's worst actors.
Last week, State Department senior policy adviser Brian Hook delivered a speech about Iran at which he railed against Iran's development of ballistic missiles at a pace not diminished after the Iran deal was implemented in January 2016.
Tehran's 2017 launch of medium range missiles, Hook warned, showed a capability "far enough to target some European capitals."
"The Europeans are proceeding" on the Iran nuclear deal, Schaefer told the Review-Journal, under "the mistaken assumption that their ambivalence is going to make them not be targeted by Iran. I think that's a big error."
Reno's Ty Cobb, who served as a foreign policy adviser to President Ronald Reagan, sees the Trump administration signaling that when it comes to containing North Korea and Iran, "America is prepared to go it alone."
Beltway politics intruded on Trump's time at Turtle Bay. After cable news stations aired a government car taking Rosenstein to the White House amid rumors he had quit or would be fired, the White House released a statement about a scheduled meeting with the president on Thursday that killed the story for the day.
On Sunday night, the New Yorker ran a story about a former Yale classmate who accused Kavanaugh of exposing himself at a booze-filled dormitory party, a story the New York Times could not corroborate. The White House released a letter Monday in which Kavanaugh denied the "smears" and announced, "I will not be intimidated into withdrawing from this process."
Contact Debra J. Saunders at dsaunders@reviewjournal.com or 202-662-7391. Follow @DebraJSaunders on Twitter. The Associated Press contributed to this report.