Trump strikes back at Pelosi, cancels her overseas trip
Updated January 17, 2019 - 9:34 pm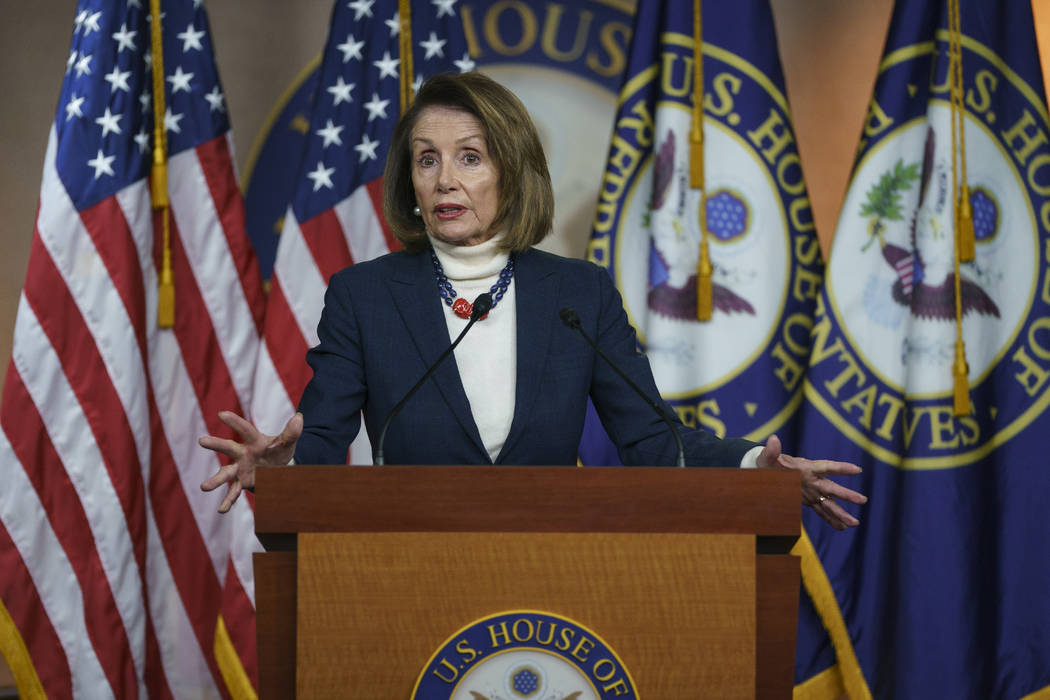 WASHINGTON — President Donald Trump showed that two can play the disinvitation game Thursday when he postponed House Speaker Nancy Pelosi's planned overseas trip that was to have included a stop in Afghanistan.
Trump sent a letter to Pelosi informing her the trip was off the day after she sent him a letter urging him to postpone his planned Jan. 29 State of the Union address.
The White House released the letter as Pelosi and other members of a congressional delegation were within hours of taking off on a military flight. House members already had boarded an Air Force bus that was to take them to Joint Base Andrews when they got word the flight had been scrubbed after Trump denied them use of a military plane.
The White House indicated the trip was to make three stops — Brussels, Egypt and Afghanistan — but Pelosi spokesman Drew Hammill tweeted that the delegation was not scheduled to stop in Egypt.
The stop in Brussels, Hammill said, was required for pilot rest. While in Brussels, however, the delegation was scheduled to meet top NATO commanders, U.S. military leaders and key NATO allies.
The purpose of the trip to Afghanistan was to thank service members and obtain briefings on national security and intelligence "from those on the front lines," he added.
In the letter, Trump said he was canceling the military flight until the shutdown ends. He dismissed the trip as a "public relations event" and said he thought it would be best if Pelosi stayed in Washington to negotiate in the interests of 800,000 federal workers going without paychecks.
"Obviously, if you would like to make your journey by flying commercial, that would certainly be your prerogative," added Trump, who visited Iraq and Germany during the shutdown.
Rep. Adam Schiff, D-Calif., a member of the congressional delegation, called Trump's decision to disclose a trip Pelosi was making to a war zone "completely and utterly irresponsible."
Nevada Democratic Reps. Dina Titus, Steven Horsford and Susie Lee were not scheduled to take part in the trip.
The political tit-for-tat came on the 27th day of a partial government shutdown, the longest in U.S. history.
The House has passed spending bills that Democrats say would end the shutdown, but Trump has made it clear he will not sign the measures without funding for his promised border wall. Senate Majority Leader Mitch McConnell has said he will not bring measures to the floor that Trump will not sign.
Trump, who walked out of negotiations with Pelosi and Senate Minority Leader Chuck Schumer on Jan. 9 because they were a "waste of time," likes to portray himself as staying close to Washington during the shutdown.
Having canceled a scheduled Christmas vacation in Mar-a-Lago, Trump tweeted on Christmas Eve, "I am all alone (poor me) in the White House waiting for the Democrats to come back and make a deal on desperately needed Border Security."
On Christmas evening, Trump and first lady Melania Trump left the White House for a surprise visit with U.S. troops serving in Iraq. Air Force One also touched down at Ramstein Air Force Base in Germany for Trump to address the troops.
Pelosi spent Christmastime at a five-star resort in Hawaii.
Trump also has canceled a planned trip to attend the World Economic Forum in Davos, Switzerland, next week.
The White House had planned to send a scaled-back delegation that included Treasury Secretary Steven Mnuchin, but press secretary Sarah Sanders announced late Thursday that the trip was canceled.
"Out of consideration for the 800,000 great American workers not receiving pay and to ensure his team can assist as needed, President Trump has canceled his delegation's trip to the World Economic Forum in Davos, Switzerland," Sanders said in a statement.
Contact Debra J. Saunders at dsaunders@reviewjournal.com or at 202-662-7391. Follow @DebraJSaunders on Twitter.