'What we strive to be': Las Vegas man honored for pulling elderly man from floodwaters
Updated September 8, 2023 - 8:19 pm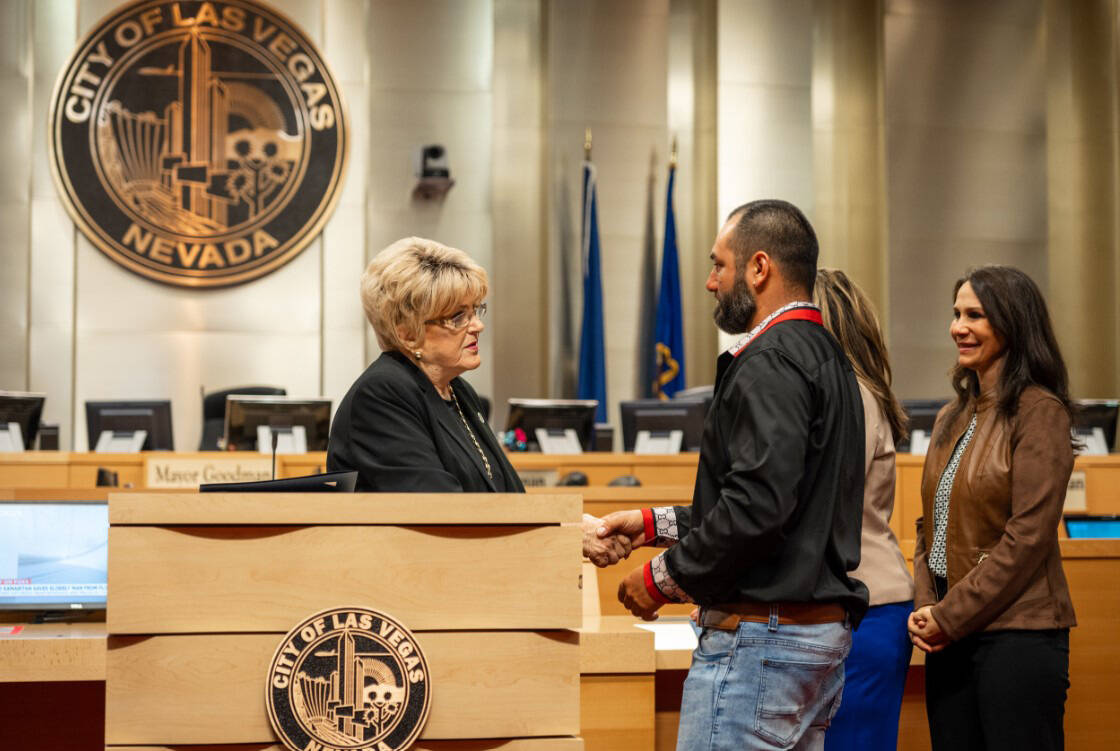 Arturo Castrejon said that even though he doesn't know how to swim, he didn't think twice over the weekend when he saw a man drifting through floodwater on an east Las Vegas street.
Castrejon, jumped out of a pickup, pulled the elderly victim from the water and carried him to safety, he told the Las Vegas City Council on Wednesday.
"My instinct was to jump and help him," he said.
For his heroism, Castrejon was given the "key to the city," a coveted recognition that Mayor Carolyn Goodman said was not awarded often.
"We don't find humanity as magnificent as you showed that this is what humanity should be about. It's not about me, it's not about myself, it's about helping others and doing for them," Goodman said.
The rescue, which was caught on video, occurred Saturday afternoon near Pecos and Bonanza roads, Goodman said.
Castrejon and a friend were driving by when Castrejon saw a 74-year-old man being swept by knee-high floodwater, Goodman said.
Castrejon then jumped out from a pickup's window — because the water didn't let him open the door — and saved the man's life, Goodman said.
Fast-moving waters over the weekend, caused by heavy monsoon rainfall, proved deadly for a 13-year-old boy and a homeless man, both of whom are believed to have drowned in floodwaters. The Las Vegas Fire Department also reported 24 swift-water rescues.
Castrejon said he had been trying to reunite with the man whose life he saved.
"You are a a remarkable example of what we strive to be," Goodman said.
Contact Ricardo Torres-Cortez at rtorres@reviewjournal.com Follow on X @rickytwrites.