Pool projects create jobs
January 13, 2013 - 2:06 am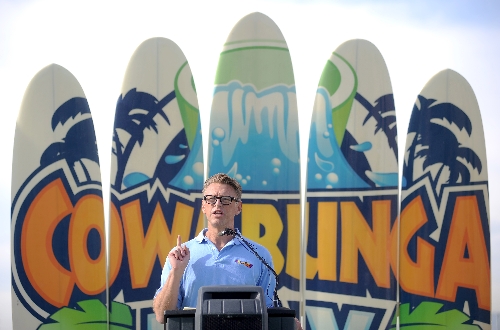 With winter high temperatures hovering in the 40s, water parks and swimming pools may not be top of mind for many folks right now, but if you're in the market for a job poolside this summer, now's the time to start thinking about applying.
Hotels, community and city pools, and at least one giant water park are set to start recruiting applicants this month and next.
For example, Henderson already has posted seasonal lifeguard jobs on its website. Elsewhere, officials at the Stratosphere plan to start looking for seasonal employees to staff its pool about mid-January, according to Mitchell Brunscheen, corporate director of recruitment & employment at American Casino & Entertainment Properties, the Stratosphere's parent company.
"We recruit for three types of pool jobs: lifeguards, pool attendants and beverage service staffers," Brunscheen said, adding that the jobs will be posted online and job seekers will submit applications online.
The Stratosphere recently remodeled its pool area, and officials hope to hold more beach party-type events , Brunscheen said. "We're looking to hire about the same (number of employees) as last year," he said.
The property is looking for 12 to 15 beverage servers, and 15 to 20 lifeguards and pool attendants. Beverage servers must be at least age 21, and knowledge of beverages is preferred. Lifeguards and pool attendants must be at least 16, and lifeguards must have current CPR and lifeguard certification. Pool attendants must have CPR certification.
Great customer service is a must for all of the positions, Brunscheen said.
"It's got to be great customer service out at the pool because everybody's out there wanting to have a good time, wanting to enjoy themselves," he said. "We're looking for people with upbeat personalities to drive that cool, beach party feeling."
Next month, Aquatic Services owner Gary Hannig plans to begin recruiting for 60 lifeguards for eight pools, including community pools in Summerlin, Rhodes Ranch and Desert Shores, as well as two hotel pools. "We generally retain about 50 to 60 lifeguards," from the previous year, he noted. "It's a great summer job for the youth," he said. And, "as long as their performance is good, they're eligible for rehire."
Aquatic Services generally doesn't have any problem with recruitment and hiring, but this year is different, as two water parks are slated to open, Hannig said.
"With two water parks opening this year, that could affect recruitment a little bit," he said. "That's going to be hundreds of lifeguarding jobs."
Those two water parks are the 41-acre Las Vegas Wet 'n' Wild park on Fort Apache Road near the Las Vegas Beltway and Sunset Road in southwest Las Vegas, and the 24-acre Cowabunga Bay Las Vegas water park at Galleria Drive and Gibson Road in Henderson.
The $50 million Las Vegas Wet 'n' Wild park will be managed by Village Roadshow Theme Parks, which also operates Wet 'n' Wild parks in Arizona and Hawaii. Investors in the more than $50 million water park include Andre Agassi and Steffi Graf, Steven and Karen Thomas of the Thomas & Mack family, Roger and Scott Bulloch of SPB Capital Partners, Steve Miller and Australian entertainment conglomerate Village Roadshow Limited.
Currently under construction, the park will have more than 25 slides and attractions.
"We're under construction and well on our way," said Trevor Wilson, director of marketing and sales for the park.
Park operators already have started hiring for full-time positions, mostly in sales, and in food and beverage, he said.
"The majority of our hiring will be in seasonal labor," Wilson said. The company will start taking applications in late January, he said.
Applicants for lifeguard and food service positions will be able to file applications online at wetnwildlasvegas.com.
The water park's season will run daily from Memorial Day weekend until school starts and then will be open on weekends through September, he said.
During peak season, the park will employ 300 to 400 people, Wilson said. Those hired will be mostly high school and college students.
"We also get a lot of teachers," he added. "It's a fun job that kind of speaks to everybody."
The water park is proud to be adding jobs to Las Vegas' economy, Wilson said. In addition to water park jobs, the building of the park is creating 200 to 300 construction jobs, he added. "
"We're happy to not only bring in construction jobs but also jobs created from now until Memorial Day. That's significant in the community for sure," he said.
Wilson said Village Roadshow invests heavily in employee training.
"We definitely take training very seriously, and elevating people within the company is definitely something we want to do," said Wilson, who rose through the ranks from a 16-year-old seasonal employee to his current position.
An October announcement about the water park's planned opening date generated a lot of interest.
"People are very excited, and they're engaging with us on Facebook" Wilson said. "Just from the response we got after we announced the opening date, our Facebook got over 10,000 likes in that same 24-hour period of time."
Part of the excitement may be for the relatively low-cost family entertainment experience, and that will help ensure its success.
"I think it's a family-friendly experience for sure," Wilson said. "I think it's a great experience, and people will be wanting to be coming back."
Cowabunga Bay Las Vegas, the other water park, is under construction in Henderson. The owners of Cowabunga Bay in Draper, Utah, also operate parks in California, Oregon and Washington.
"We're very excited. We're extremely busy and working long hours," said Shawn Hassett, the park's developer and owner of Vegas Residential LLC
Hassett said his project also is slated for a Memorial Day weekend opening, but acknowledged that timetable was "very tight."
"Currently we're doing all the dirt work … we'll be going in and starting on the pool plumbing here shortly," he said. "It's certainly an aggressive timetable, and we're committed to meeting that date. We're doing everything within our power to make that happen."
Hassett said the park's operators would likely start the hiring process within the next 60 days. "We're going to be somewhere in the neighborhood of 300 to 400. The majority of those will be seasonal," including lifeguards, restaurant staff and maintenance staff, he said. "We're very excited and look forward to the benefits it's going to bring to the valley," both in terms of entertainment value and economic benefits to the employees.
"There's a strong workforce out there that wants to work," Hassett said, adding he believes there will be sufficient numbers of lifeguards and other workers to supply both water parks.
Private pool construction also is showing signs of increased life, according to one pool company employee.
John Tully, a salesman at Desert Springs Pools and Spas, said the company hopes to complete about 250 pools this year. That's a far cry from the 800-pool numbers the company saw in the prerecession days, but it's better than it has been, Tully said. "The demand is strong," he said. "We're staying busy."
What's keeping the numbers low is many people can't get financing, he said, adding most customers are paying cash for their pools.