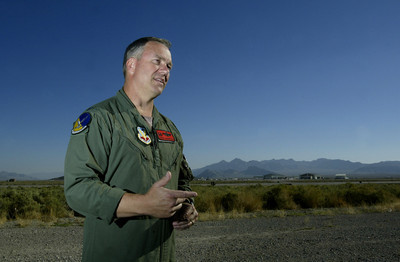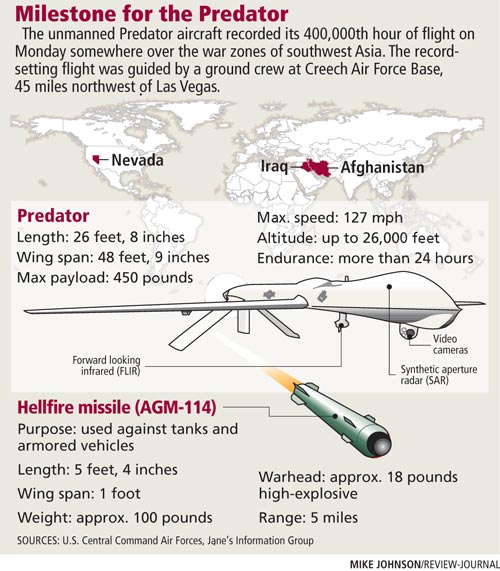 INDIAN SPRINGS — While an unmanned Predator spy plane flew a training mission Monday over Creech Air Force Base, another one somewhere over Iraq or Afghanistan controlled via satellite link by a crew at Creech made aviation history: the 400,000th hour of flight for the drone.
Air Force officials won't know until flight logs are completed in several days where the milestone was achieved, but Col. Chris Chambliss, commander of the 432nd Air Expeditionary Wing, said the feat was accomplished high over the war zones of Southwest Asia and guided by a pilot and sensor operator from the 15th Reconnaissance Squadron at Creech.
Because of the demand for MQ-1 Predators to gather intelligence, provide ground commanders with near real-time video and carry out instant, laser-guided Hellfire missile attacks, the Air Force reached the 400,000-hour mark sooner than leaders had expected a few years ago.
"It took us about 10 years to get the first 100,000 hours of the program," Chambliss said, standing along the runway where the remotely piloted planes take off and land at Creech, 45 miles northwest of Las Vegas.
"We got the last 100,000 hours in a little under 10 months," he said. "So, we're continuing to step up not only the number of CAPs (combat air patrols) but the number of hours we fly per combat air patrol to get that coverage."
The squadron's commander, Lt. Col. Rob Kiebler, said his airmen are guiding six combat air patrols daily, and they expect to be flying nine daily by Christmas. At that pace, the Predator should log its 500,000th hour sometime after the first of the year.
In the days when Chambliss was in the cockpit of an F-16 Falcon fighter jet, the entire fighter wing might fly 15,000 hours in a year, a fraction of the more than 100,000 hours that Predator crews work per year.
"Everybody that's involved in this Air Force Predator effort is putting together those kinds of numbers in less than a year. … It's just an incredible amount of effort," he said.
Predator crews each consisting of a pilot and sensor operator sit at computer consoles in air-conditioned trailers at Creech and bases in four other states — North Dakota, Arizona, California and Texas — to fly the drones launched from locations in the war zones, more than 7,000 miles away. After a Predator is launched and reaches a certain altitude, control of the aircraft is switched via satellite link to the personnel at Creech or ground stations in the other states.
While soaring 20,000 feet over Afghanistan, for example, the aircraft's near real-time video cameras transmit full motion images of targets such as vehicles, people or buildings on the ground. The image on monitors back at Creech looks similar to a view of the terrain you might see on GoogleEarth.
More powerful lenses can then zoom in on something the size of a car or a house, much like peering at the ground through a straw in full color.
Infrared cameras aid the crew in seeing at night and finding targets that give off heat signatures. A truck on the ground that has just fired its anti-aircraft gun or rocket launcher at coalition troops can be tracked by its heat signature and destroyed with a laser-guided Hellfire missile from the Predator.
The drone's big brother, the MQ-9 Reaper, which Chambliss said is now deployed in Iraq as well as Afghanistan, also can drop laser-guided 500-pound bombs.
In the case of both the Predator and the Reaper, the sensor operator uses a joy stick much like on a game in a video arcade to "paint" the target with a laser beam. Then the pilot pulls a trigger, unleashing the missile that will follow the beam wherever it is pointed.
"We bring the ability to not only loiter but also to follow — to watch normally unseen, unheard so nobody knows we're there," Chambliss said.
"These systems bring us that capability so when the time comes, either we can strike a target or we can serve to be the eyes for somebody else coming in to strike the target. It's just an incredible capability," he said.
With militant attacks and suicide bombings down from past years in Iraq, Chambliss said more Predator sorties can be flown over Afghanistan if ground commanders want them. "We're able to put more combat power in the sky there," he said.
"We, the blue suit Air Force, are putting everything we can into the fight in both Afghanistan and Iraq to support our brothers and sisters that are on the ground there," Chambliss said. "We know our job is to support the ground forces to give them the combat power they need, whether that's in terms of being able to see over the next hill or whether that's putting a Hellfire or a 500-pound bomb on target. We're standing by to do that all the time."
Contact reporter Keith Rogers at krogers@reviewjournal.com or 702-383-0308.
Video