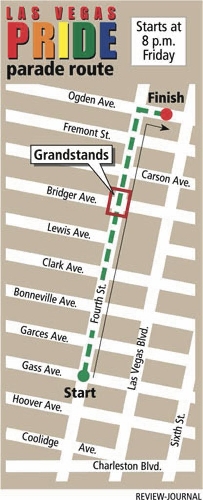 The 2011 Las Vegas Pride Festival will celebrate is 28th year this weekend with a downtown nighttime parade and a daylong event at the Clark County Government Center Amphitheater.
The Pride Night Parade starts at 8 p.m. Friday at Gass Avenue and Fourth Street, then proceeds north along Fourth to Ogden Avenue.
The Pride Festival will be from noon to 10 p.m. Saturday at the amphitheater at 500 S. Grand Central Parkway, near Alta Drive and Martin Luther King Boulevard.
Dozens of exhibitors are expected to participate in the festival, which will include entertainment and a food court.
Admission is $15 for adults, $10 for children ages 6 through 17, and free for children 5 and younger.
The events are sponsored by the Southern Nevada Association of Pride Inc., whose mission is to "educate the community by invoking, promoting, and celebrating lesbian/gay/bisexual/transgender pride."
For more information, visit lasvegaspride.org.
Contact reporter Lynnette Curtis at lcurtis@ reviewjournal.com or 702-383-0285.