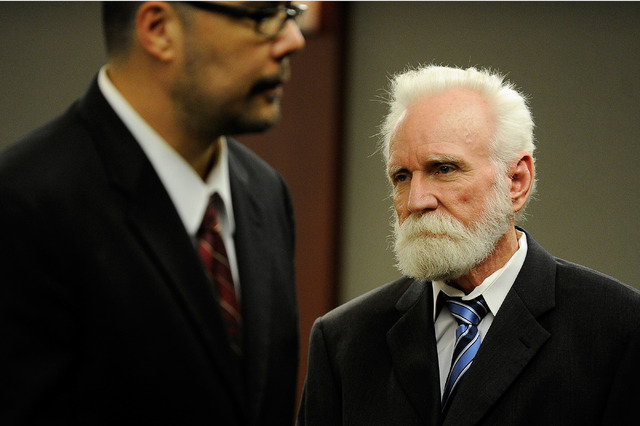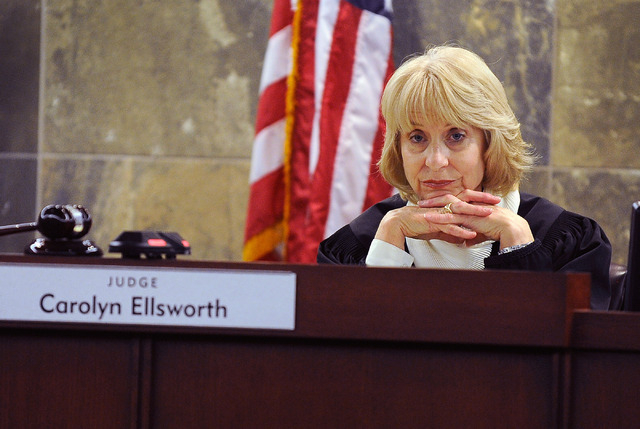 A prosecutor reminded jurors of a familiar saying Monday at the sexual assault trial of Steven Farmer: Fool me once, shame on you. Fool me twice, shame on me.
"Five times, and Steven Farmer isn't fooling anyone," Chief Deputy District Attorney Jacqueline Bluth told the jury.
Authorities have accused Farmer, 61, of victimizing five female patients while working as a certified nursing assistant in 2008 at Centennial Hills Hospital Medical Center. Two of those women reported that Farmer sexually assaulted them.
Jurors deliberated nearly three hours Monday without reaching a verdict. District Judge Carolyn Ellsworth has asked them to resume their discussions Tuesday morning.
The defense gave its closing argument Friday, when Deputy Public Defender Jeff Maningo described Farmer as "an innocent man being falsely accused." Maningo said the nursing aide had a tough job that required him to provide "intimate care."
During her rebuttal argument Monday, Bluth told jurors that Farmer succeeded in using his job to get away with criminal behavior "until he took it too far, he got greedy, and he got caught."
The prosecutor wondered aloud why Farmer was so attentive to his patients.
"He was doing more than his job," Bluth argued. "He was gaining continuous access to his victims."
Maningo devoted the bulk of his argument Friday to attacking the credibility of the woman who first told her story to police. He described her as the single spark that started a "firestorm."
The woman reported that Farmer had sexually assaulted her, and Maningo said the other four victims came forward only after hearing her story on television.
She testified during the trial and said she was taken to Centennial Hills Hospital after suffering a seizure on May 15, 2008.
Bluth argued that she was the "perfect victim" for Farmer.
"She was an easy target," the prosecutor said. "He knew that she was having seizures, and he knew that she was on heavy medication."
Farmer probably thought the patient would not remember the assault, Bluth argued.
The prosecutor also focused on a 49-minute hole in a timeline of the woman's care at the hospital.
Evidence showed that Farmer transported the patient from the emergency room to the seventh floor after she was admitted to the hospital on May 16, 2008.
A clerk documented her arrival on the seventh floor at 3:51 a.m., Bluth said, but it was 4:40 a.m. before Farmer told a registered nurse on the floor that the patient was in her room.
"What was Steven Farmer doing for 49 minutes?" the prosecutor asked.
The former patient told jurors that Farmer sexually assaulted her with his fingers, squeezed her breasts and performed oral sex on her.
"Every single place she said that man touched her, they found male DNA," Bluth told jurors.
Testing done on a small amount of DNA found on the woman's face was inconclusive, but it was consistent with Farmer's DNA.
The sources of male DNA found on other areas of the woman's body could not be identified.
Maningo argued that "financial desperation" may have motivated the woman and her husband to make up the allegations about Farmer.
The woman filed a lawsuit against the hospital, and the parties reached a confidential settlement in September.
Bluth said the woman already received her money and has no motive to lie now.
Another woman later reported that Farmer also had sexually assaulted her at the hospital in May 2008, but she committed suicide last year. Her videotaped testimony was presented during the trial.
That woman also filed a lawsuit against the hospital, but she received no money. Her estate continues to pursue the case.
Three other women reported behavior that led to charges of open and gross lewdness against Farmer. They are not involved in related lawsuits.
Farmer has been in custody since his arrest in May 2008. His trial began three weeks ago.
Contact reporter Carri Geer Thevenot at cgeer@reviewjournal.com or 702-384-8710. Follow @CarriGeer on Twitter.