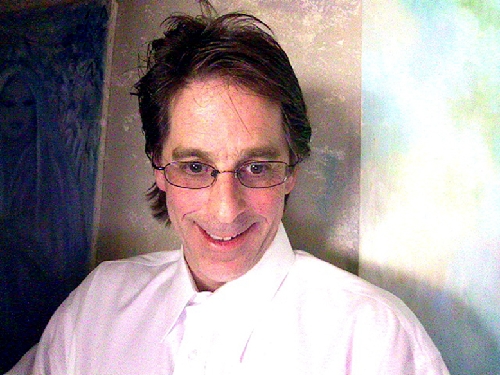 With his head in a birdcage, Mark Viner starts squawking at the camera while beating the top of the cage with an inflatable parrot.
"I'm the doctor. I'm a psychiatrist in the state hospital," Viner says in the video posted on the Internet. "And here's the administration."
He gestures toward the parrot.
"Your style isn't exactly what we had in mind," Viner says while he continues to make the giant bird peck at the top of the cage over his head.
Viner, a staff psychiatrist for the State Mental Health System with his own private practice in Sparks, admitted Monday that his style "looks nuts."
"No, I don't act like that in front of patients," Viner said. "It's crazy. I do it on purpose to capture people's attention. If I just sat there, my videos wouldn't be popular."
Viner has posted his "skits" about psychiatric issues on YouTube for two years. They've been viewed more than 1 million times.
The doctor said his channel is meant as an educational experience through entertainment and marketing that incorporates his Hollywood roots. His family helped build movie theaters, distributed films and even acted in them, he said.
"I have that in my genetics," Viner said. "The acting, that's where a lot of this stems from."
State officials say they are not happy with Viner's unorthodox videos and what they call "embarrassing material."
Both the Department of Health and Human Services and its Division of Mental Health and Developmental Services have been aware of the videos since last year.
"The Division of Mental Health and Developmental Services has been made aware of the videos involving Dr. Viner," Administrator Harold Cook wrote in an e-mail. "We are reviewing them, and in conjunction with the Attorney General's office, we are determining what the appropriate response to this issue is."
According to state officials, Viner is a state psychiatrist who has held a volunteer appointment with the University of Nevada School of Medicine and has occasionally acted as on-call backup for residents on night call at the State Hospital.
In the videos, Viner adopts a persona as "Doctor of Mind," speaking with a low monotone voice and sporting spiky Rod Stewart-esque hair.
The production values vary, mirroring that of "Pee-wee's Playhouse" at times. Viner said he hopes to make his Internet venture into a television show, fluctuating between entertainment and serious psychiatric practice.
"i like watching your videos because i learn something new each time. i love learning," one viewer wrote.
"as a university teacher, I have found that there is always someone in the crowd who thinks I am a moron, but I keep teaching, we like your vids and your ties man!!" another wrote.
Viner recently moved hundreds of older videos off his Web site to make room for newer ones with improved quality.
Viner was named in 1994 and 2008 "exemplary psychiatrist" by the National Alliance on Mental Issues, a prestigious award given to a handful of psychiatrists nationwide for their exceptional work in the mental health field.
He earned his bachelor's degree from the University of Southern California and his medical degree from Spartan Health Sciences University in the West Indies. He interned at Yale University and had psychiatric training at the University of Connecticut.
"I have a stellar career and resume, that's a public record I'm sure," Viner said.
In videos such as "Lithium" and "Aripiprazole," Viner discusses the effects of mental health medication and the forms they come in, encounters with mental health patients and journal articles, among other topics.
At one point, he shows the camera T-shirt designs with a caricature of his face and says he charges $25 for them.
"I have no bad intentions," he said. "I'm not out to hurt anybody. I'm not a creep. I do creative work, and this is an outlet. Someday, I hope it grows into its own show. That's all it is."
Contact Kristi Jourdan at kjourdan@ reviewjournal.com or 702-383-0279.
Doctor of Mind, video 1
Doctor of Mind, video 2