Rapper offers upbeat message at school facing financial woes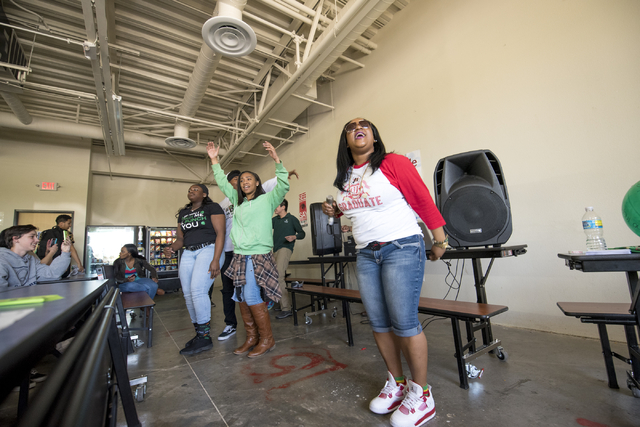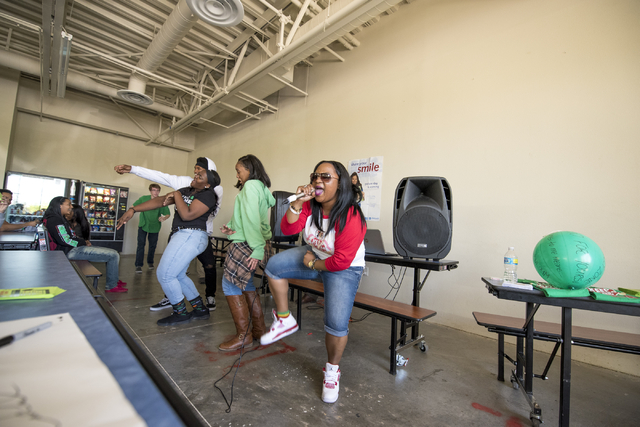 Since last fall, students at Quest Preparatory Academy's Roberson campus, 7485 W. Azure Drive, and their parents have been waiting to learn the fate of their school after it was investigated for multiple issues, including misuse of funds, which came to light during a 2015 forensic audit.
Also, the school's special use permit from the city of Las Vegas is set to expire this summer.
To ease the tension, Elizabeth Elie, also known as Lizzie G., educated female rapper, held a workshop there March 17 during her School Promotional Tour in Las Vegas.
"One of the important messages that I focus on is unity," said Lamont Colquitt, principal at the school. "We have a zero bullying tolerance here. We focus on creating a peaceful environment where children can feel comfortable and be themselves. It's what Lizzie G. promotes and why we wanted her to perform."
Elie is a positive rap artist who promotes students staying in school, graduating, being innovative entrepreneurs, making better life decisions and keeping away from drugs and other such substances.
"The show was great, and it was also entertaining," said LaMonthe A. Colquitt Jr., the principal's son and a student at the school. "The songs had a positive message that inspired me to want to stay in school and graduate. My friends felt the same way, as well. Since bullying is not a problem in our school, I still like the movement on bringing more awareness to it."
The 24-year-old artist taught the art of the spoken word and rap to Quest students in eighth through 12th grades.
The positive atmosphere ignited a sense of community, while the rap artist talked about cyberbullying, living in a drug-free culture and nonviolence.
Students waved their hands in the air as she went around the crowd, giving out high-fives as she chanted, "scholars make dollars."
She invited students to dance as she performed and gave out pens, CDs, T-shirts and hugs.
"Sometimes the news can be overwhelming and discouraging and doesn't allow our youth to grow up and be who they want to be," Elie said. "I want to be that voice that inspires youths. There are a lot of youths that struggle with drug addiction, teen pregnancy and other family hardships."
Elie performed her single "Make it Happen," which focuses on following one's dreams and making them a reality.
Sporting sunglasses and a "Keep calm and graduate T-shirt," the singer engaged a group of students in music and educational awareness, such as financial aid.
Elie graduated from Roosevelt University in Chicago in May 2015 with a master's of science degree in integrated marketing communications.
"I didn't have to drop out of school to become a rapper," Elie said. "I stayed in school and learned how to market and brand myself."
Since the school's forensic audit, the Nevada Charter Authority appointed a receiver to manage the school's financial affairs, which is why Elie wanted to bring awareness to the school's issues.
Parents and school officials have since been working to get approval to receive a special use permit by July to keep the facility operating at the same location. They are facing a possible closure due to the expiration of a previously approved special use permit, according to the Nevada State Public Charter School Authority.
"This is like an SOS to save our schools," Elie said. "These youth are our future. We must invest in them and invest in quality schools that provide a solid education. Education is one tool that we can use to change the world. These students are game-changers and are ready to reach their full potential. But the distractions of possibly closing Roberson can change one's mindset and have him/her get involved in things that aren't for the betterment of their future."
For more information on the school, visit questlv.com/quest-academy-campuses/Roberson.
To reach North View reporter Sandy Lopez, email slopez@viewnews.com or call 702-383-4686. Find her on Twitter: @JournalismSandy.