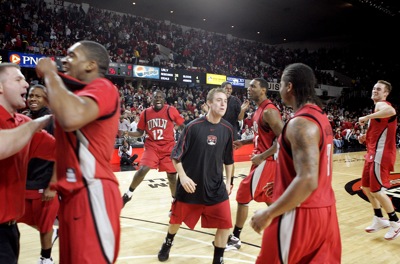 LOUISVILLE, Ky. — Oscar Bellfield scored on a layup with 16 seconds left and UNLV made a defensive stand just before time expired as the Rebels upset 18th-ranked Louisville 56-55 today at Freedom Hall.
Bellfield, the Rebels' freshman point guard, drove the right side of the lane and banked in a floater over the Cardinals' 6-foot-8-inch Samardo Samuels.
After a timeout, Louisville's Terrence Williams missed a short jumper and Joe Darger grabbed the rebound to secure the victory for UNLV (12-2).
Rene Rougeau scored 17 points to lead the Rebels.
Tre'Von Willis, who finished with 16, made a 3-pointer with four minutes remaining to put UNLV up 51-50.
Rougeau scored 12 points and the Rebels dominated on the defensive end to take a 32-21 halftime lead.
Willis and Bellfield made back-to-back 3-pointers to open the game, and Rougeau's fast-break dunk put the Rebels up 10-0 after three minutes. Kendall Wallace's free throw extended the lead to 14-2.
The Cardinals (8-3) missed their first 11 field goals before Edgar Sosa scored on a short jumper that was goaltended by UNLV freshman DeShawn Mitchell.
After a dunk by Mitchell, Rougeau scored four points and Bellfield made a jumper in the lane to give the Rebels a 22-7 lead.
UNLV played without senior guard Wink Adams, who has a lower abdominal strain. Adams, the team's leading scorer at 14.1 points per game, had played in all 115 games of his career.