Regents approve new policy prompted by sex misconduct complaint
December 3, 2015 - 7:38 pm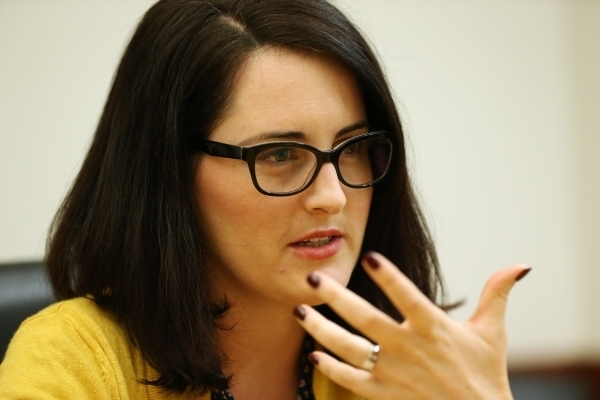 The Board of Regents of the Nevada System of Higher Education on Thursday quietly approved a new policy created in response to a case of alleged sexual misconduct at the state agency.
The new rule gives NSHE and its seven schools permission to share confidential employee records. NSHE officials introduced the policy to the board in September after UNLV college access specialist Mallory Levins went public with concerns that a former co-worker she suspected of masturbating on the job had been forced into retirement by NSHE but then hired by UNLV months later.
Levins said she reported Hank Stone in May 2013 while working for NSHE. She discovered that he had been contracted as a real estate attorney by UNLV later that year after she transferred there, too. The case has long troubled Levins and unveiled a communication lapse between UNLV and its parent institution — neither has said whether UNLV knew about the allegations before hiring Stone, although an email obtained by the Review-Journal indicates the school hired him after getting approval from NSHE Chancellor Dan Klaich.
Levins called Thursday's decision "common sense and a long time coming," but said NSHE should have shared information about her outcry with UNLV regardless of the agency's policies.
"The real problem here is that NSHE permitted someone whom they knew committed acts of sexual misconduct and approved his rehiring at UNLV without sharing any information with the university," Levins said. "It doesn't take a policy to know that information should have been shared."
NSHE attorney Brooke Nielsen brought the proposed change before the 13-member board in early September. Regents unanimously voted to pass the policy on Thursday without discussion.
NSHE officials and university administrators have declined comment, citing privacy concerns. But in a Las Vegas Review-Journal editorial board meeting, Board of Regents Chairman Rick Trachok said the change would ensure "free flow of appropriate information among the institutions."
Contact Ana Ley at aley@reviewjournal.com or 702-224-5512. Find her on Twitter @la__ley.