Reid lacks luster at home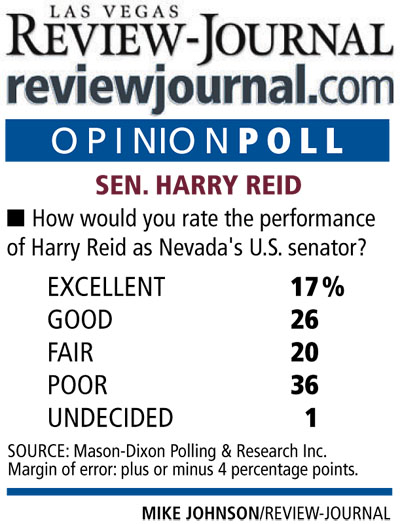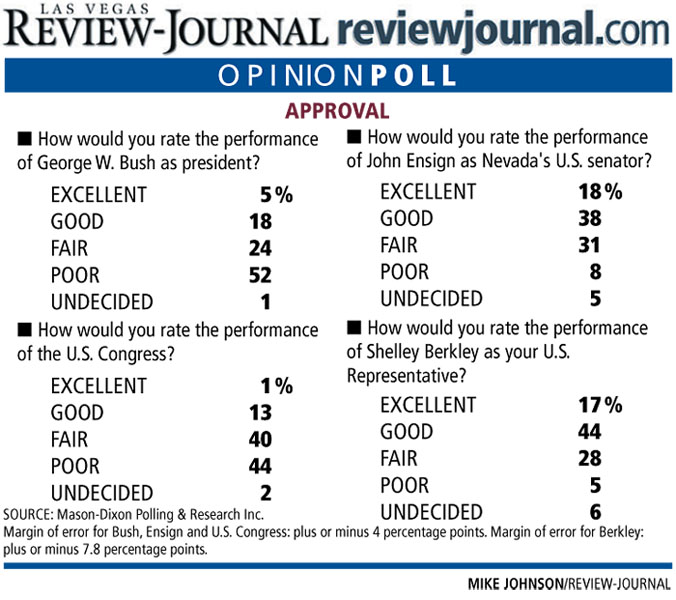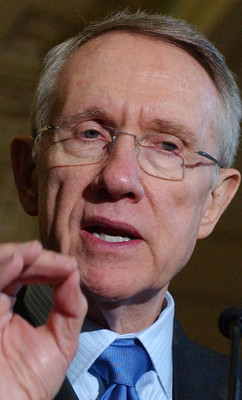 He's a big deal in Washington, but Sen. Harry Reid still has reason to worry about what his constituents back home think of his performance, according to a new statewide poll commissioned by the Review-Journal.
The Nevada Democrat and Senate majority leader's performance is rated excellent or good by just 43 percent of likely voters, while 56 percent rate it fair or poor, according to the poll conducted Monday through Wednesday by Washington, D.C.-based Mason-Dixon Polling & Research Inc.
But Reid can take comfort from the fact that he is much better regarded than President Bush. The lame-duck president got excellent or good marks from 23 percent of those polled, fair or poor from 76 percent.
Reid's performance rating was a slight uptick from six months ago. In a December Review-Journal poll, he was rated excellent or good by 41 percent, fair or poor by 58 percent.
"You can't call it a huge turnaround, but he's kind of stopped the bleeding for the time being," Mason-Dixon managing partner Brad Coker said of Reid's numbers. "It didn't get any worse; it got a couple points better. He's certainly more popular than Bush. He can take some solace in that."
Still, officeholders like to see their performance regarded more positively than negatively, and anything under 50 percent is generally seen as a sign of trouble, Coker said.
Reid's performance was rated excellent by 17 percent of those surveyed, good by 26 percent, fair by 20 percent and poor by 36 percent.
The poll of 625 likely voters carries a margin of error of plus or minus 4 percentage points.
In the December Review-Journal poll, 12 percent viewed Reid's performance as excellent, 29 percent good, 16 percent fair and 42 percent poor.
Reid's approval in Nevada slipped when he became majority leader after Democrats took over Congress in the 2006 election. Analysts said the position casts him as a high-profile partisan, an image at odds with his 2004 election slogan, "Independent Like Nevada."
Also, voters' view of Congress is generally low. In the current poll, Congress' performance was rated excellent or good by 14 percent of those surveyed, fair or poor by 84 percent.
"Being the majority leader in an unpopular Congress makes it hard to maintain too much popularity at home," Coker said.
Reid does not have to run for office until 2010, and with the presidential election this November, the political landscape will be vastly different two years from now, Coker said. But the numbers suggest Reid makes an easy scapegoat for those dissatisfied with goings on in the nation's capital.
"These numbers show he's vulnerable, very vulnerable," Coker said. "Two years from now, he will be in the position of running for re-election and defending the sitting Congress. If promises are made and things don't get done, people are going to be looking for scalps."
Reid, through a spokesman, professed to be unbothered by the poll, saying he is more concerned with his work.
"Senator Reid isn't focusing on polls," Jon Summers said. "He's focused on continuing to deliver results for Nevada, like killing the proposed dump at Yucca Mountain, stopping home foreclosures and making Nevada the world leader in clean renewable energy."
Kenneth Fernandez, a political scientist at the University of Nevada, Las Vegas, also chalked up the poor rating to Reid's duties in Congress.
"When a Congress member takes on a leadership role, they're no longer a representative of their state alone," Fernandez said. "They're a representative of the entire party, and they have to say things and do things that are not necessarily reflective of their constituency locally."
But, Fernandez said, while Reid is someone many "love to hate," he is also someone whose position enables him to deliver for the state, something Nevadans are likely to remember.
As for Bush, Coker said his polling around the country has seen abysmal ratings for the outgoing president.
The Nevada poll found he was viewed negatively by Democrats and Republicans, men and women, and urban and rural voters.
"We're seeing this everywhere," he said. "He's on his way out the door, gas prices are at $4 a gallon, and he's trotting around Europe. There's a general sense that he's mailing it in right now."
Reid's partner in the delegation, Republican Sen. John Ensign, had higher ratings in the poll.
Ensign was rated excellent or good by 56 percent, fair or poor by 39 percent. The good marks reflect his continued success at seeming to stay out of the partisan fray, Coker said.
"He's from Clark County, the Democratic bastion, so he's able to maintain a certain degree of popularity in Clark that other statewide Republicans wouldn't have," Coker said. "As a senator, he's done his constituent work well. He takes care of the home front. If you go to Washington and do that, you're generally pretty popular."
Ensign's numbers were basically unchanged from December, when 57 percent rated him excellent or good and 40 percent rated him fair or poor.
Also maintaining high regard in the poll was Rep. Shelley Berkley, D-Nev., whose constituents rated her performance the highest of any member of the Nevada delegation.
Berkley was rated excellent or good by 61 percent, fair or poor by 33 percent of voters in her district.
The poll of 163 voters in Berkley's district carries a margin of error of plus or minus 7.8 percentage points.
Contact reporter Molly Ball at mball@reviewjournal.com or 702-387-2919.