Reid sorry about race comments
January 10, 2010 - 10:00 pm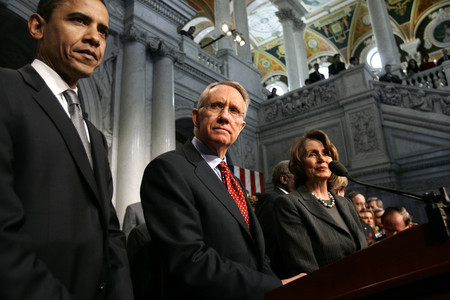 Senate Majority Leader Harry Reid of Nevada apologized Saturday after it was reported that he used racially outdated language to describe President Barack Obama.
Late Friday, the Atlantic Magazine posted a description of the remarks on its politics blog in a preview of the book "Game Change," an account of the 2008 campaign cycle by journalists John Heilemann and Mark Halperin.
The preview cites page 37 of the book and reports on a private conversation in which Reid, a Democrat, while attempting to speak favorably of Obama, reportedly said the nation was ready for a black president, especially one who is "light-skinned" and has "no Negro dialect, unless he wanted to have one."
A statement from Reid's Senate office sent less than 10 hours after the posting acknowledged his "poor choice of words."
"I deeply regret using such a poor choice of words. I sincerely apologize for offending any and all Americans, especially African-Americans, for my improper comments," Reid stated before highlighting his support for Obama and efforts to integrate the Las Vegas Strip and promote diversity in the U.S. Senate.
Obama, in a statement, accepted Reid's apology: "I accepted Harry's apology without question because I've known him for years, I've seen the passionate leadership he's shown on issues of social justice and I know what's in his heart. As far as I am concerned, the book is closed."
Reid's office also said he had phoned to apologize to civil rights leaders, including the Rev. Al Sharpton; NAACP Chairman Julian Bond, and Wade Henderson, chief executive officer of the Leadership Conference on Civil Rights, as well as veteran political operative Donna Brazile. Reid also spoke with Reps. Barbara Lee, D-Calif., and Rep. James Clyburn, D-S.C., both African-Americans.
It is not the first time Reid has landed in hot water for making controversial statements.
In 2005, Reid apologized for calling President George W. Bush a loser during a talk with a high school civics class in Southern Nevada.
More recently, Reid riled Republicans with a speech in December that suggested opponents of health care reform were showing a mind-set similar to people who sought to delay the end of slavery in the United States.
And Reid isn't the first U.S. Senate leader in recent history to cause controversy with racially charged remarks.
In 2002, Sen. Trent Lott, R-Miss., resigned from his leadership post following statements he made to Sen. Strom Thurmond, R-S.C.
Lott said he would have supported the 1948 presidential candidacy of Thurmond, then a segregationist.
Later, Lott apologized for his "poor choice of words" but it wasn't enough to save his leadership role.
Lott resigned from his leadership post but remained in the Senate until 2007.
At the time of the controversy, The Associated Press quoted Reid saying of Lott relinquishing the post: "He had no alternative. … Senator Lott dug himself a hole, and he didn't dig it all in one setting. He dug it over the years. And he couldn't figure out a way to get out of it."
When asked how Reid's situation differed from Lott's, Reid spokesman Jon Summers said, "There's a huge difference between the two. Senator Reid was one of the first people to encourage Obama to run for president and worked hard to help him win. President Obama and numerous elected officials and civil rights leaders have already expressed their support for Senator Reid."
Whether the latest verbal gaffe will hurt Reid politically remains to be seen.
David Damore, a political science professor at the University of Nevada, Las Vegas, said the level of political fallout depends on whether the Obama remark starts a fire among liberals or Democratic-leaning minority groups.
"Usually, most of his stuff has been going after Republicans. This is sort of the first time you could have some internal tensions with some minority groups here," Damore said. "If you get some civil rights groups responding to this, that apology isn't going to put out any brush fire."
Damore said antipathy from Democrats would be more damaging to Reid — whose unfavorable rating among Nevada voters is already at 52 percent — than howls of protest from Republicans.
For Republicans, "it is more advantageous to have internal tensions among the Democrats than look as if they were trying to stir the pot," Damore said.
The Nevada State Democratic Party frequently takes Republicans to task for what it sees as offenses to the cultural sensibilities of Nevadans.
The party's "Elephant Watch" Web site features pictures of anti-Obama protesters carrying racially charged signs and flags along with derisive comments suggesting the protesters represent the "real Republican" Party.
A spokeswoman for the Nevada Democratic Party did not respond to messages asking whether party officials condemned Reid's description of Obama.
Jeanetta Williams, president of the NAACP Tri-State Conference covering Nevada, Idaho and Utah, said Reid's comments were unfortunate but he "did give an apology, which was acceptable."
She said it is Reid's voting record that matters most.
"Senator Reid has very strongly supported NAACP legislation that affects African-Americans and the entire country. … The NAACP applauds him on his voting record."
The National Republican Senatorial Committee jumped at the chance to bash Reid over the remarks.
An e-mail from spokesman Brian Walsh said: "For those who hope to one day live in a color-blind nation it appears Harry Reid is more than a few steps behind them. Unfortunately, this is just the latest in a long history of embarrassing and controversial remarks by the senior Senator from Nevada."
The Associated Press and Review-Journal writer Warren Bates contributed to this report. Contact Benjamin Spillman at bspillman@reviewjournal.com or 702-477-3861.
REACTION TO REID'S COMMENTS ABOUT OBAMA
(view this sidebar as an image)
"While there is no question that Senator Reid did not select the best word choice in this instance, these comments should not distract America from its continued focus on securing health care or creating jobs for its people. Nor should they detract from the unquestionable leadership role Senator Reid has played on these issues or in the area of civil rights."
THE REV. AL SHARPTON
"While I am disappointed in Senator Reid's comment and choice of words, I accept his apology. I have known Senator Reid for many years, and he has consistently been supportive of advancing the interests of the African-American community as he has for all Nevadans and all Americans."
STEVEN HORSFORD, DEMOCRAT, NEVADA SENATE MAJORITY LEADER
"The same pattern of bad judgment in Harry Reid's remarks also clouds his ability to solve real problems for Nevadans, such as record unemployment, home foreclosures and access to affordable health care. There has never been a more important time for Nevada voters to give Harry Reid a job evaluation than now."
SUE LOWDEN, REPUBLICAN, POTENTIAL REID CHALLENGER IN 2010
"A few weeks ago, Harry Reid compared his health care opponents to slavery defenders. Now he's talking about our president's 'light skin' and 'Negro dialect.' He disgraces himself almost monthly with some disparaging remark about his constituents, political opponents, or now the president."
DANNY TARKANIAN, REPUBLICAN, POTENTIAL REID CHALLENGER IN 2010
"Of course he used words that were improper and poorly chosen, but no doubt this is how Reid deliberates when he is behind closed doors, and the only reason he is apologizing is because he got caught."
SHARRON ANGLE, REPUBLICAN, POTENTIAL REID CHALLENGER IN 2010
The fact Reid supported Obama for president "kind of proves he is not a racist. I think maybe that should be the story."
YVETTE WILLIAMS, CLARK COUNTY DEMOCRATIC BLACK CAUCUS
"I can tell you that I have never, ever heard Senator Reid use the kind of language attributed him in this new book. And, I personally will vouch for him as a human being. He's no racist."
SHERMAN FREDERICK, PUBLISHER, LAS VEGAS REVIEW-JOURNAL