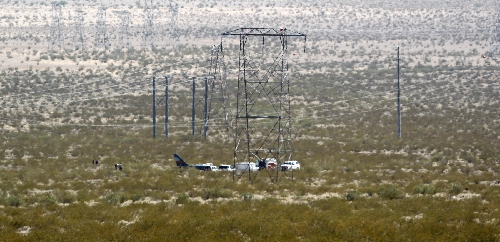 A preliminary report from the National Transportation Safety Board released late Wednesday details the events leading to a crash of a small jet in Boulder City that killed two California men.
The May 18 crash of a single-engine recreation jet took the lives of pilot Douglass E. Gillis, 65, of Solano Beach, Calif., and passenger Richard A. Winslow, 65, of Palm Desert, Calif.
According to the report, Winslow was part of a group of eight who were taking 45-minute flight tours from Boulder City.
Gillis was flying an Aero Vodochody L-39 when it went down about 12:35 p.m. in the desert about a half mile west of Boulder City's airport.
The two had taken off from Boulder City in the L-39 jet when, witnesses said, the aircraft appeared to lose power.
The report said passengers were boarding two planes that came from Van Nuys, Calif. Each jet could hold only one passenger. The group of passengers would be provided films of their flights, the report said.
The report said the first two round-trip flights from Boulder City Airport occurred without a hitch.
"The passengers did not observe any mechanical problems," the report said.
The crash occurred on the third fight.
The passenger in the lead airplane reported that takeoff from the Boulder City was normal for both aircraft.
He noted that at 400 feet his pilot instructed the other pilot to stay in formation.
The report said that the lead aircraft was in a climbing left turn and its passenger heard the other pilot say mayday three times.
He looked out the window and saw the second aircraft in a right turn, then saw it flatten out followed by a puff of dirt.
The passenger saw the second aircraft go underneath a set of power lines before crashing.
The report said investigators noted a 4-foot-deep by 20-foot-wide crater just behind the crashed jet's engine.
Investigators could take more than a year in their effort to determine the cause of the crash.
Contact reporter Antonio Planas at aplanas@reviewjournal.com or 702-383-4638.