October 16, 2010 - 11:00 pm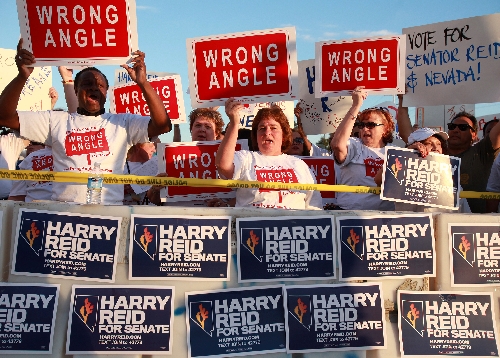 There's a new verb that means getting your butt kicked in an election you were supposed to win. It's called getting "Whippled."
So says a higher education system regent, who says every one on the Board of Regents is working hard to get re-elected, no matter how safe their seats seem to be.
Why?
Bret Whipple, of course. Two years ago, Whipple was a regent running for re-election against a guy nobody had ever heard of. Whipple didn't bother to campaign much. He focused on his work as an attorney instead.
When he lost the election by 7 percentage points, he was so stunned that he woke up later that night convinced it was all a nightmare.
None of the incumbents wants to repeat that fate.
"None of us wants to get Whippled," says the regent.
RICHARD LAKE
Oct. 10, or 10/10/10, made for a busy time at the Las Vegas Marriage Bureau, which issued 3,060 licenses in four days.
By comparison, the office has averaged 7,691 licenses a month so far this year.
More than half of the couples used a new online pre-application that eliminates the time spent entering data at the license counter. Because of that, feared wait times of two or three hours never materialized, Clark County Clerk Diana Alba said.
ALAN CHOATE
Nevada is often the worst on the list when it comes to education. But just as often, Mississippi is the worst of all.
Check this out, y'all: Recently, the University of Mississippi — that's Ole Miss to Southern folk — got rid of its Rebels mascot, an old-timey Southerner named Col. Reb. That left our beloved UNLV Rebels as the last major university with a mascot that seems patterned after the losing side in the Civil War. Make sense? No.
Anyway, in the vote for a new mascot, let's quote the Ole Miss press release: "62 percent of those polled support the Rebel Black Bear. The Rebel Land Shark drew 56 percent support, and Hotty Toddy drew 42 percent."
Guys? Hello, guys? That adds up to 160 percent.
RICHARD LAKE
Week In ReviewMore Information