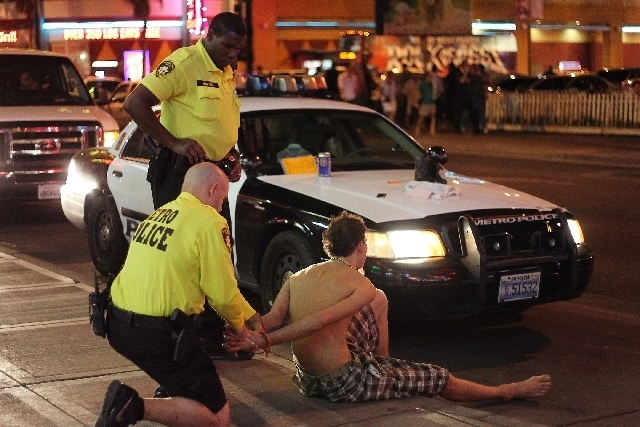 The arrival of Fremont East as a top Las Vegas nightlife destination wasn't marked by a fancy new restaurant or major concert event.
Mainstream validation for the decade-old entertainment district came in the form of crowds of boozing, downtown newcomers who surged into the area on recent weekend nights.
Even as the small, locals-oriented bars and restaurants that characterize the quirky district filled up, the crowds continued to swell and spill off the sidewalks, presenting an entirely new problem for an area once considered desolate by urban standards.
Bar owners, police and local residents suddenly were struggling to handle hordes of beverage-toting revelers tromping up and down the sidewalk, drifting into the street and generally causing chaos.
After 10 p.m. on a recent Friday, crowds swelled well beyond a typical evening, with revelers carrying bottles of beer and liquor up and down the sidewalk. Police issued citations to many and confiscated countless cans and bottles of alcohol. As the night wore on and the crowds grew, police used horses for crowd control and loudspeakers to urge people to keep the sidewalks clear.
While issuing citations for open container violations was clearly a major part of the police strategy, there are questions about whether the tickets will hold up to scrutiny in court. Las Vegas' liberal public drinking laws prohibit open containers only in certain instances, such as if the booze comes from a liquor store and not a bar; and even the city attorney has said it is likely at least some of the citations will get thrown out.
Still, demands for a less raucous atmosphere persist.
"There are only so many people you can fit out on the sidewalk," said Chris LaPorte, owner of video game bar Insert Coins.
LaPorte shared a surveillance camera photo from a recent weekend night in which a crowd some 15-deep massed outside the entrance.
"There might be some pushing, there might be some elbows, as the night progresses liquor has a tendency to make things go bad sometimes," he said.
POLICE CRACK DOWN
Metropolitan Police Department officials noticed the problem and stepped in to help, beefing up crowd control efforts that included everything from officers on horseback to writing hundreds of citations to people for drinking booze on the sidewalk, a common activity downtown. They also cracked down on bar owners they decided were contributing to the chaos by playing music so loud it encouraged crowds to mass outside.
"It came down to us determining it was time for us to draw a line in the sand and that this was not going to become Bourbon Street," said Capt. Shawn Andersen, who runs the Downtown Area Command.
In addition to police enforcement, the Downtown Project, a $350 million urban renewal project funded in large part by Zappos CEO Tony Hsieh, jumped into the fray.
Downtown Rangers, a Downtown Project-funded crew of uniformed workers best described as a cross between sidewalk concierges and unarmed security guards, set up shop between Fremont East and the Fremont Street Experience tourist attraction on a recent Friday and advised passers-by to ditch their drinks or risk a citation from police.
The rangers' presence is part of numerous Downtown Project-sponsored changes aimed at making the area more appealing for tech entrepreneurs, urbane condominium dwellers and trendier restaurants, bars and attractions.
Part of the evolution is a culture shift away from the public partying and general carousing that characterizes life under the Fremont Street Experience canopy.
"If you walk out of Fremont Street Experience with a daiquiri and you walk into Fremont East and get a ticket, yeah, it is personally your responsibility, but I would encourage the Fremont Street Experience to let their visitors know you can't leave this area," said Zach Ware of the Downtown Project.
BOOZE FINES GIVE TOURISTS BAD TASTE
But the response appears to have created its own set of problems.
For starters, citations for open container violations are upsetting and confusing to locals and visitors who have grown accustomed to strolling between bars and casinos with an adult beverage in hand.
Visitors who were given the unpleasant surprise of a city citation for walking along the sidewalk with a can of beer said it gave them a bad impression of Las Vegas they would certainly share with others.
"Here is a place that is basically built on tourism, and this is what you are going to do, you are going to hand out bull—— tickets to people who don't even know they are breaking the law," said Jason, 27, a visitor from Bossier City, La., who didn't want to share his last name. "I'm not speaking too positively about Las Vegas right now when I have to pay this $200 ticket."
Tourists weren't the only people caught up in the reaction.
Early on a recent Saturday morning, police closed the Vanguard and Beauty Bar on Fremont Street that they claimed were playing music so loudly it was encouraging people to mass on the sidewalks outside. Vanguard was cited for public nuisance and work card violations, and Beauty Bar was cited for work card violations, according to police.
The shutdowns, which lasted 24 hours, came despite the city specifically identifying the bar district as exempt from noise ordinances that prohibit loud music elsewhere.
The idea behind the exemption was to encourage bars to use live music to attract crowds to the area.
Paul Devitt, owner of Beauty Bar, said police closed the venue down after they alleged a manager didn't comply with requests to turn down the music in an attempt to disperse crowds outside.
The shutdown, which lasted 24 hours, meant Devitt had to be closed on the ensuing Saturday night, costing him revenue from customers and payments to bands that weren't able to perform.
"I have no problem being a good citizen," Devitt said. "But I do mind when the police pull the rug out from under me because they determine I am not cooperating with them."
While the crackdown may have succeeded in riling tourists and business owners caught in the middle, it might have failed to produce results that can hold up in court.
City Attorney Brad Jerbic said it's likely at least some of the citations issued for open container violations will get tossed out of court. That's because city code is fairly liberal when it comes to drinking booze in public.
"There is nothing illegal about taking a drink out of a casino once you purchased it," Jerbic said.
He also said that from a legal standpoint there is no difference between the area under the Fremont Street Experience canopy and Fremont East, at least when it comes to open containers.
It's only illegal to drink alcohol on the sidewalk if the container came from a packaged liquor seller, which basically means people can't bring their own booze from home or a liquor store to consume on the street.
TAVERN ALCOHOL LAW
Also, a separate ordinance governs which businesses can legally allow customers to walk off the premises with an open container of alcohol, Jerbic said.
If the business has a tavern license, it is free to allow customers to drink at the bar or take the beverage out the door.
But if the business is operating under a tavern limited license, like most Fremont East bars, the booze must be consumed on premises. The same restriction applies to sellers operating under a restaurant liquor license.
A list of 53 licensed alcohol establishments in the downtown area provided by the city shows 21 locations with tavern licenses which, under city code, can allow customers to leave with an adult beverage in hand.
Most of the tavern licenses are for casinos clustered on Fremont between Main and Las Vegas Boulevard. But there are also tavern licenses on Third Street and farther east on Fremont.
In short, the only way it is clearly illegal for someone to drink on the street is if it comes from a container that was "sealed or corked" at the point of purchase or poured into a cup by the consumer.
Attorney Dayvid Figler, who has already taken at least three clients charged with open container violations, said he expects many citations could get tossed.
"This has been something that has been in debate some time," Figler said of the open container issue. "If people raise this particular challenge to each judge and the judges start to rule on it, (police) may have to re-evaluate their stepped-up enforcement of this ordinance."
Contact reporter Benjamin Spillman at bspillman@reviewjournal.com or 702-383-0285 .